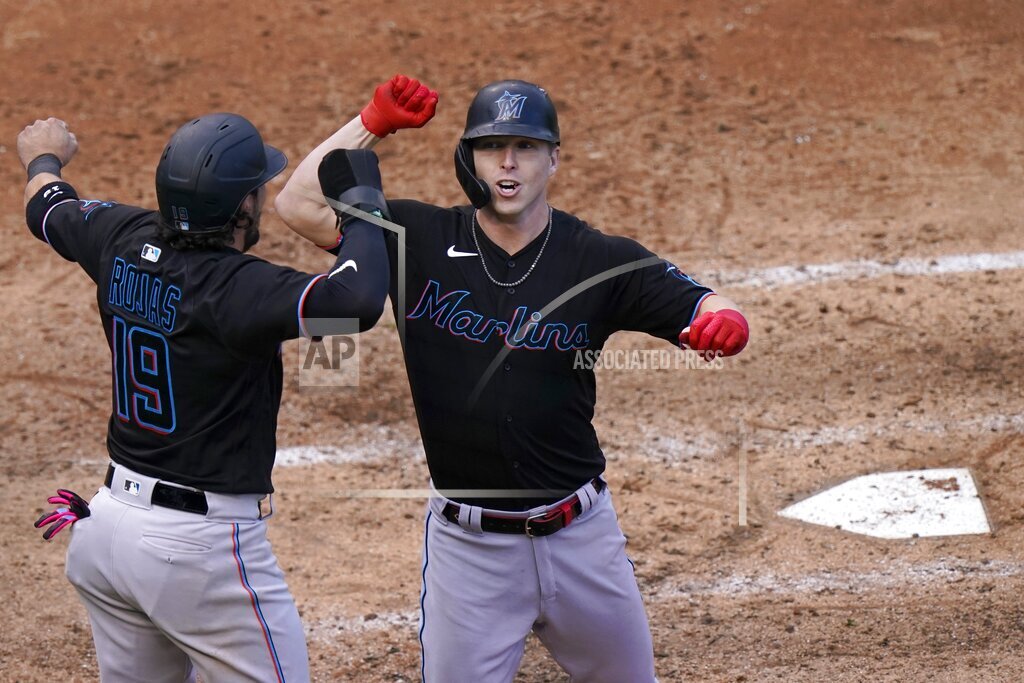 MLB – Major League Baseball – Playoffs – Wild Card Series (Best of 3)
Yesterday
American League
Houston Astros 3, Minnesota Twins 0                                                  (HOU wins 2-0)
Oakland Athletics 5, Chicago White Sox 3                                           (Series tied 1-1)
Tampa Bay Rays 8, Toronto Blue Jays 2                                                 (TBR wins 2-0)
New York Yankees 10, Cleveland Indians 9                                           (NYY wins 2-0)
A's 5, White Sox 3 – A's hold off Abreu, White Sox 5-3, force series to Game 3
Marcus Semien and Khris Davis homered early and the Oakland Athletics held off José Abreu and the Chicago White Sox in the late innings for a 5-3 win that sent their AL playoff series to a deciding Game 3. A's reliever Jake Diekman walked home a run in the ninth, then retired the big-hitting Abreu on a sharp grounder to end it and even the best-of-three wild-card matchup at 1-all. Game 3 is Thursday at the Coliseum.
National League
Atlanta Braves 1, Cincinnati Reds 0 – 13 Innings                                  (ATL leads 1-0)
Miami Marlins 5, Chicago Cubs 1                                                          (MIA leads 1-0)
St. Louis Cardinals 7, San Diego Padres 4                                            (STL leads 1-0)
Los Angeles Dodgers 4, Milwaukee Brewers 3                                      (LAD leads 1-0)
Marlins 5, Cubs 1 – Dickerson homers as Marlins beat Cubs 5-1 in playoff opener
Corey Dickerson hit a three-run homer off a fading Kyle Hendricks in the seventh inning, and the Miami Marlins beat the Chicago Cubs 5-1 in Game 1 of their NL wild-card series. Jesús Aguilar also homered as Miami conjured up memories of past playoff magic in the franchise's first postseason game since it won the World Series in 2003. The Marlins, who rallied past the Cubs in a memorable NLCS that year, have never lost a playoff series. Ian Happ homered for Chicago. Game 2 of the best-of-three series is Thursday.
Today
American League
Chicago White Sox (Dunning 2-0 or Cease 5-4) at Oakland (TBA), 3:10 p.m.     (Tied 1-1)
National League
Cincinnati (Castillo 4-6) at Atlanta (Anderson 3-2), 12:08 p.m.                     (ATL 1-0)
Miami (Sanchez 3-2) at Chicago Cubs (Darvish 8-3), 2:08 p.m.                        (MIA 1-0)
St. Louis (Wainwright 5-3) at San Diego (Davies 7-4), 7:08 p.m.                     (STL 1-0)
Milwaukee (Woodruff 3-5) at Los Angeles Dodgers (Kershaw 6-2), 10:08 p.m. (LAD 1-0)
MLB – Fans to be allowed at World Series, NLCS in Arlington, Texas
Fans can take themselves out to the ball game for the first time this season during the NL Championship Series and World Series at new Globe Life Field in Arlington, Texas. Major League Baseball said Wednesday that about 11,500 tickets will be available for each game. That is about 28% of the 40,518-capacity, retractable-roof stadium of the Texas Rangers, which opened this year adjacent to old Globe Life Park, the team's open-air home from 1994 through 2019. The World Series is being played at a neutral site for the first time in response to the coronavirus pandemic.
MLB – Rangers owner hoped for Series in new park — with his team
Ray Davis and the Texas Rangers ownership group will host the 2020 World Series, just as they had hoped when they broke ground on a new stadium three years ago . Just not with the team they expected. Instead of a splashy debut year in the the $1.2 billion ballpark with a retractable roof, the Rangers finished an American League-worst 22-38 in the pandemic-shortened season in front of no fans. Davis says `I am embarrassed for our team. I am embarrassed for our fans.'
NBA – 2020 NBA Finals (best of 7)
Last Night
Los Angeles Lakers 116, Miami Heat 98                                                (LAL leads 1-0)
Lakers 116, Heat 98 – Lakers, LeBron roll in Game 1 of finals, top Heat 116-98
LeBron James finally got an easy Game 1 in the NBA Finals. A very easy one, at that. Anthony Davis scored 34 points in his finals debut, James had 25 points, 13 rebounds and nine assists and the Los Angeles Lakers rolled past the Miami Heat 116-98 on Wednesday night. The Lakers returned to the finals for the first time in a decade and sent a very clear message. James' teams had been 1-8 in Game 1 of past finals, with losses in each of the last seven. The Heat got 23 points from Jimmy Butler but lost point guard Goran Dragic to a torn plantar fascia in his left foot.
NBA – Silver: NBA still hoping to open next season in arenas
NBA Commissioner Adam Silver reiterated Wednesday that the league's hope is to begin next season with teams in their home arenas and with fans in the seats, though cautioned that there are still numerous unknowns to work through before any plan can be finalized. Silver, in his annual state-of-the-league address before Game 1 of the NBA Finals, also said the protocols that allowed the league to get through a restart in a so-called bubble at Walt Disney World — such as strict adherence to mask-wearing and social distancing — proved that a balance can be struck "between public health and economic necessity."
NFL – National Football League – Week 4
Tonight
Denver Broncos at New York Jets, 8:20 p.m.                     News/Talk/Sports 94.9 WSJM 8:00
NFL – Virus outbreak pushes Steelers-Titans to Monday or Tuesday
The NFL says the Pittsburgh-Tennessee game originally scheduled for Sunday will be played either Monday or Tuesday, giving the Titans at least one more day to see if the team's coronavirus outbreak is under control. One new positive test result came back Wednesday, a day after the Titans had three players and five team personnel test positive for COVID-19. Coach Mike Vrabel says the Titans are preparing to play as early as Monday. He's confident the NFL will allow some time to practice before the game. The Titans hope to be allowed back inside their facility Saturday.
NFL – NFLPA asking teams to change all fields to natural grass
The NFL Players Association is asking that the 32 league teams change all field surfaces to natural grass because of injury concerns. Union president JC Tretter cited the league's official injury reports from 2012-2018 to state his case that natural grass fields provide a much lower risk for injuries, compared to artificial surfaces, during practices and games. The subject of field safety moved to the forefront in Week 2 when San Francisco standout Nick Bosa and teammate Solomon Thomas both suffered season-ending torn anterior cruciate ligaments in a road win over the New York Jets.
NFL – Foles gets a chance to show he's more than a good backup
Nick Foles gets another chance to show he's more than just a good arm out of the bullpen when the Bears host the Indianapolis Colts on Sunday. The Super Bowl 52 MVP took over for Mitchell Trubisky in the third quarter last week and threw three touchdowns in the fourth as the Bears erased a 16-point deficit on the way to a 30-26 victory. The Bears announced he is their No. 1 quarterback. And he'll make his first start since Week 13 last season with Jacksonville.
NASCAR – NASCAR at long last adds schedule variety with 2021 changes
NASCAR promised radical changes to the 2021 schedule and it has delivered. There are six road courses on the schedule. There is also the first dirt race for the Cup Series since 1970 and new stops in Nashville, Tennessee, and Austin, Texas. Dropped from the lineup were Kentucky Speedway and Chicagoland Speedway. Michigan, Dover and Texas Motor Speedway all lost one of two Cup Series points races. Atlanta and Darlington each added a second race. The dirt race will be held at Bristol, Tennessee.
NCAA Football – Commissioners decline CFP expansion after Pac-12 request
The College Football Playoff will stick with the four-team format this season. Executive director Bill Hancock says Pac-12 Commissioner Larry Scott asked the management committee to consider having eight teams play for the national championship.  The expansion request was made because of disruptions caused by the pandemic. Conferences are not playing the same number of games and kicking off their seasons at different times. Playoff leadership decided to stick with four semifinalists, who will square off at the Rose Bowl and Sugar Bowl before the title game in Miami on Jan. 11.
NHL – Lightning celebrate Stanley Cup title with boat parade
The Tampa Bay Lightning celebrated their Stanley Cup title with a boat parade and ceremonies Wednesday at Raymond James Stadium. The boat parade featured forward Alex Killorn on a jet-ski with Steven Stamkos riding on the back as they held up the Stanley Cup and did laps around the boats in the Hillsborough River. The parade was followed by a public trophy celebration at the stadium with a capped attendance of 16,000 people. The players returned to Tampa on Tuesday after being in the NHL's "bubble" in Toronto and Edmonton for the past 65 days. They were greeted at the airport by their families and held a private on-ice ceremony for friends and family.
NHL – Puck already dropped on NHL offseason that could be a frenzy
The NHL offseason is already under way. There have already been a handful of trades and two prominent players bought out, including New York Rangers goaltender Henrik Lundqvist. The draft is next Tuesday and Wendnesday, and free agency opens on Oct. 9. Then hockey will likely go into hibernation until the leadup to the opening of training camps in December or January.
NHL – Countdown on for debut of Seattle Kraken
Tod Leiweke and his staff checked off some major accomplishments for the NHL's 32nd franchise in the midst of the pandemic. The Seattle Kraken have a nickname. They have an arena sponsor. They made up lost time on arena construction. It was all needed as the one-year countdown seems to have started for Seattle. The Kraken will make their debut for the 2021-22 season.
Hockey – QMJHL approves stiffer punishments for fighting
The Quebec Major Junior Hockey League approved new stiffer punishments for fighting Wednesday, a day before the start of the regular season. All players involved in a fight will receive a 10-minute misconduct and 5-minute major. Previously, players were assessed only the 5-minute major. Anyone deemed to be an instigator also will get a 2-minute minor. The amended rules will see players automatically handed a one-game suspension after their third fight, plus another game suspension for each additional skirmish. Representatives from the league's 18 teams in Quebec and the Maritimes voted on the rules in a video conference.
Tennis – Williams pulls out, Azarenka loses, Nadal and Korda win
Serena Williams' bid for a record 24th Grand Slam title will spill into next year as she approaches a milestone birthday. The 39-year-old Williams has pulled out of the French Open because of an Achilles injury that cropped up during the U.S. Open semifinals. She doesn't expect to play again this year. U.S. Open runner-up Victoria Azarenka is also out after two rounds. The 10th-seeded Azarenka lost to 161st-ranked Anna Karolina Schmiedlova in straight sets.
Coco Gauff's French Open debut has ended in the second round thanks in part to her 19 double-faults. Women's top seed Simona Halep (HA'-lehp) dropped just seven games in her second-round match. Those advancing from the women's side include third seed Elina Svitolina (svih-tah-LEE'-lah), fifth seed Kiki Bertens and Elise Mertens.
MHSAA – More fans for high school sports, starting next week
The Michigan High School Athletic Association that starting on October 9th, attendance for outdoor sports will be increased for all sports.  For football that means 1,000 people will be allowed into the stadiums.  For outdoor stadiums, facilities can allow in up to 30 percent of their capacity, or up to 1000 spectators.  Indoor venues are allowed 20 percent of their capacity, up to 500 people.  This is for regions 1-5 and 7.  Regions 6 and 8 can have 25 percent.
MHSAA – High School Sports
Yesterday
Girls Volleyball
Portage Northern 3, St. Joseph 0                                                            (25-17, 25-23, 25-22)
Portage Central 3, Lakeshore 0
Mattawan 3, Gull Lake 2                                                                         (20-25, 25-11, 27-25, 22-25, 15-12)
South Haven 3, Berrien Springs 0
Niles 3, Brandywine 0                                                                            (25-7, 25-10, 25-18)
New Buffalo 3, Lawrence 0                                                                     (25-14, 25-3, 25-17)
Boys Soccer
Michigan Lutheran 4, New Buffalo 0
Bridgman 2, Berrien Springs 2 – TIE
Niles 7, Brandywine 2
Allegan 3, Paw Paw 1
Dowagiac 2, Otsego 2 – TIE
Three Rivers 1, Edwardsburg 1 – TIE
Plainwell 2, Sturgis 0
Cassopolis 3, Bloomingdale 1
Delton-Kellogg 3, Constantine 0
Fennville 6, Coloma 1
Kalamazoo Christian 6, Schoolcraft 3
Kalamazoo Hackett 3, Watervliet
Girls Golf
SMAC at Gull Lake (Round 2 at Bedford Valley)
1. St. Joseph                              373
2. Gull Lake                               376
3. Mattawan                              376
4.Portage Northern                   380
5. BC Lakeview                           383
6.Lakeshore                               423
7. Portage Central                     433
St. Joseph wins their 8th straight SMAC Conference Championship
All Conference                           Rd1      Rd2      Total
1.KT Leinwand (PN)                      75         79         154
2.Maya Hunter (SJ)                      77         87         164
3.Annie Betts (GL)                       90         83         173
4.Lauryn Jerke (GL)                     82         94         176
5.Izzy Ugalde (SJ)                       86         93         179
6.Alexa Thurman (BCL)                 95         88         183
7.Gracie Thomas (SJ)                   90         95         185
8.Kate Cudney (MA)                     100       90         190
9.Morgan Guzzo (SJ)                   93         98         191
10.Madison Jackson (SJ)               94         101       195
Cross Country
Portage Northern at St. Joseph
Girls: St. Joseph 25, Portage Northern 30
Grace Kelley                  SJ         19:51.9
Cecilia Ruchti                SJ         20:10.8
Samantha Killmer           PN        20:45.4
Olivia Ippel                    SJ         21:03.6
Faye Scott Farnsworth   PN        22:27.4
Caroline Lever               PN        22:30.4
Rebecca James                PN        22:34.9
Madison Werk-Spitzer    SJ         22:44.9
Emily Jo Buysse              PN        22:45.3
Lizzy Nelson                  SJ         23:04.3
Boys:  Portage Northern 25, St. Joseph 31
Drew Gonzalez               PN        16:46.3
Andrew Moyer                SJ         16:50.3
Stephen Loparo              PN        17:01.7
Logan Post                    PN        17:30.1
Will Fiesbeck                 SJ         17:43.6
Michael Melvoin             SJ         17:46.4
Jacob Haunhorst            SJ         17:58.5
Timmy Peterson              PN        18:13.8
Nick Redmond                PN        18:18.1
Matthew Carlisle            PN        18:20.2         
Lakeshore at Mattawan
Girls: Lakeshore 26, Mattawan 29
Emily Reeves                  MAT      20:40.3
Sarah Nondorf               MAT      20:59.6
Emily Peters                  LKSH    21:44.7
Haylee Woods                LKSH    23:37.1
Madison Woodard          LKSH    23:42.0
Rachel Vroegop              LKSH    24:00.3
Lauren Sysol                 MAT      24:02.0
Abigail Winsman             LKSH    24:02.4
Claire Johnson               MAT      24:04.7
Juliette Langlinais          MAT      24:07.6
Boys:  Mattawan 22, Lakeshore 36
Race Bettich                  LKSH    17:01.9
Ethan Barker                 MAT      17:56.6
Brian Barbarini               MAT      18:12.2
Scott Kangas                 MAT      18:53.9
Charlie Ogata                LKSH    18:57.3
Leo Port                        MAT      19:24.1
Jared Yetter                  MAT      19:24.4
Grant Rose                    LKSH    19:39.3
Will Beeson                   MAT      19:53.7
Lucas Balkema                LKSH    20:02.7
Today
Boys Soccer
St. Joseph at Portage Central, 6:30 p.m.
Kalamazoo Central at Lakeshore, 6:30 p.m.
Mattawan at Kalamazoo Loy Norrix, 6:30 p.m.
Gull Lake at Portage Northern, 6:30 p.m.
Battle Creek Central at Battle Creek Lakeview, 6:30 p.m.
Saugatuck at Allegan, 6:00 p.m.
Buchanan at Three Rivers, 5:00 p.m.
Constantine at Comstock, 7:00 p.m.
Howardsville Christian at Brandywine, 5:00 p.m.
Bangor at Hartford, 5:00 p.m.
Kalamazoo Hackett at Lawton, 6:00 p.m.
Girls Volleyball
Michigan Lutheran at Howardsville Chr. 6:00 p.m.
Vicksburg at Allegan, 6:00 p.m.
Otsego at Dowagiac, 6:00 p.m.
Sturgis at Paw Paw, 6:00 p.m.
Edwardsburg at Plainwell, 6:00 p.m.
Decatur at Bangor, 7:00 p.m.
Mendon at Hartford, 7:00 p.m.
Centreville at Marcellus, 7;00 p.m.
Cassopolis at White Pigeon, 7:00 p.m.