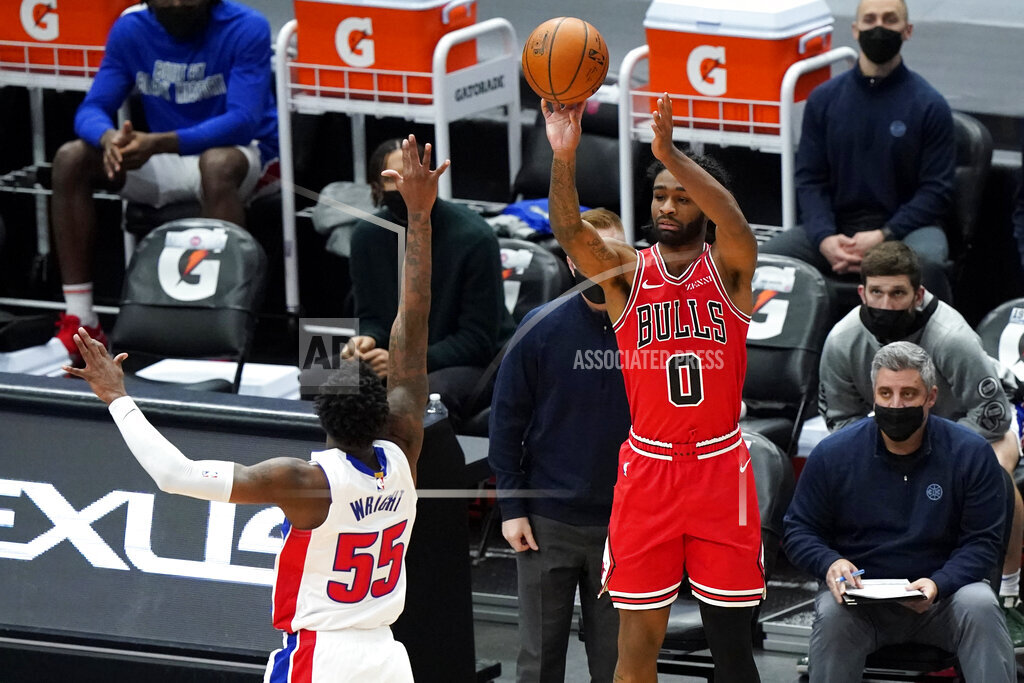 NBA – National Basketball Association
Last Night
Chicago Bulls 105, Detroit Pistons 102
Indiana Pacers 134, Minnesota Timberwolves 128 – OT
Bulls 105, Pistons 102 – LaVine leads Bulls over Pistons in newly scheduled game
Zach LaVine scored 37 points and the Chicago Bulls beat the Detroit Pistons 105-102 on short notice. The Bulls were scheduled to visit Charlotte, with the Pistons at Dallas. Those games got called off Tuesday by the NBA because of COVID-19 contact tracing concerns with the Hornets and power outages in Texas. The Bulls and Pistons were then scheduled to play each other, instead. Wendall Carter Jr. added 18 points while Patrick Williams had 15. Chicago won its second straight game overall and fifth in a row against Detroit. Jerami Grant scored a career-high 43 points for the Pistons, who cooled off after a strong start.
Pacers 134, T'Wolves 128 – OT – Sabonis, Brogdon lead Pacers past Timberwolves 134-128 in OT
Domantas Sabonis had 36 points, 17 rebounds and 10 assists, and Malcolm Brogdon added 32 points and nine boards as the Indiana Pacers beat the Minnesota Timberwolves 134-128 in overtime. Sabonis, Brogdon and the Pacers erased a 10-point fourth-quarter deficit. Karl-Anthony Towns had 30 points and 10 rebounds for Minnesota. Malik Beasley added 31 points in his first game of the season off the bench, and Ricky Rubio had a season-high 20 points to go along with 13 assists for the Timberwolves.
NBA – 33-year-old Bucks exec Alex Lasry gets COVID vaccine early
A 33-year-old Milwaukee Bucks executive and son of a billionaire received the coronavirus vaccine this week at a senior living center in Milwaukee, despite not being part of a group currently eligible in Wisconsin. Alex Lasry tweeted that his vaccination was "pure happenstance," adding that he was "incredibly thankful." The Milwaukee Journal Sentinel first reported about his shot. Lasry says his wife heard from her uncle that a senior center where he serves as rabbi had extra doses. Lasry says he stepped forward so the shot wouldn't go to waste. Lasry is the son of Bucks co-owner Marc Lasry. In Wisconsin, shots are available to everyone over age 65.
NHL – National Hockey League
Last Night
Chicago Blackhawks 2, Detroit Red Wings 0
Blackhawks 2, Red Wings 0 – Rookies Lankinen, Kurashev lead Blackhawks past Red Wings
Kevin Lankinen made 29 saves for his first career shutout and fellow rookie Philipp Kurashev scored a pretty goal in the Chicago Blackhawks' 2-0 victory over the Detroit Red Wings on Wednesday night. The Blackhawks are 4-0 against the Original Six rival Red Wings this season. They have won three straight overall and six of their last seven. Alex DeBrincat added an empty-net goal with 58 seconds remaining.
NFL – Lions hire Antwaan Randle El to coach wide receivers
The Detroit Lions have hired wide receivers coach Antwaan Randle El. Detroit coach Dan Campbell added the former NFL receiver to his staff Wednesday after he was with the Super Bowl champion Tampa Bay Buccaneers the past two seasons as an offensive assistant. Randle El was drafted by Pittsburgh in 2002. The former Indiana quarterback and point guard had a nine-year career in the NFL as a dynamic receiver with the Steelers and Washington. The Lions hired Campbell last month after naming Brad Holmes as general manager. Campbell's staff includes offensive coordinator Anthony Lynn and defensive coordinator Aaron Glenn.
NCAAMBB – Men's College Basketball
Last Night
Clemson at Notre Dame, PPD
Tonight
Rutgers at (3) Michigan, 9:00 p.m.                News/Talk/Sports 94.9 WSJM (after HS Basketball)
NCAAWBB – Women's College Basketball
Yesterday
Western Michigan 71, Kent State 58
Bowling Green 76, Central Michigan 67
Eastern Michigan at Akron, PPD
Today
(11) Michigan at (14) Indiana, 6:00 p.m.
Syracuse at Notre Dame, PPD
MLB – Hinch grateful to be back as Tigers begin spring training
This year, the start of spring training was meaningful in a different way for AJ Hinch. After winning a World Series and two pennants as Houston's manager, Hinch spent last season serving a suspension in the aftermath of the Astros' sign-stealing scandal. Now he has resurfaced with Detroit, and although it would be a surprise if the Tigers make the postseason, Hinch just appreciates the opportunity to be back in a big league dugout. The Tigers had their first workout for pitchers and catchers Wednesday in Lakeland, Florida.
MLB – Jake Arrieta back with Cubs, finalizes $6M, 1-year contract
Jake Arrieta returned to the Chicago Cubs, finalizing a $6 million, one-year contract. Arrieta can earn $1 million in performance bonuses under the deal. To open a roster spot, the Cubs placed left-hander Kyle Ryan on the COVID-19 related injured list. The 34-year-old Arrieta won the NL Cy Young Award with Chicago in 2015 and helped the Cubs win the 2016 World Series for their first championship since 1908. He went 68-31 with a 2.73 ERA in 128 starts over five years in his first stint with the team.
MLB – Chicago Cubs agree to deals with Workman, Strop
The Chicago Cubs have agreed to contracts with veteran relievers Brandon Workman and Pedro Strop. Workman received a $1 million, one-year deal. The 32-year-old right-hander can earn an additional $2 million in bonuses. A person familiar with the contract confirmed the deal to The Associated Press on condition of anonymity because the move had not been announced. The 35-year-old Strop returned to the Cubs on a minor league deal that includes an invite to big league spring training. A second person familiar with the deal confirmed the move to the AP on condition of anonymity because it had not been announced. Strop's deal includes a March 30 opt-out date.
MLB – La Russa feels fortunate for chance to manage White Sox
Tony La Russa feels fortunate the Chicago White Sox gave him the opportunity to manage again and stuck with him when news of a drunken driving arrest broke shortly after his hiring. La Russa says he knew at that point he would not step down. With spring training under way, he is trying to push the White Sox toward a championship. The Hall of Famer managed Oakland to a World Series title and St. Louis to two more. But the 76-year-old hasn't filled out a lineup card since he managed the Cardinals to the title in 2011.
MLB – Tim Tebow retires from baseball after five years with Mets
Tim Tebow is retiring from baseball after five years as a minor leaguer with the New York Mets. The 2007 Heisman Trophy winner returned to baseball in 2016 for the first time since his junior year of high school and reached Triple-A. He played 77 games at baseball's highest minor league level in 2019, batting .163 with four home runs. He finishes his career with a .223 average over 287 games. A lefty-hitting outfielder, the 33-year-old was invited the major league spring training this season, taking one of New York's 75 spots after Major League Baseball limited spring roster sizes as a coronavirus precaution.
Tennis – Serena stopped: Osaka beats Williams in Australian Open SF
Naomi Osaka has stopped Serena Williams' latest bid for a record-tying 24th Grand Slam singles title in the Australian Open semifinals. Osaka reached her fourth major final by beating Williams 6-3, 6-4. Williams grabbed the first two games before Osaka took control with a five-game run. She broke Williams to begin the second set and was on her way. Williams' forehand was off the mark all match. Williams won her 23rd major championship at Melbourne Park in 2017 but still remains one behind Margaret Court's mark for the most in history. Osaka is on a 20-match winning streak and faces American Jennifer Brady in Saturday's final.
MHSAA – High School Sports
Last Night
Boys Basketball
Benton Harbor 81, Dowagiac 54
Benton Harbor came alive in the second half after leading Dowagiac by 5 at the break to defeat the Chieftains XXXX at Farnum Gym last night. Kentrell Pullian had 20 points to lead the Tigers.  Henry Weller had a game high 24 points in the loss for Dowagiac.
St. Joseph 62, Brandywine 61
The Bears got 13 points from Conner Wright and ten from Lucas Ring. Caleb Byrd scored a game high 16 points in the loss for the Bobcats, with Kendall Chrismon adding 15 and Jaremiah Palmer Kirtdoll ten. With the win, St. Joe improves to 4-0.
Edwardsburg 50, Paw Paw 43
Three Rivers 35, Allegan 32
Sturgis 51, Plainwell 44
Otsego 62, Vicksburg 49
Berrien Springs 54, Hartford 20
New Buffalo 78, Countryside Academy 72
Coloma 68, Lawton 54
Parchment 48, Delton-Kellogg 43
Fennville 76, Saugatuck 38
Schoolcraft 61, Gobles 15
Watervliet 61, Martin 60
Kalamazoo Hackett 43, Constantine 31
Girls Basketball
Gull Lake 53, St. Joseph 40
Gull Lake pulled away in the end, limiting St. Joe to just two points in the fourth quarter for a 53-40 win. Symone King scored 11 points in the loss for the Bears.
Watervliet 50, Martin 30
Trailing by one after the first quarter, Watervliet went on to outscore Martin 25-8 over the middle two quarters and went on for a 50-30 win. Sam Dietz led the Panthers with 19 points, Grace Chisek added 16.
Otsego 55, Vicksburg 43
Three Rivers 61, Allegan 37
Edwardsburg 59, Paw Paw 16
Plainwell 40, Sturgis 17
Lawton 32, Coloma 26
Kalamazoo Christian 49, Galesburg-Augusta 38
Kalamazoo Hackett 49, Constantine 38
Delton-Kellogg 49, Parchment 29
Saugatuck 51 Fennville 10
Schoolcraft 45, Gobles 26
Battle Creek Central 53, Kal. Loy Norrix 40
Wrestling
Lakeshore 51, St. Joseph 21
Lakeshore 76, Mendon 6
Boys Bowling
Coloma 26, Brandywine 4
Schoolcraft 17, Niles 13
Girls Bowling
Niles 19.5, Schoolcraft 10.5
Tonight
Boys Basketball
Mattawan at St. Joseph, 7:00 p.m.
Portage Central at Lakeshore, 7:00 p.m.          News/Talk/Sports 94.9 WSJM
Battle Creek Central at Kalamazoo Central, 7:00 p.m.
Battle Creek Lakeview at Portage Northern, 7:00 p.m.
Kalamazoo Loy Norrix at Gull Lake, 7:00 p.m.
Brooklyn Columbia Central at Edwardsburg, 7:00 p.m.
Cassopolis at Bloomingdale, 7:45 p.m.
Comstock at Battle Creek Academy, 7:00 p.m.
Calhoun Christian at Howardsville Christian, 6:00 p.m.
Girls Basketball
Benton Harbor at Michigan Lutheran, 7:30 p.m.
Niles at Berrien Springs, 7:00 p.m.
Brandywine at Buchanan, 7:00 p.m.
Bridgman at Decatur, 5:30 p.m.
New Buffalo at Lawrence, 6:00 p.m.
Cassopolis at Bloomingdale, 6:30 p.m.