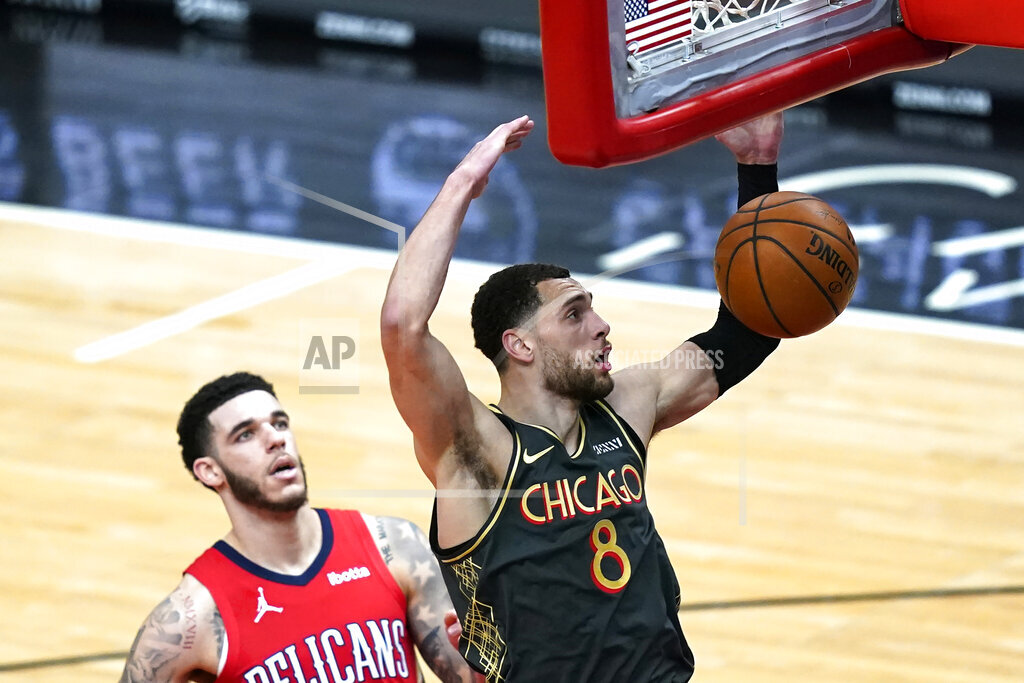 NBA – National Basketball Association
Last Night
Brooklyn Nets 104, Indiana Pacers 94
Chicago Bulls 129, New Orleans 116
Bulls 129, Pelicans 116 – LaVine scores 46 points, Bulls hit 25 3s to beat Pelicans
Zach LaVine scored a season-high 46 points, hitting nine of Chicago's franchise-record 25 3-pointers, and the Bulls cooled off the New Orleans Pelicans with a 129-116 victory. Coby White made eight 3s and scored 30 points in an impressive show by Chicago's starting backcourt. Led by LaVine and White, the Bulls went 25 for 47 from beyond the arc and shot 59% (48 for 81) overall. New Orleans had won four in a row, including a 130-101 victory over Houston on Tuesday night. But the Pelicans looked a little tired in the second half of the opener of a four-game trip.
Nets 104, Pacers 94 – Kyrie Irving has 35 points, Nets use defense to rout Pacers
Kyrie Irving had 35 points and eight assists and the Brooklyn Nets were defensively dominant in the first half in shutting down the Indiana Pacers 104-94 to snap a three-game losing streak. A night after an embarrassing effort in Detroit, when the Nets yielded 38 points in the first quarter, the Pacers didn't reach that total until 8:46 remained in the third. By then, the Nets had built a 32-point halftime lead, their largest since moving to Brooklyn in 2012, and with a 62-30 bulge allowed just two more points than their best total since moving from New Jersey.
Tonight
Indiana Pacers at Detroit Pistons, 8:00 p.m.
NBA – Pistons center Jahlil Okafor has surgery on left knee
The Detroit Pistons say center Jahlil Okafor had left knee surgery and is expected to miss six to eight weeks. The team says the procedure was to clean the lateral meniscus. The Pistons acquired Okafor this past offseason, and he averaged 4.3 points and 10 minutes in his first 12 games. Okafor hasn't played since a Jan. 30 loss at Golden State. Detroit hosts Indiana on Thursday night.
NBA – Mavs' Cuban relents on anthem after NBA reiterates policy
Dallas Mavericks owner Mark Cuban has relented on not playing the national anthem before home games this season. The move came shortly after the NBA reiterated its "longstanding league policy" to include the anthem. Republican Lt. Gov. Dan Patrick says he intends to introduce a bill in the Texas Senate that will ensure the national anthem is played at all events that receive public funding. He says the bill has broad support.
NHL – National Hockey League
Tonight
Detroit Red Wings at Nashville Predators, 8:00 p.m.
Columbus Blue Jackets at Chicago Blackhawks, 8:00 p.m.
NHL – Hey ref, how was breakfast? Unique season forges new bonds
NHL referees and linesmen are working multiple consecutive games between the same teams this season. It has allowed them to build more of a rapport with players, even amid coronavirus pandemic restrictions. Officials are getting to know players better on and off the ice in part because they're in the same cities more often. As rivalries mount between teams during a season of all divisional play, seeing the same familiar faces in stripes could be helping keep penalty calls under control.
NCAAMBB – Men's College Basketball
Tonight
(6) Illinois at (3) Michigan, PPD
NCAAWBB – Women's College Basketball
Last Night
Western Michigan 74, Akron 64
Central Michigan 81, Miami (OH) 78
Northern Illinois at Eastern Michigan, PPD
Michigan State at Maryland, PPD
Tonight
(12) Michigan at Purdue, 6:00 p.m.
Virginia at Notre Dame, PPD
NASCAR – Hendrick sweeps front row for Daytona 500
Hendrick Motorsports has swept the front row for the Daytona 500 with Alex Bowman and William Byron.  Bowman posted a lap at 191.261 mph to earn Hendrick its sixth Daytona 500 pole in seven years. It's the fourth consecutive year Bowman will start from the front row. William Byron made it a Hendrick sweep with a lap at 190.219 mph.  Only the front row was set Wednesday night.
NFL – Brady-Brate trophy pass wows Bucs' Super Bowl boat parade
The Tampa Bay Buccaneers held a boat parade to celebrate their championship on a sun-splashed day with thousands of fans lining the Hillsborough River near downtown Tampa. At one point, quarterback Tom Brady was captured on video Wednesday tossing the championship Lombardi Trophy from his boat to his shirtless teammate Cameron Brate in another boat. That brought wild cheers from fans and players. As the parade came to a close, coach Bruce Arians said that the Buccaneers could easily repeat as champions if the team stays intact. Brady already said he'll be back.
NFL – Lions add Jett Modkins, DeOn'tae Pannell to coaching staff
The Detroit Lions have added assistant special teams coach Jett Modkins to Dan Campbell's staff. The Lions also announced Wednesday that DeOn'tae Pannell will join the organization with its William Clay Ford minority coaching assistantship. Modkins assisted the Denver Broncos' offense last season as a diversity coaching intern. Pannell coached at Peru State College in Nebraska the previous five seasons, serving as defensive coordinator the last three years. The Lions hired Campbell and general manager Brad Holmes last month after firing coach Matt Patricia and general manager Bob Quinn in November.
NFL – Bears hire former Packers DC Pettine as defensive assistant
The Chicago Bears hired former Green Bay Packers defensive coordinator Mike Pettine as a senior defensive assistant. He will work under Sean Desai, who was promoted to replace the retired Chuck Pagano as Chicago's defensive coordinator. Pettine had been Green Bay's defensive coordinator for three seasons. He took over one year before coach Matt LaFleur's arrival. The Packers announced he would not return after they lost to Tom Brady and the Tampa Bay Buccaneers in the NFC championship game. The Packers gave up 56 more points during the 2020 regular season than in 2019, but they improved in most other defensive areas.
MLB – Tigers agree to minor league deals with Nunez, Garcia
The Detroit Tigers have agreed to minor league deals with infielders Renato Nunez and Greg Garcia. The Tigers say both players will receive invites to major league spring training. Nunez hit 31 home runs for Baltimore in 2019, then batted .256 with 12 homers in the shortened 2020 season. The 26-year-old Nunez was released by the Orioles after last season. Garcia hit .200 in 35 games last year for San Diego. That was his second season with the Padres after he spent five with St. Louis.
MLB – White Sox hire Narron as instructor on La Russa's staff
The Chicago White Sox have hired former Texas Rangers and Cincinnati Reds manager Jerry Narron as a major league instructor on Tony La Russa's staff. The team also promoted James Kruk to head athletic trainer and Brett Walker to director of rehabilitation on Wednesday. The 65-year-old Narron was 291-341 over parts of five seasons managing Texas (2001-02) and Cincinnati (2005-07). He has spent 26 years on major league coaching staffs, including a stint in 2020 as the Boston Red Sox's bench coach. Narron was with Milwaukee from 2011 to 2015 when catcher Jonathan Lucroy had some of his most productive seasons. The two-time All-Star agreed to a minor league deal with the White Sox last week after playing in just one game for Boston in 2020.
Olympics – Tokyo Olympics opening ceremonies will air live in US
U.S. viewers who have clamored to view the Olympic Games' opening ceremonies live when the Games haven't been in North America will finally get their wish. NBC will air the opening from the Tokyo Olympics live on July 23. The opening ceremonies will begin at 8 p.m. in Japan, which is 7 a.m. in New York and 4 a.m. in Los Angeles. Molly Solomon, the executive producer and president of NBC Olympics, says the global significance of gathering in Tokyo during the pandemic, as well as changing viewing habits, were the main factors in deciding to air the ceremonies live.
MHSAA – High School Sports
Last Night
Boys Basketball
Paw Paw 81, Bloomingdale 58
Dowagiac 62, Vicksburg 57
Edwardsburg 60, Allegan 34
Otsego 63, Sturgis 45
Three Rivers 63, Plainwell 59
Coloma 83, Constantine 42
Kal. Christian 51, Kal. Hackett 45
Martin 51, Lawton 44
Watervliet 58, Saugatuck 14
Parchment 69, Galesburg-Augusta 26
Schoolcraft 62 – Delton Kellogg 47
Girls Basketball
Plainwell 35, Three Rivers 32 – OT
Edwardsburg 56, Allegan 35
Constantine 61, Coloma 20
Otsego 47, Sturgis 17
Vicksburg 20, Dowagiac 17
Martin 30, Lawton 17
Kal. Hackett 39, Kal. Christian 30
Saugatuck 52, Watervliet 46
Gobles 66, Fennville 11
Tonight
Boys Basketball
Michigan Lutheran at Countryside, 6:00 p.m.
Berrien Springs at Dowagiac, 7:15 p.m.
Comstock at Hartford, 7:30 p.m.
Marcellus at Howardsville Christian, 7:30 p.m.
Girls Basketball
St. Joseph at Portage Northern, 7:15 p.m.
Lakeshore at Mattawan, 7:00 p.m.
Dowagiac at Benton Harbor, 6:30 p.m.
New Buffalo at Michigan Lutheran
South Haven at Berrien Springs, 5:30 p.m.
Comstock at Hartford, 6:00 p.m.
River Valley at Lawrence,
Marcellus at Howardsville Christian, 6:30 p.m.
Gull Lake at Kalamazoo Central, 7:00 p.m.
Kalamazoo Loy Norrix at Battle Creek Lakeview, 7:00 p.m.
Portage Central at Battle Creek Central, 7:00 p.m.