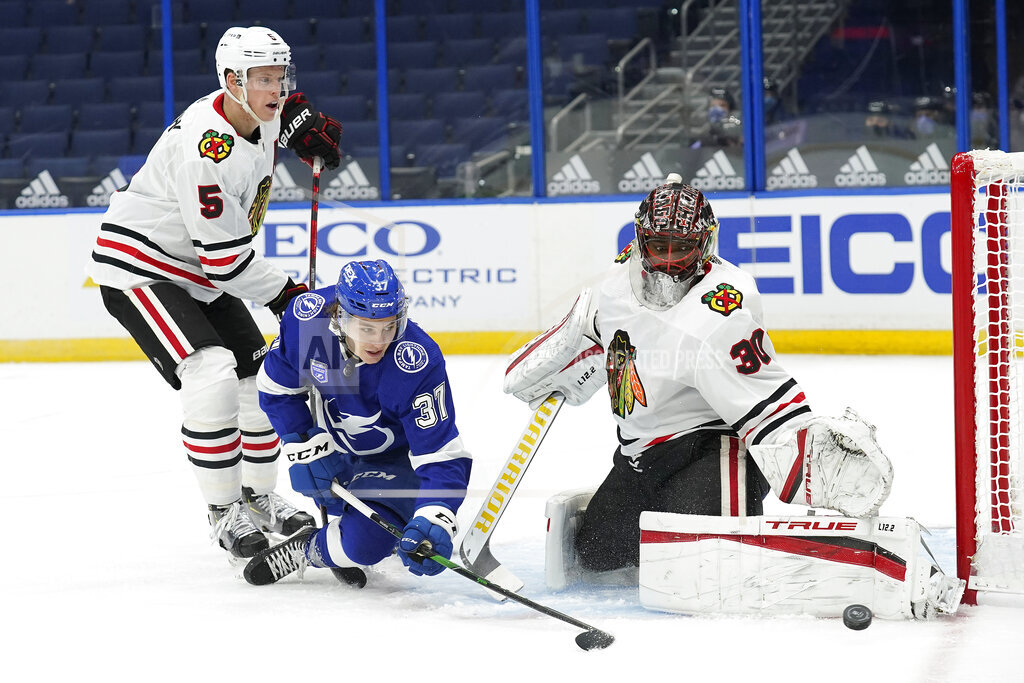 NHL – National Hockey League
Last Night
Tampa Bay Lightning 5, Chicago Blackhawks 1
Lightning 5, Blackhawks 1 – Stamkos has goal, 2 assists as Lightning beat Blackhawks 5-1
Steven Stamkos had a goal and two assists in his return to the Tampa Bay Lightning lineup, and the defending Stanley Cup champions opened the season with 5-1 victory against the Chicago Blackhawks. The Lightning captain, who played just one game in the playoffs, has points in 17 consecutive games — including 14 goals. Brayden Point, Anthony Cirelli, Ondrej Palat and Mathieu Joseph also scored to help Tampa Bay win its seventh consecutive season opener. Victor Hedman and Alex Killorn each finished with two assists. Andrei Vasilevskiy had 23 saves. Dylan Strome scored for Chicago, and Malcolm Subban stopped 28 shots.
Tonight
Carolina Hurricanes at Detroit Red Wings, 7:30 p.m.
NHL – Larkin named Red Wings captain
The Detroit Red Wings on Wednesday named center Dylan Larkin the 37th captain in the franchise's history. Larkin, 24, is entering his sixth season in Detroit. A Waterford native and former Michigan standout, Larkin becomes the first Michigander to be named captain of the team.
NBA – National Basketball Association
Last Night
Milwaukee Bucks 110, Detroit Pistons 101
Bucks 110, Pistons 101 – Antetokounmpo's triple-double lifts Bucks over Pistons
Giannis Antetokounmpo had 22 points, 10 rebounds and 10 assists, and the Milwaukee Bucks easily beat the Detroit Pistons for the third time this month, 110-101. The Bucks built a commanding early lead with a barrage of 3-pointers. Brook Lopez connected three times from beyond the arc in the first quarter, when the Bucks were 7 of 11 from long distance. Detroit was just 4 of 20 overall in the period and trailed 27-13 after one. At one point, Milwaukee led 52-29. The Pistons cut the deficit to 11 at halftime but never seemed like a serious threat to overtake Milwaukee. Jerami Grant led Detroit with 22 points.
Tonight
Indiana Pacers at Portland Trailblazers, 10:00 p.m.
NBA – Harden headed to Nets in blockbuster 4-team deal
The Brooklyn Nets have agreed to acquire three-time scoring champion James Harden from the Houston Rockets, a deal that reunites him with Kevin Durant and gives him the move that he has sought for weeks, said a person familiar with the situation. Harden is going to the Nets as part of a four-team deal that also involves Indiana and Cleveland, according to the person who spoke to The Associated Press Wednesday on condition of anonymity because the trade call with the NBA — which signs off on all deals — has not been completed. The deal was struck less than 24 hours after Harden seemed to deliver a farewell address to the Rockets Tuesday night.
NCAAMBB – Men's College Basketball
Last Night
(18) Virginia 80, Notre Dame 68
Cavaliers 80, Fighting Irish 68 – Huff, Hauser lead No. 18 Virginia past Fighting Irish, 80-68
Jay Huff scored 18 points and Sam Hauser had 15 points and nine rebounds as No. 18 Virginia beat Notre Dame 80-68 for its fourth consecutive victory. The 7-foot-1 Huff made a career-best four 3-pointers — all in the first half — as the 8-2 Cavaliers opened an 18-10 lead and built it to 37-25 by halftime. Cormac Ryan scored 16 and Trey Wertz 13 for the 3-8 Fighting Irish, who lost their fourth in a row. They are 0-11 against Virginia in ACC play.
Tonight
Calvin College at Eastern Michigan, 7:00 p.m.
Michigan State at (5) Iowa, PPD
NCAAMBB – Michigan State-Iowa basketball game postponed
Michigan State's basketball game at No. 5 Iowa on Thursday night has been postponed because of COVID-19 issues with the Spartans.  Michigan State center Mady Sissoko and guard Steven Izzo have tested positive, and the school said there was an additional positive test Wednesday afternoon. "I'm really disappointed, but it just goes to prove that this can affect anyone," coach Tom Izzo said. "I feel so comfortable that me, my son and my players did everything possible and followed every protocol as best we could. I'm really, really impressed with the way they have conducted themselves. This virus does not discriminate and I can't emphasize enough how important it is to wear a mask, wash your hands and follow protocols."
NCAAWBB – Women's College Basketball
Last Night
Toledo 61, Western Michigan 54
Eastern Michigan 61, Miami (OH) 41
Northern Illinois 104, Central Michigan 73
Today
Wake Forest at Notre Dame, 4:00 p.m.
(13) Michigan at Wisconsin, 8:00 p.m.
Michigan State at Illinois, PPD
NCAAFB – Michigan hires Mike Hart as running back mentor
Michigan has hired former running back Mike Hart to be the program's running back mentor. The Wolverines announced the move Wednesday. Hart is Michigan's career rushing leader, and he was the running backs coach at Indiana for the past four seasons. Hart was a 2018 nominee for the Broyles Award, which goes to the nation's top assistant. Coach Jim Harbaugh says he's excited about adding Hart to the staff.
NFL – Bears plan to keep Nagy, GM Pace for at least 1 more season
The Chicago Bears plan to keep general manager Ryan Pace and coach Matt Nagy for at least another season. Chairman George McCaskey says the team opted against sweeping changes in leadership after the Bears slipped into the playoffs despite going 8-8 for the second year in a row. The announcement comes on the heels of the Bears' wild-card loss at New Orleans on Sunday, their second playoff appearance in three years.  The Bears have two playoff appearances and a 42-54 regular-season record in six years under Pace, while Nagy is 28-20.
NFL – Lions complete second GM interview with Holmes
The Detroit Lions completed a second interview with Brad Holmes for their general manager vacancy. Holmes is a college scouting director for the Los Angeles Rams. The Lions are trying to fill two major openings — coach and general manager. They've interviewed Holmes, Rick Smith, Scott Pioli, Thomas Dimitroff, Louis Riddick, Jeff Ireland, Ed Dodds, Terry Fontenot, Kyle O'Brien, Lance Newmark, Rob Lohman and George Paton for the GM job. They've interviewed Marvin Lewis, Robert Saleh, Eric Bieniemy, Dan Campbell, Arthur Smith and Darrell Bevell for the coaching position.