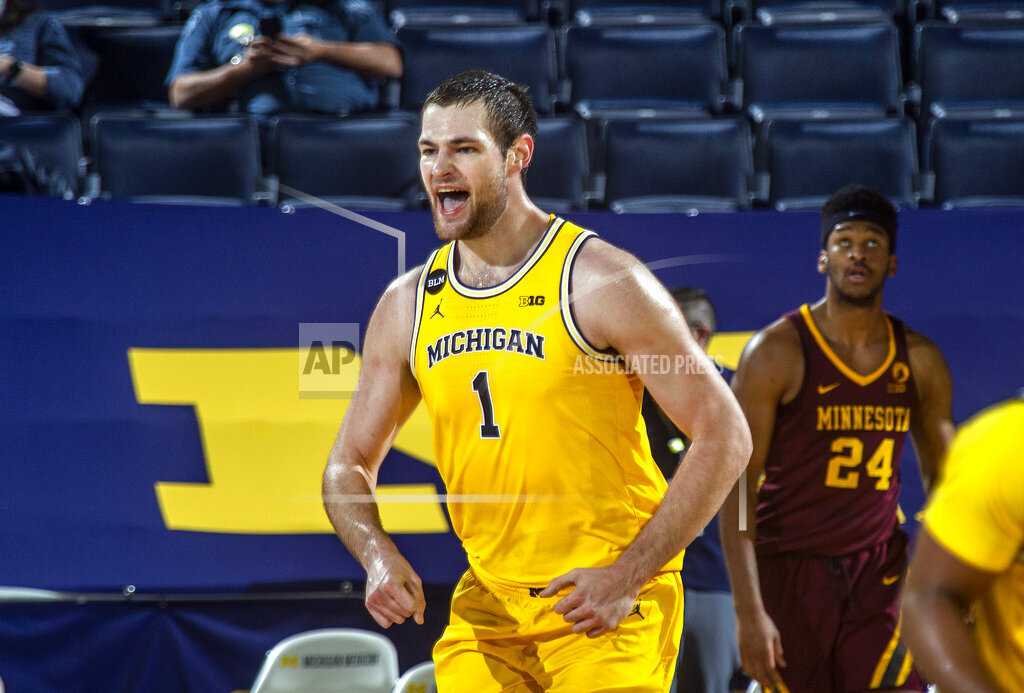 NCAAMBB – Men's College Basketball
Last Night
(10) Michigan 82, (16) Minnesota 58
Western Michigan at Notre Dame, PPD
Wolverines 82, Golden Gophers 57 – Dickinson-led No. 10 Michigan routs No. 16 Minnesota 82-57
Freshman Hunter Dickinson scored a season-high 28 points to help No. 10 Michigan pull away and beat No. 16 Minnesota 82-57 to remain unbeaten. The Wolverines had a 19-point edge in the second half after leading by just six points after a sloppy first half. Dickinson led the way before and after halftime, making 12 of 15 shots and grabbing eight rebounds. The Golden Gophers made fewer than one-third of their shots and only Marcus Carr scored in double figures. Carr was held to 14 points after entering the game averaging 22-plus points per game.
NCAAMBB – Former Notre Dame assistant charged with voyeurism, assault
A former Notre Dame men's basketball assistant coach has been charged with three counts of voyeurism and one count of domestic battery. The charges filed Tuesday stem from Ryan Ayers' relationships with two women over a four-year span in which he allegedly recorded them naked or while having sex without their consent. He also is accused of hitting one of the women in the face during a fight in his car in July. His attorneys says Ayers denies the allegations. Notre Dame announced in September that Ayers had left the basketball program after four seasons on the staff.
NBA – National Basketball Association
Last Night
Indiana Pacers 114, Houston Rockets 107
Milwaukee Bucks 130, Detroit Pistons 115
Chicago Bulls at Sacramento Kings, 10:00 p.m.
Pacers 114, Rockets 107 – Brogdon leads Pacers over Rockets
Malcolm Brogdon scored a career-high 35 points and made the go-ahead 3-pointer with 2:22 remaining to send the Pacers past the Rockets, 114-107. Justin Holiday added a season-high 20 points for Indiana, which closed on an 8-0 run to beat Houston at home for the first time in four years. Rockets guard John Wall had a season-high 28 points in his fourth game with his new team, but James Harden finished with 15.
Bucks 130, Pistons 115 – Fast start helps Bucks breeze past Pistons 130-115
Giannis Antetokounmpo scored 25 points and Khris Middleton added 23 as the Milwaukee Bucks rolled past the Detroit Pistons 130-115 for their third straight victory. This marked the second time in three nights that the Bucks and Pistons have faced off in Milwaukee. The Bucks beat the Pistons 125-115 on Monday and have now won their last nine regular-season meetings with Detroit. Jerami Grant had 31 points for the Pistons to lead all scorers.
Kings 128, Bulls 124 – Hield's 4-point play helps Kings hold off Bulls, 128-124
Buddy Hield converted a four-point play with 38 seconds left to make up for a horrible shooting night, and the Sacramento Kings held off the Chicago Bulls 128-124. Hield missed 12 of his first 14 shots and was 1 of 8 on 3-pointers before hitting one from the top of the arc and getting fouled by former Kings teammate Garrett Temple. Hield sank the free throw and finished with 10 points.
NBA – Pistons say rookie G Killian Hayes has torn hip labrum
Detroit Pistons rookie guard Killian Hayes has a torn labrum in his right hip and will continue to be evaluated by the team's medical staff. The team announced Hayes' condition Wednesday but did not give a timeline for his expected recovery. He had an MRI on Tuesday. Detroit drafted Hayes with the No. 7 pick last year. He has averaged 4.6 points and 21.1 minutes in seven games. The Pistons play at Milwaukee on Wednesday night.
NBA – 'A sad day': NBA reacts to Capitol protest, Blake decision
The Boston Celtics and Miami Heat knelt for the national anthem Wednesday night, saying they were playing "with a heavy heart" after a violent mob loyal to President Donald Trump was able to storm the U.S. Capitol and a Wisconsin prosecutor's decision this week to not charge a police officer who shot a Black man last year. Wednesday's scene from the Capitol, where a mob delayed Congress from certifying the results of November's election and paving the way for President-elect Joe Biden to be sworn in later this month, was widely discussed around the NBA before games began. The Bucks and Pistons knelt and intentionally took turnovers after their game began.
NFL – Bruised Bears could be without Smith, Mooney against Saints
The Chicago Bears could be down two important players when they visit Drew Brees and the New Orleans Saints for a wild-card game on Sunday, with inside linebacker Roquan Smith and receiver Darnell Mooney injured. Both players missed the team's walkthrough on Wednesday after leaving last week's loss to Green Bay. And coach Matt Nagy had little to say about their status. Smith left with a left elbow injury on Green Bay's first possession. Mooney left in the fourth quarter with an ankle injury.
NCAAFB – Clemson quarterback Trevor Lawrence declaring for NFL draft
Clemson quarterback Trevor Lawrence says he is leaving school and declaring for the NFL draft in which he will likely be the first overall selection. Lawrence released a video on social media Wednesday announcing his intentions. He had said in September his plans were to finish his junior season, graduate and then turn pro. However, in midseason, Lawrence discussed keeping his options open, including the possibility of returning to school for his senior season. In the video he released Wednesday Lawrence thanked his teammates, coaches and fans for the past three years. The Jacksonville Jaguars hold the top pick in the upcoming NFL draft.
NFL – Browns working virtually due to COVID-19 issues
The Cleveland Browns continue to work virtually while trying to get a handle on a COVID-19 situation that has knocked coach Kevin Stefanski out of Sunday's playoff game in Pittsburgh. Stefanski says he feels well despite contracting COVID-19, but that he's obviously disappointed he'll have to miss Cleveland's first playoff game since the 2002 season. Stefanski was one of five positive tests for the Browns on Tuesday. He is working from home as the team's facility remains closed. Stefanski said Wednesday that the team did not have any new positive cases and that contact tracing continues.
NCAAWBB – Women's College Basketball
Last Night
Bowling Green 73, Western Michigan 48
Central Michigan 83, Akron 58
Buffalo 73, Eastern Michigan 68
Tonight
(12) Maryland at (23) Michigan State, 5:00 p.m.
Nebraska at (15) Michigan, 6:00 p.m.
Notre Dame at Boston College, 8:00 p.m.