GIRLS
ST. JOE 45,  LAKESHORE 33
St. Joe's defense dominated Lakeshore as the Bears pulled away for a 45-33 win over the Lancers. Lakeshore led 11-6 after the first quarter, but St. Joe limited them to just 22 points the rest of the night.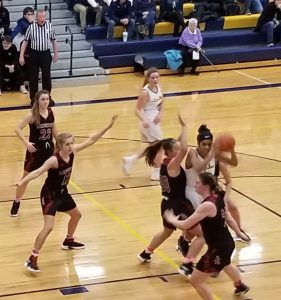 Offensively, Alex Malone paced the Bears with 16 points. The Lancers got nine points apiece from Emily Waning and Sam Pankratz.
The win lifts St. Joe to 4-1 in the Southwest Michigan Athletic Conference West Division and 6-6 on the season. Lakeshore falls to 1-4 in the division and 1-7 on the season.
INDIVIDUAL SCORING…
ST. JOE
Alex Malone – 16
Emma Inman – 8
Caylinn Junk – 6
Caroline Veine – 5
Karly Klaer – 5
Ashley Algyre – 3
Morgan Piontek – 1
Madison Scott – 1
LAKESHORE
Emily Waning – 9
Sam Pankratz – 9
Morgan Tillman – 6
Hollee Hercik – 6
Sara Moncrief – 2
Jayden Schmaltz – 1
BOYS
LAKESHORE 58,  ST. JOE 40
A strong second half led Lakeshore to a 58-40 win over St. Joe.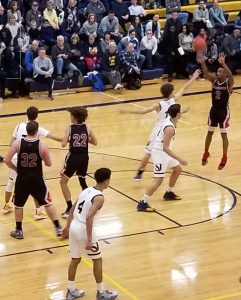 The Bears jumped out to a 16-9 lead after the first quarter with the Lancers rallying to take a three point lead at the half. After the break, the Lakeshore defense limited St. Joe to just 14 points over the final two quarters.
Dylan Clem led Lakeshore with 14 points, JJ Bushu added 12. Ben Newland scored a game high 15 points in the loss for St. Joe.
The Lancers improve to 9-2 on the season and 5-1 in the Southwest Michigan Athletic Conference West Division. The Bears fall to 4-10 on the season and 1-5 in the division.
INDIVIDUAL SCORING…
LAKESHORE
Dylan Clem – 14
JJ Bushu – 12
Dylan Sing – 7
Micah Seats – 6
Ben Anderson – 6
Austin Kiser 5
Ben Brower – 3
Gavin Foster – 3
Nate Turner – 1
Mason Gardiner – 1
ST. JOE
Ben Newland – 15
Jeremiah Sterling – 8
Jordan Marble – 6
Brenden Nolte – 3
Anthony Cellentani – 2
Lane Everett – 2
Nick Borre – 2
Andy Blomgren – 2