South Haven 41, Lakeshore 35
South Haven held on for a 41-35 win over Lakeshore in their Division 2 District opener.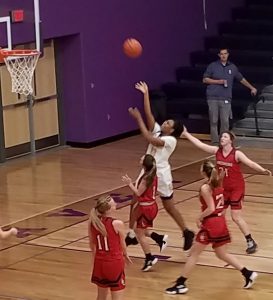 The Rams led by ten through three quarters only to have the Lancers storm back in the fourth. With the Lancers forced to foul in the closing minute to stop the clock, Cate Frost hit four clutch free throws to preserve the win for South Haven.
Constance Phillips led the Rams with a game high 13 points. Morgan Tillman scored 11 in the loss for Lakeshore.
The win sends South Haven to a District Semifinal match-up with Benton Harbor Wednesday night at 5:30 in South Haven live on 106.1 & 1400 WSJM Sports.
INDIVIDUAL SCORING
SOUTH HAVEN
Constance Phillips – 13
Cate Frost – 10
Jordyn Holland – 7
Yazmine Hall – 6
Grace Lyons – 3
Jordan Taylor – 2
LAKESHORE
Morgan Tillman – 11
Emily Waning – 8
Sam Pankratz – 7
Olivia Trivedi – 5
Sara Moncrief – 2
Sierra Ciesielski – 2