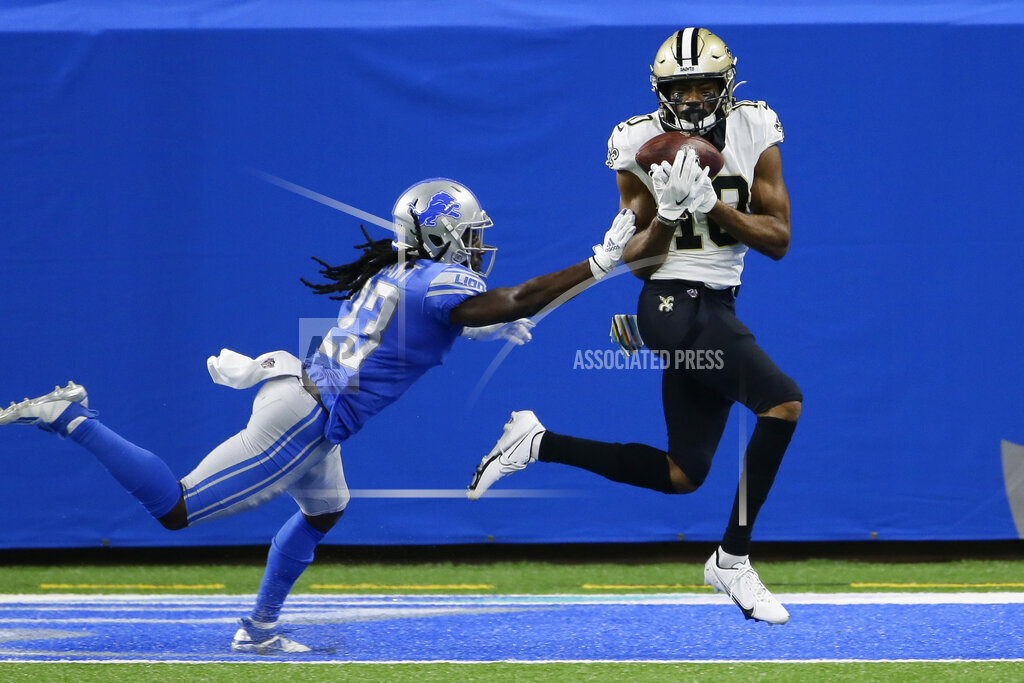 NFL – National Football League – Week 4
Yesterday
New Orleans Saints 35, Detroit Lions 29
Indianapolis Colts 19, Chicago Bears 11
Saints 35, Lions 29 – After COVID scare and little sleep, Saints rally past Lions
Drew Brees threw two touchdown passes to Tre'Quan Smith 2:19 apart in the second quarter and the short-handed New Orleans Saints overcame a 14-point deficit and beat the Detroit Lions 35-29 Sunday. New Orleans started the game without six injured starters after a short night of rest. The Saints had a player test falsely positive for the coronavirus Saturday, leading to another round of tests for players and staff overnight in the Motor City. The Lions led 14-0 lead 4:37 after kickoff at fan-free Ford Field. New Orleans responded by scoring 35 straight points.
Colts 19, Bears 11 – Rivers has early TD toss, Colts shut down Foles, Bears 19-11
Philip Rivers threw an early touchdown pass and the Indianapolis Colts shut down Nick Foles and the Chicago Bears in a 19-11 victory. Rivers hit Mo Alie-Cox with a 13-yarder on Indianapolis' first possession and the NFL's top-ranked defense took over from there. The Colts kept Chicago out of the end zone until Allen Robinson caught a 16-yard pass with 1:35 remaining. They recovered the onside kick and came away with their third straight win, their best streak since beating Kansas City, Houston and Denver last October. The Bears' offense didn't look much better with Foles starting instead of Mitchell Trubisky.
Other NFL Scores
Tampa Bay 38, L.A. Chargers 31
Cleveland 49, Dallas 38
Baltimore 31, Washington 17
Pittsburgh at Tennessee, 1 p.m.
Carolina 31, Arizona 21
Cincinnati 33, Jacksonville 25
Minnesota 31, Houston 23
Seattle 31, Miami 23
L.A. Rams 17, N.Y. Giants 9
Buffalo 30, Las Vegas 23
Philadelphia 25, San Francisco 20
Tonight
New England Patriots at Kansas City Chiefs, 7:05 p.m.
Atlanta Falcons at Green Bay Packers, 8:50 p.m.                News/Talk/Sports 94.9 WSJM
NFL – Patricia's future looks tenuous after Lions collapse again
The Detroit Lions lost after leading by double digits for a third time in four games this season. This time it was the injury-riddled Saints who came away with a 35-29 victory. New Orleans scored 35 unanswered points after Detroit's early advantage, and as the Lions head into their open date, it's becoming harder to avoid the question of whether Matt Patricia will be their coach much longer. Detroit went 9-7 in 2017 under Jim Caldwell before he was fired and replaced by Patricia after that season. Patricia is now 10-25-1 as Detroit's coach.
NFL – No rally this time as Foles struggles, Bears lose to Colts
Chicago Bears quarterback Nick Foles could stage no magical comeback against the Indianapolis Colts. Facing a smothering defense, the Bears had difficulty coming up with yards let alone points in a 19-11 defeat. Foles led a 16-point comeback in the fourth quarter in his first appearance with the Bears after relieving Mitchell Trubisky against Atlanta the previous week. But the Colts held him in check and came up with a key fourth-quarter interception by Julian Blackmon. Foles went 26 of 42 for 249 yards and a late 16-yard touchdown pass to Allen Robinson.
NBA – 2020 NBA Finals (best of 7)
Last Night
Miami Heat 115, Los Angeles Lakers 104                                              (LAL leads 2-1)
Heat 115, Lakers 104 – Butler lifts Heat past Lakers
Jimmy Butler has willed the Miami Heat to victory in Game 3 of the NBA Finals. Butler recorded a triple-double of 40 points, 13 assists and 11 rebounds while playing 45 minutes of the Heat's 115-104 triumph over the Los Angeles Lakers. He was 14 for 20 from the field in the third 40-point triple-double in finals history. Butler allowed Miami to pull within two games to one in the series. Tyler Herro and Kelly Olynyk each had 17 points for Miami, which got 13 from Duncan Robinson and 12 from Jae Crowder.  LeBron James had 25 points, 10 rebounds and eight assists for the Lakers, while Kyle Kuzma and Markieff Morris each had 19 points off the bench. Anthony Davis managed 15 for Los Angeles.  Game 4 is Tuesday.
MLB – MLB Postseason – Division Series (Best of 5)
Today
Houston (Greinke 3-3) vs. Oakland (Bassitt 5-2), 4:07 p.m.                  (Game 1) (at Los Angeles)
New York Yankees (Cole 7-3) vs. Tampa Bay (Snell 4-1), 8:07 p.m.           (Game 1) (at San Diego)
MLB – Plenty of options for new Tigers manager
Detroit Tigers general manager Al Avila says the team is not ruling out the possibility of hiring AJ Hinch or Alex Cora for its managerial vacancy. Hinch and Cora were suspended this season for their roles in the Houston Astros' sign-stealing scandal. The Astros fired Hinch and general manager Jeff Luhnow on Jan. 13 and Cora lost his job managing the Boston Red Sox the following day.. Cora spent the 2017 season as bench coach on Hinch's staff with Houston. The Tigers are in the market for a replacement for manager Ron Gardenhire, who retired late this season.
NASCAR – Hamlin wins at Talladega
Denny Hamlin finally got a playoff win in a messy wreck-fest that took three overtimes, the longest race in Talladega Superspeedway history.  Hamlin made the winning pass on the 200th lap with a three-wide sweep coming out of the fourth turn. The Daytona 500 winner had the throttle open on the No. 11 Toyota to nip Matt DiBenedetto and Erik Jones at the finish line.  DiBenedetto was dropped to 21st in the final finishing order. NASCAR penalized him for forcing William Byron below the line in the third overtime.The race was 12 laps and 32 miles longer than scheduled.
NCAA Football – Oklahoma, UCF out; BYU up; Iowa State back in
Oklahoma has dropped out of The Associated Press college football poll for the first time since September 2016, while Iowa State jumped back into the Top 25 after a day of upsets. There largely was stability at the top of the rankings after No. 1 Clemson, No. 2 Alabama, No. 3 Georgia and No. 4 Florida all won big, though the Bulldogs and Gators switched spots. Five teams dropped out of the rankings after eight ranked teams lost Saturday, six of them to unranked opponents.
NHL – Kings acquire D Määttä from Blackhawks for F Morrison
The Los Angeles Kings have acquired defenseman Olli Määttä from the Chicago Blackhawks for minor league forward Brad Morrison. Määttä spent last season with the Blackhawks after six seasons with the Penguins, furnishing four goals and 17 points in 65 regular-season games. He added three goals and six points in nine playoff contests.
Tennis – Halep, Bertens upset; Nadal, Thiem reach quarterfinals
It's been a day of upsets in the women's draw at the French Open. Polish teenager Iga Swiatek beat top-seeded Simona Halep, sending the 2018 champion packing 6-1, 6-2, and Italian qualifier Martina Trevisan ousted No. 5 Kiki Bertens, 6-4, 6-4.  But it was business as usual for Rafael Nadal, who reached his 14th quarterfinal on the red clay of Paris. The 12-time French Open champ defeated qualifier Sebastian Korda 6-1, 6-1, 6-2. Nadal will next face 19-year-old Jannik Sinner, who ousted U.S. Open finalist Alexander Zverev 6-3, 6-3, 4-6, 6-3. The 75th-ranked Sinner is the first debutant to reach the men's quarterfinals since Nadal.  Two-time French Open runner-up Dominic Thiem survived a spirited comeback in defeating 239th-ranked Hugo Gaston 6-4, 6-4, 5-7, 3-6, 6-3. The 20-year-old Gaston was trying to become the lowest-ranked man to reach the quarterfinals in Paris since the ATP computer rankings began in 1973. Instead, Thiem made it to the quarterfinals for the fifth time in a row and will face No. 12 Diego Schwartzman.
PGA – Garcia gets first PGA win in 3 years
Sergio Garcia birdied the final hole of the Sanderson Farms Championship for his first PGA Tour win since the 2017 Masters.  Garcia delivered two key shots on the back nine, the last one an 8-iron to 30 inches of the stick on 18. He closed with a 5-under 67 and won for the 10th consecutive year worldwide. Peter Malnati closed with a career-best 63 and and walked off the course as the leader before falling short in his bid for a second PGA title.
LPGA – Reid captures first LPGA Tour title
Mel Reid of England is finally a winner on the LPGA Tour. The 33-year-old Reid seized control of the Shoprite LPGA Classic with four birdies in five holes around the turn. She closed with a 67 and won by two shots over Jennifer Kupcho. Jennifer Song finished third. The victory came one tournament after Reid lost a two-shot lead in the final round at Portland.
MHSAA – High School Sports
Today
Girls Volleyball
Battle Creek Central at St. Joseph, 6:30 p.m.
Lakeshore at Gull Lake, 6:30 p.m.
Countryside Academy at Benton Harbor, 5:00 p.m.
Portage Central at Battle Creek Lakeview, 6:30 p.m.
Kalamazoo Loy Norrix at Portage Northern, 6:30 p.m.
Allegan at South Haven, 6:00 p.m.
Lawrence at Bridgman, 6:00 p.m.
Berrien Springs at Michigan Lutheran, 6:30 p.m.
Boys Soccer
Three Rivers at Allegan, 6:30 p.m.
South Haven at Bridgman, 5:00 p.m.
Plainwell at Paw Paw, 6:30 p.m.
Otsego at Sturgis, 6:30 p.m.
Edwardsburg at Vicksburg, 6:00 p.m.
Niles at Buchanan, 5:00 p.m.
Michigan Lutheran at Hartford, 5:00 p.m.
New Buffalo at Howardsville Christian, 5:00 p.m.
Bloomingdale at Bangor, 5:00 p.m.
Kalamazoo Christian at Coloma, 6:00 p.m.
Lawton at Constantine, 5:00 p.m.
Saugatuck at Watervliet, 4:30 p.m.
Kalamazoo Hackett at Delton-Kellogg, 6:00 p.m.
Wyoming Potter's House Christian at Fennville, 4:00 p.m.
Schoolcraft at Parchment, 6:00 p.m.
Boys Tennis
Edwardsburg at Brandywine, 4:00 p.m.
Girls Golf – Regionals
Division 2 at Yankee Springs (Middleville), 10:00 a.m.
Battle Creek Lakeview, Byron Center, Coldwater, Holland, Mattawan, Middleville Thornapple Kellogg, Portage Central, Portage Northern, Gull Lake, St. Joseph, Sturgis, Zeeland East, Zeeland West
Division 4 at Hawkshead (South Haven), 9:00 a.m.
Comstock, Grand Rapids NorthPointe Christian, Grand Rapids West Catholic, Grandville Calvin Christian, Kalamazoo Christian, Kalamazoo Hackett, Muskegon Western Michigan Christian, Schoolcraft, South Haven, Michigan Lutheran