The Chicago Bears have declined their fifth-year option for quarterback Mitchell Trubisky for the 2021 season. A person familiar with the situation confirmed the move on condition of anonymity because it had not been announced. The NFL Network first reported the decision. It's hardly a surprise considering the way Trubisky struggled in his third season since the Bears drafted him with the No. 2 overall pick. His yards (3,138), completion rate (63.2%), touchdowns (17) and rating (83) all dropped from the previous year. The Bears acquired Nick Foles from Jacksonville in March and plan to hold an open competition for the starting job.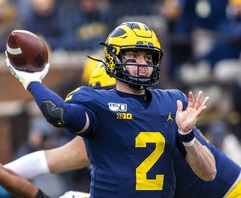 Former Michigan quarterback Shea Patterson has agreed to terms with the Kansas City Chiefs as an undrafted free agent. Agent Bryan Ehrlich confirmed the deal. Patterson started all 26 games for the Wolverines over the past two seasons after transferring from Mississippi. Patterson threw for 3,061 yards with 23 touchdowns and eight interceptions last season. He threw 45 touchdown passes in his two years at Michigan. Patterson passed for 131 yards in the Senior Bowl. Patterson started 10 games at Ole Miss but transferred after the school was hit by NCAA sanctions. He was granted eligibility at Michigan in 2018 without sitting out a year.
The NHL could have trouble getting non-Canadian resident players into Canada should the league decide to resume the 2019-20 season soon. Prime Minister Justin Trudeau said Sunday that players would at a minimum need to follow quarantine protocols if they were to arrive in Canada while the border remains closed due to the pandemic. Trudeau says anyone who arrives from another country will have to follow all the rules of quarantine in an extremely strict manner. However, he adds that an agreement between Canada and the NHL hasn't been brokered.
Former Oakland Athletics pitcher and special assistant Matt Keough has died at age 64. Keough spent 10 seasons in the majors, breaking in with the 1977 A's and playing for the Yankees, Cardinals and Cubs before ending up with the Astros in 1986. He was an All-Star as a rookie in 1978 and led the American League with 18 losses in 1982. Keough was 58-84 with a 4.17 ERA in 215 big league games, including 175 starts.