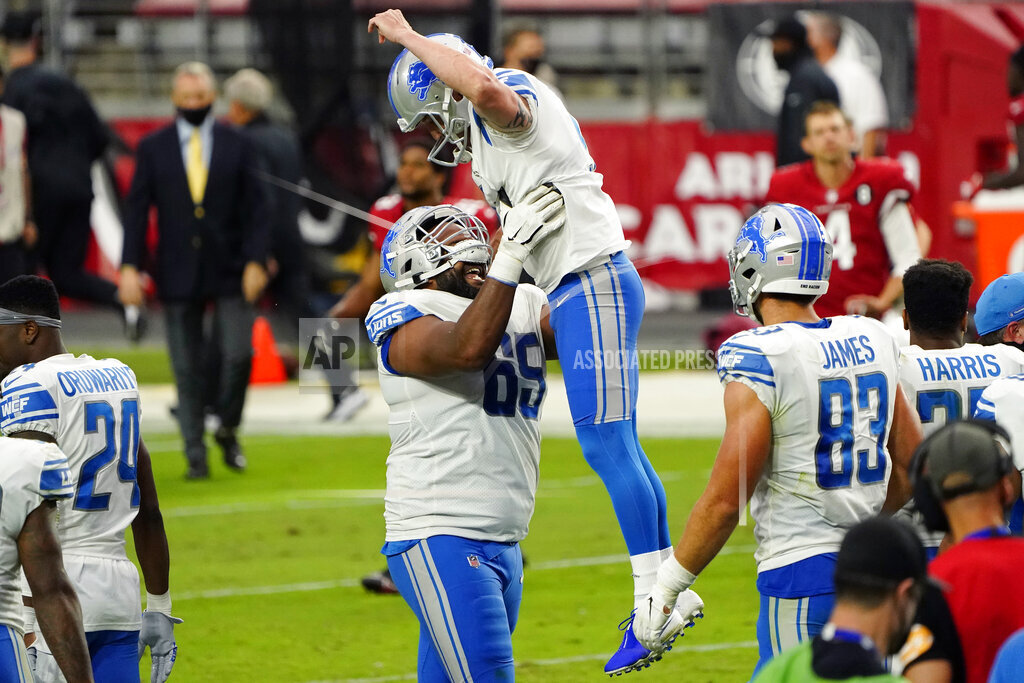 NFL – National Football League – Week 3
Last Night
Detroit Lions 26, Arizona Cardinals 23
Chicago Bears 30, Atlanta Falcons 23
Indianapolis Colts 36, New York Jets 7
Lions 26, Cardinals 23 – Lions snap 11-game losing streak, beat Cardinals 26-23
Matt Prater made 39-yard field goal as time expired, Matthew Stafford threw two touchdown passes and the Detroit Lions snapped an 11-game losing streak dating to last season by beating the Arizona Cardinals 26-23. It was Prater's 15th game-winning kick with less than 2 minutes to play in the fourth quarter or overtime. Arizona's Kyler Murray threw for 270 yards and two touchdowns, but also had three costly interceptions. Duron Harmon, Jamie Collins and rookie Jeff Okudah had Detroit's picks. DeAndre Hopkins caught 10 passes for 137 yards and Andy Isabella had two TD receptions for the Cardinals.
Bears 30, Falcons 23 – Another Falcons collapse: Foles' 3 TDs lead 30-26 Bears win
The Atlanta Falcons have suffered another historic collapse. Chicago's Nick Foles threw three touchdown passes in the fourth quarter, rallying the Bears from a 16-point deficit for a 30-26 victory. The Bears improved to 3-0 for the first time since 2013. The winless Falcons became the first team in NFL history to blow fourth-quarter leads of at least 15 points in back-to-back games. This one could spell the end for coach Dan Quinn, who desperately needed a good start after two straight losing seasons. Foles had two TD passes overturned by replays and still managed to pull out the win.
Colts 36, Jets 7 – Colts defense, Rivers come up big as Colts ground Jets 36-7
Xavier Rhodes and T.J. Carrie each returned interceptions for touchdowns and quarterback Philip Rivers became the sixth player in NFL history to throw 400 touchdown passes as the Indianapolis Colts blew out the New York Jets 36-7. It marked the first time in nearly 50 years that the Colts ran back two interceptions for scores in one game. The last time it happened was Oct. 18, 1970, also against the Jets. Rivers also became the sixth NFL player to throw for 60,000 yards, moved past Dan Marino for fifth all-time in completions and broke a tie with Fran Tarkenton for No. 8 on the career victory list. The Jets are 0-3 for the second straight season.
Other scores
Pittsburgh 28, Houston 21
Tennessee 31, Minnesota 30
Cincinnati 23, Philadelphia 23, OT
Cleveland 34, Washington 20
New England 36, Las Vegas 20
Buffalo 35, L.A. Rams 32
San Francisco 36, N.Y. Giants 9
Carolina 21, L.A. Chargers 16
Tampa Bay 28, Denver 10
Seattle 38, Dallas 31
Green Bay 37, New Orleans 30
Tonight
Kansas City at Baltimore, 8:15 p.m.               News/Talk/Sports 94.9 WSJM 7:30
NFL – Foles rekindles Super Bowl magic in stunning win vs Falcons
Nick Foles rekindled that Super Bowl magic. The result was a stunning victory for the Chicago Bears. Taking over for the erratic Mitchell Trubisky in the third quarter, Foles threw three touchdown passes in the final 6 1/2 minutes to lead the Bears to a 30-26 triumph over the shell-shocked Falcons. Atlanta became the first team in NFL history to blow fourth-quarter leads of at least 15 points in back-to-back games. The Bears improved to 3-0 for the first time since 2013. They might have a new quarterback going forward. At the very least, there's a QB controversy in Chi-town.
NFL – Joe Montana, wife block attempted kidnapping of grandchild
Authorities say Hall of Fame quarterback Joe Montana and his wife confronted a home intruder who attempted to kidnap their grandchild over the weekend in California. According to the Los Angeles County Sheriff's Department, Montana told deputies that his 9-month-old grandchild was sleeping in a playpen Saturday when an unknown woman entered their home in Malibu and grabbed the child. Montana and his wife, Jennifer, confronted the woman and asked her to give back their grandchild. After a tussle, law enforcement officials say Jennifer Montana pried the baby out of the woman's arms. The sheriff's office says the woman, whom authorities identified as Sodsai Dalzell, fled the home but was later arrested. She faces kidnapping and burglary charges.
MLB – Major League Baseball
Yesterday
Kansas City Royals 3, Detroit Tigers 1
Chicago Cubs 10, Chicago White Sox 0
End of Regular Season
Royals 3, Tigers 1 – Singer, Royals beat Tigers 3-1 in Gordon's finale
Brady Singer finished his rookie season with a stellar performance, Alex Gordon wrapped up his long Royals career with a fond farewell and Kansas City ended its season with a 3-1 win over the Detroit Tigers.  Adalberto Mondesi and Ryan McBroom homered for the Royals, who finished just above the last-place Tigers in the AL Central in their first season under manager Mike Matheny.
Cubs 10, White Sox 0 – Slow start sends White Sox to costly 10-8 loss vs Cubs
The Chicago White Sox tumbled out of position for a home playoff series, losing 10-8 to Kris Bryant and the crosstown Cubs. The White Sox finished the season with seven losses in eight games to go from first in the AL Central to the seventh seed for their first playoff appearance since 2008. Bryant, Billy Hamilton and David Bote homered for the NL Central champion Cubs, and Adbert Alzolay struck out a career-high eight in five effective innings.
MLB – Playoff matchups
AL
Tampa Bay Rays vs. Toronto Blue Jays
Oakland Athletics vs. Chicago White Sox
Minnesota Twins vs. Houston Astros
Cleveland Indians vs New York Yankees
NL
Los Angeles Dodgers vs. Milwaukee Brewers
Atlanta Braves vs. Cincinnati Reds
Chicago Cubs vs. Miami Marlins
San Diego Padres vs. St. Louis Cardinals
NHL – National Hockey League – Stanley Cup Finals – (Best of 7)
Tonight
Dallas Stars vs. Tampa Bay Lightning, 8:00 p.m.                          (TBL leads 3-2)
NBA – National Basketball Association Playoffs – Conference Finals (Best of 7)
Last Night
Miami Heat 125, Boston Celtics 113                                           (MIA wins 4-2)
Heat 125, Celtics 113 – Heat dispose of Celtics to reach NBA Finals
Bam Adebayo scored a season-high 32 points and grabbed 14 rebounds as the Miami Heat closed out the NBA's Eastern Conference Finals in six games, 125-113 over the Boston Celtics. Boston took its largest lead of the night at 96-90 before Adebayo and Tyler Herro sparked a 26-6 run that put the Heat in control. Jimmy Butler scored 22 points in earning his first trip to the Finals.
Tonight
Miami Heat vs. Boston Celtics, 8:30 p.m.                                     (MIA leads 3-1)
NBA – The Finals are set: LeBron, Lakers will meet Butler, Heat
LeBron James vs. the Heat. Pat Riley vs. the Lakers. Get ready for the NBA Finals — a title series like none other, to end a season like none other. The matchup is now set, with the Miami Heat and the Los Angeles Lakers emerging as the last two teams standing in the chase to be crowned champions of the most tumultuous season in NBA history. The Heat won the Eastern Conference title on Sunday night, clinching that series a day after the Lakers won the Western Conference crown. So, for the first time, two franchises that missed the playoffs the previous season will meet in the NBA Finals.
NASCAR – Kurt Busch ends 0-for-21 skid to finally win at home track
Kurt Busch ended an 0-for-21 losing streak at Las Vegas with good timing and then three tremendous restarts. He entered the race 12th in the standings and in danger of elimination from title contention, but the victory earned him an automatic berth into the next round. His win was the first of the season for the 2004 Cup champion and first of his career at his home track. It was the first win of the year for Chip Ganassi Racing and the first in the playoffs for a Chevrolet driver.
NCAA Football – AP Top 25: Big Ten and Pac-12 return to most unusual poll
There are a host of changes in The Associated Press football poll after several conferences changed course and elected to play a season. Ohio State, Penn State and Oregon returned to The Associated Press college football poll on Sunday, weeks before they start playing. Clemson remained No. 1 with 55 first-place votes, followed by Alabama at No. 2 with three first-place votes. Third-ranked Florida is just ahead of Georgia and Notre Dame, while Ohio State, Auburn, Miami, Texas and Penn State round out the top 10. Oregon is 14th. Defending champion LSU and Oklahoma both took tumbles in the poll. LSU fell from 6th to 17th, and the Sooners dropped from third to 16th.
Tennis – Ex-champ Halep in 2nd round, Venus Williams out, Gauff wins
Coco Gauff has won her French Open debut by beating No. 9 seed Johanna Konta 6-3, 6-3. The 16-year-old Gauff already owns four victories over opponents ranked in the Top 20. A half-dozen seeded players lost, while winners included No. 1 Simona Halep and No. 6 Alexander Zverev. Venus Williams lost in the first round at Roland Garros for the third straight year, falling to Anna Karolina Schmiedlova 6-4, 6-4.
MHSAA – High School Sports
Today
Girls Volleyball
Battle Creek Lakeview at St. Joseph, 6:30 p.m.
Lakeshore at Battle Creek Central, 6:30 p.m.
Kalamazoo Loy Norrix at Mattawan, 6:30 p.m.
Kalamazoo Central at Portage Central, 6:30 p.m.
Vicksburg at Plainwell, 6:00 p.m.
Howardsville Christian at Eau Claire, 5:30 p.m.
Brandywine at New Buffalo, 6:00 p.m.
Mendon at Constantine, 6:30 p.m.
Holland Black River at Fennville, 6:30 p.m.
Boys Soccer
Howardsville Christian at Michigan Lutheran, 5:00 p.m.
New Buffalo at Bridgman, 5:00 p.m.
Edwardsburg at Plainwell, 6:30 p.m.
Dowagiac at Sturgis, 6:30 p.m.
Vicksburg at Paw Paw, 6:30 p.m.
Allegan at Otsego, 6:30 p.m.
Battle Creek Lakeview at Kalamazoo Central, 6:30 p.m.
Delton-Kellogg at Comstock, 5:00 p.m.
Bloomingdale at Kalamazoo Home School, 5:30 p.m.
Hartford at Cassopolis, 5:00 p.m.
Kalamazoo Hackett at Coloma, 6:00 p.m.
Fennville at Constantine, 5:00 p.m.
Lawton at Watervliet, 5:00 p.m.
Kalamazoo Christian at Parchment, 6:00 p.m.
Saugatuck at Schoolcraft, 5:00 p.m.
Girls Golf
St. Joseph at East Lansing Invitational, 10:00 a.m.
Boys Tennis
Vicksburg at St. Joseph, 3:00 p.m.
Lakeshore at Kalamazoo Loy Norrix, 4:00 p.m.