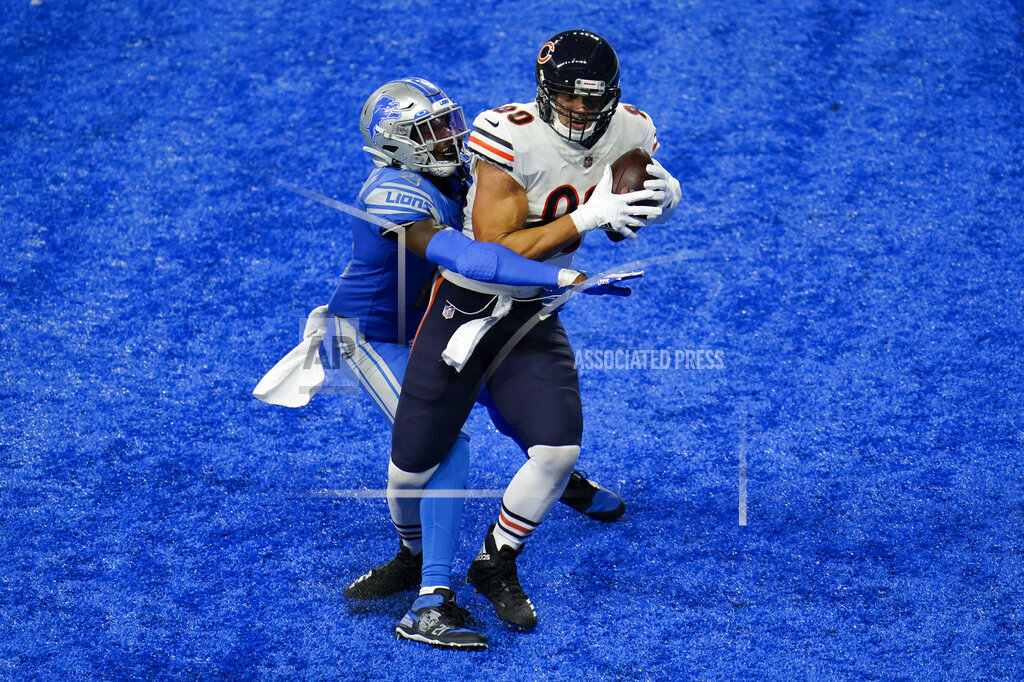 NFL – National Football League – Week 1
Yesterday
Chicago Bears 27, Detroit Lions 23
Jacksonville Jaguars 27, Indianapolis Colts 20
Bears 27, Lions 23 – Trubisky throws 3 TDs in 4th to help Bears beat Lions 27-23
Mitchell Trubisky lofted a 27-yard, go-ahead touchdown pass to Anthony Miller with 1:54 remaining and the Chicago Bears held on to beat the Detroit Lions 27-23. Detroit drove to the Chicago 16 with a chance to win and rookie running back D'Andre Swift dropped a pass in the end zone. Matthew Stafford threw another incomplete pass as time expired to complete the collapse. Trubisky threw three touchdown passes in the fourth quarter to help Chicago come back from a 17-point deficit. The Lions opened last season by blowing an 18-point lead at Arizona and settling for a tie.
Jags 27, Colts 20 – Minshew Mania 2.0: Jags stun Colts, Rivers 27-20 in opener
Minshew Mania is back and maybe better than before. Gardner Minshew threw three touchdown passes, including a 22-yarder to Keelan Cole in the fourth quarter, and Jacksonville stunned Indianapolis 27-20 in their season opener and spoiled Philip Rivers' debut with the Colts. The Jaguars entered Week 1 as the NFL's biggest home underdogs. Talk of tanking was most prevalent preseason topic surrounding the revamped team. Minshew ended that for now. The second-year pro completed 19 of 20 passes for 173 yards and no turnovers. He connected with DJ Chark, rookie Laviska Shenault and Cole for scores. Rivers threw two interceptions.
Tonight
Pittsburgh Steelers at New York Giants, 7:10 p.m.
Tennessee Titans at Denver Broncos, 10:20 p.m.
MLB – Major League Baseball
Yesterday
Chicago Cubs 12, Milwaukee 0
Chicago White Sox 5, Detroit 2
Cubs 12, Brewers 0 – Cubs' Mills throws MLB's 2nd no-hitter in 12-0 win over MIL
Chicago Cubs right-hander Alec Mills cruised through baseball's second no-hitter this season in just his 15th career start, completing the gem in a 12-0 romp over the Milwaukee Brewers. Mills got Jace Peterson, who replaced star slugger Christian Yelich late in the blowout, to hit a routine grounder to shortstop Javier Baez with two outs in the ninth. Baez completed the play, and the Cubs swarmed around Mills, tearing off his cap and pulling at the smiling right-hander's uniform after his first career complete game in his 15th start.
White Sox 5, Tigers 2 – Jiménez homers as White Sox beat Tigers again
Eloy Jiménez homered, Yoán Moncada had three hits and the Chicago White Sox beat the Detroit Tigers 5-2 for their fourth straight win. AL Central-leading Chicago tuned up for a big series against Minnesota with its ninth consecutive victory against Detroit. The second-place Twins visit the Windy City on Monday for the opener of a four-game set. Jiménez had two hits and two RBIs for the White Sox, who have won eight of nine overall. José Abreu had a run-scoring single for his major league-best 48th RBI.
Tonight
Minnesota (Berríos 4-3) at Chicago White Sox (Cease 5-2), 8:10 p.m.
Tigers and Cubs are off
NHL – National Hockey League – Stanley Cup Playoffs – 3rd round (Best of 7)
Yesterday
Tampa Bay Lightning 4, New York Islanders 1                                         (TBL leads 3-1)
Tonight
Dallas Stars vs. Vegas Golden Knights, 8:00 p.m.                                  (DAL leads 3-1)
NBA – National Basketball Association – 2nd round (Best of 7)
Last Night
Denver Nuggets 111, Los Angeles Clippers 98                                        (Series tied 3-3)
NCAA Football – After presidents meet, Big Ten football still in limbo
The Big Ten presidents were presented a comprehensive plan to conduct a fall football season, but a final decision is still to come. A person with direct knowledge of the situation told The Associated Press that the full Council of Presidents and Chancellors heard from all the subcommittees of the conference's Return to Competition Task Force over two and half hours. The person spoke on condition of anonymity because the Big Ten was not making its return to competition plans public. The person said the meeting broke up without the presidents and chancellors voting and with no set plans for them to reconvene.
NCAA Football – La.-Lafayette leads 10 new teams in rankings
Louisiana-Lafayette and Appalachian State are among 10 new teams ranked in first regular-season Associated Press college football poll, which was stripped of the teams not yet scheduled to play a fall season. There was no change at the very top: Preseason No. 1 Clemson received 60 of 61 first place-votes this week. Alabama moved up to No. 2. Oklahoma is No. 3, followed by Georgia and Florida. Defending champion LSU, with one first-place vote, is No. 6. Among the new teams in the rankings were Sun Belt powerhouses Louisiana-Lafayette at No. 19 and Appalachian State at No. 24. Louisiana-Lafayette was last ranked in 1943.
Tennis – Thiem 1st since 1949 to win US Open after ceding 1st 2 sets
Dominic Thiem has become the first man in 71 years to win the U.S. Open after dropping the first two sets of the final. Thiem earned his first Grand Slam title Sunday with a 2-6, 4-6, 6-4, 6-3, 7-6 (6) comeback victory against Alexander Zverev. It's the first time the U.S. Open final ended with a fifth-set tiebreaker. Pancho Gonzalez made the same sort of turnaround against Ted Schroeder in 1949 to win the event then known as the U.S. Championships. Thiem is a 27-year-old from Austria who entered Sunday with an 0-3 career record in major title matches. This was Zverev's debut in a Grand Slam final.
Golf – LPGA – Lee wins LPGA major
Mirim Lee birdied the first playoff hole to capture the ANA Inspiration. Lee chipped in three times Sunday, the last one for eagle on the final hole that got her into a three-way playoff. She was never in the lead at any point until she calmly holed a 5-foot birdie putt on the 18th to beat Nelly Korda and Brooke Henderson, who each had the lead on the back nine. Lee closed with a 5-under 67 to finish at minus-15.
Golf – PGA – Cink ends victory drought
Stewart Cink has won the season-opening Safeway Open at 47 years old for his seventh PGA Tour victory and first since the 2009 British Open. Cink closed with a 7-under 65, rebounding from a bogey on the 17th with a birdie on the 18th for a two-stroke victory over Harry Higgs. Cink is the oldest PGA Tour winner since Phil Mickelson at 48 at Pebble Beach in February 2019.
Golf – Champions – Jimenez wins
Miguel Angel Jimenez has completed a wire-to-wire victory in the Sanford International, the PGA Tour Champions' first event with fans since returning from a break for the coronavirus pandemic. Jimenez closed with a 5-under 65 at Minehaha Country Club to beat Steve Flesch by a stroke. The 56-year-old Spanish star won for the second time this season and 10th on the 50-and -over tour.
MHSAA – High School Sports
Today
Girls Volleyball
Buchanan at Lakeshore, 6:30 p.m.
Berrien Springs, Three Rivers, Colon at Kalamazoo Central, 5:00 p.m.
Bloomingdale at Lawrence, 6:00 p.m.
Boys Tennis
Lakeshore at Kalamazoo Loy Norrix, 4:00 p.m.
Buchanan at South Haven, 4:00 p.m.
Sturgis at Allegan, 4:00 p.m.
Girls Golf
SMAC West at Portage Central (The Moors), 3:30 p.m.
BCS Jamboree at Michigan Lutheran (Blossom Trails), 4:00 p.m.
Boys Soccer
Michigan Lutheran at Lawrence, 5:00 p.m.
Buchanan at Howardsville Christian, 5:00 p.m.
Bronson at Brandywine, 5:00 p.m.
Edwardsburg at Otsego, 6:30 p.m.
Sturgis at Paw Paw, 6:30 p.m.
Dowagiac at Three Rivers, 6:30 p.m.
Allegan at Vicksburg, 6:30 p.m.
Comstock at Bangor, 5:30 p.m.
Bloomingdale at Cassopolis, 5:00 p.m.
Watervliet at Constantine, 5:00 p.m.
Lawton at Kalamazoo Christian, 5:00 p.m.
Kalamazoo Hackett at Saugatuck, 5:00 p.m.
Fennville at Schoolcraft, 5:00 p.m.
Delton-Kellogg at Parchment, 6:00 p.m.