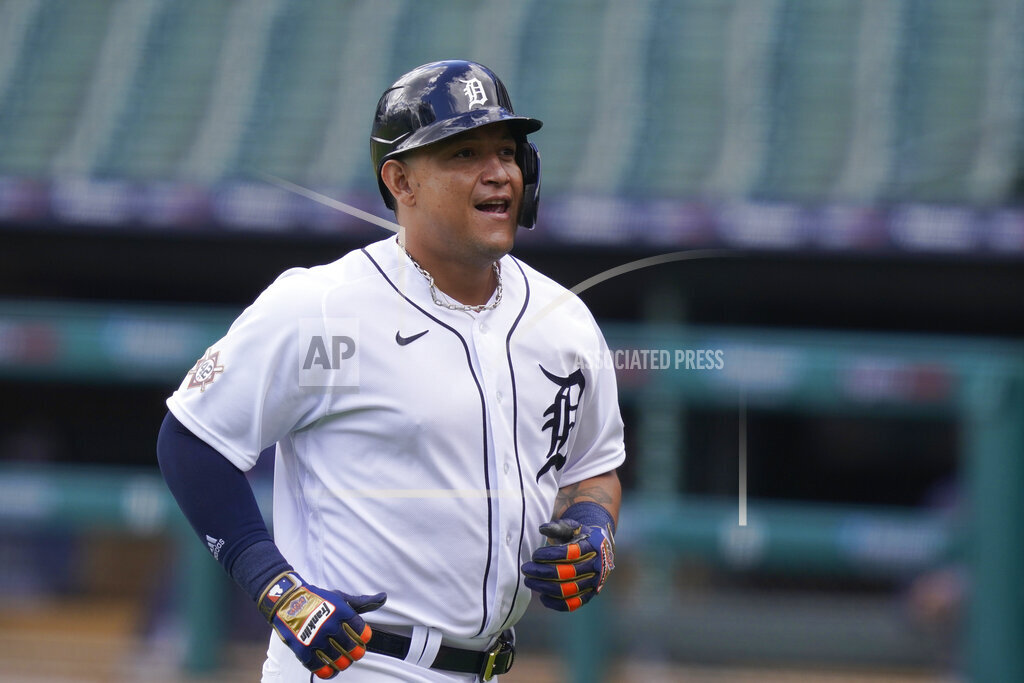 Major League Baseball
Yesterday
Tigers 3, Minnesota 2
White Sox 5, Kansas City 2 – 10 innings
Cubs 10, Cincinnati 1
Tigers 3, Twins 2 
Jonathan Schoop hit a tiebreaking home run in the sixth inning, and the Detroit Tigers finished off a three-game sweep of the Minnesota Twins with a 3-2 victory. Tyler Alexander pitched 3 2/3 scoreless innings of relief for Detroit, which handed Twins starter Kenta Maeda his first loss of the season. Detroit has won five straight and pulled back to .500 on the year. Miguel Cabrera's first inning single was his 2,000 career hit as a Tiger.  Minnesota has dropped five in a row. Jeimer Candelario also homered for the Tigers, and Jorge Polanco went deep for the Twins. Rookie Casey Mize allowed two runs in three innings as Detroit's starter.
White Sox 5, Royals 2 
Prized rookie Luis Robert hit his first game-ending homer, a three-run drive in the 10th inning that gave the Chicago White Sox a 5-2 victory over the Kansas City Royals on Sunday. Dane Dunning threw five no-hit innings before being pulled from his second major league start, and the surging White Sox won for the 11th time in 13 games to move into a first-place tie with Cleveland in the AL Central. Kansas City reliever Tyler Zuber intentionally walked José Abreu to start the 10th, putting runners on first and second. James McCann struck out, but Robert drove the next pitch to left field for his ninth home run — tops among big league rookies.
Cubs 10, Reds 1
Chicago's starting outfield of Kyle Schwarber, Jason Heyward and Ian Happ each homered twice, and the Cubs pounded the Cincinnati Reds 10-1 for a split of their four-game series. Schwarber hit the first and the last of the Cubs' season-high six homers, belting a solo drive in the fourth inning against Luis Castillo and a grand slam off José De León in the ninth. Heyward connected for solo drives in the fourth and sixth, and Happ hit a two-run shot in the fifth and a solo homer in the seventh. Joey Votto homered in the sixth for Cincinnati, which rallied for a doubleheader split against Chicago on Saturday. Castillo allowed four runs and five hits in five innings.
Tonight
White Sox (Giolito 3-2) at Minnesota (Hill 1-1), 8:10
Tigers and Cubs are off
MLB – Cubs acquire 1B/OF José Martínez in trade with Rays
The Chicago Cubs have acquired José Martínez in a trade with the Tampa Bay Rays, giving manager David Ross another option at designated hitter. The 32-year-old Martínez is a .294 hitter with 43 homers and 182 RBIs in 422 major league games. He debuted with St. Louis in 2016 and spent four years with the Cardinals before he was traded to the Rays in January. Tampa Bay acquired two players to be named or cash considerations in the deal with Chicago. The Rays also promoted outfielder Randy Arozarena from its alternate training site.
NCAA Football 
Police say Ohio State defensive tackle Haskell Garrett was wounded in a shooting in Columbus over the weekend. Police say officers responding to a report of a shooting just before 12:30 a.m. Sunday found blood in the street and one shell casing near the blood. They said the officers followed a trail of blood to an apartment where the 22-year-old Garrett was found with a "through-and-through" gunshot wound to the cheeks. He was taken to Ohio State University Hospital in stable condition. Police opened a felony assault investigation. No arrests were immediately announced. A message was sent to a team representative seeking comment.
NHL Stanley Cup Playoffs – 2nd round (Best of 7)
Yesterday
NY Islanders 3, Philadelphia 2  (NYI leads 3-1)
Dallas 5, Colorado 4  (DAL leads 3-1)
Vegas 5, Vancouver 3  (VEG leads 3-1)
Tonight
Boston vs. Tampa Bay, 7:00  (TBL leads 3-1)
Dallas vs. Colorado, 9:45  (DAL leads 3-1)
NBA Playoffs 1st round (Best of 7)
Yesterday
LA Clippers 111, Dallas 97  (LAC wins 4-2)
Denver 119, Utah 107  (Series tied 3-3)
Tonight
Houston vs. Oklahoma City, 9:00  (HOU leads 3-2)
2nd Round (Best of 7)
Yesterday
Boston 112, Toronto 94  (BOS leads 1-0)
Tonight
Miami vs. Milwaukee, 6:30  (Game 1)
Tennis 
French tennis player Benoit Paire has been removed from the U.S. Open men's field after testing positive for the coronavirus. That's according to a person familiar with the situation.
The 31-year-old was seeded 17th and was supposed to face Kamil Majchrzak of Poland in the first round on Tuesday. Contact tracing will now be used to determine who might have been exposed to Paire and needs to be quarantined. The Grand Slam tournament begins Monday, with no spectators allowed as part of efforts to prevent the spread of COVID-19.
Golf – PGA 
Jon Rahm birdied the first playoff hole to nose out Dustin Johnson and win the BMW Championship at Olympia Fields. The Spaniard closed with a bogey-free, 6-under 64 to finish at 4 under. Johnson forced the extra hole with a 43-foot double-breaker on 18, but Rahm won it with a 66-foot putt. It was Rahm's second PGA win of the year and fifth of his career.
Golf – LPGA 
Austin Ernst has rallied to win the Walmart NW Arkansas Championship, her second LPGA Tour title. She became the second American to win the event, closing with an 8-under 63 for a two-stroke victory over Anna Nordqvist. Four strokes behind Nordqvist entering the round, Ernst had the best score of the day with making 10 birdies and two bogeys at Pinnacle Country Club.'
Olympics 
The Olympic flame is going on display in Tokyo. The flame arrived in Japan from Greece in March and has been largely hidden away since the Tokyo Olympics were postponed until next year because of the COVID-19 pandemic. It will be on display at the new Japan Olympic Museum for at least the next two months. Visitors can only enter the museum with a reservation. Organizers and the International Olympic Committee say the games will open on July 23, 2021. But they have not revealed any details about how 15,400 Olympic and Paralympic athletes plus staff and technical officials will be safe in Tokyo.
High School Sports
Today
Boys Tennis
Lakeshore at St. Joe, 4:00
Allegan at Vicksburg, 4:00