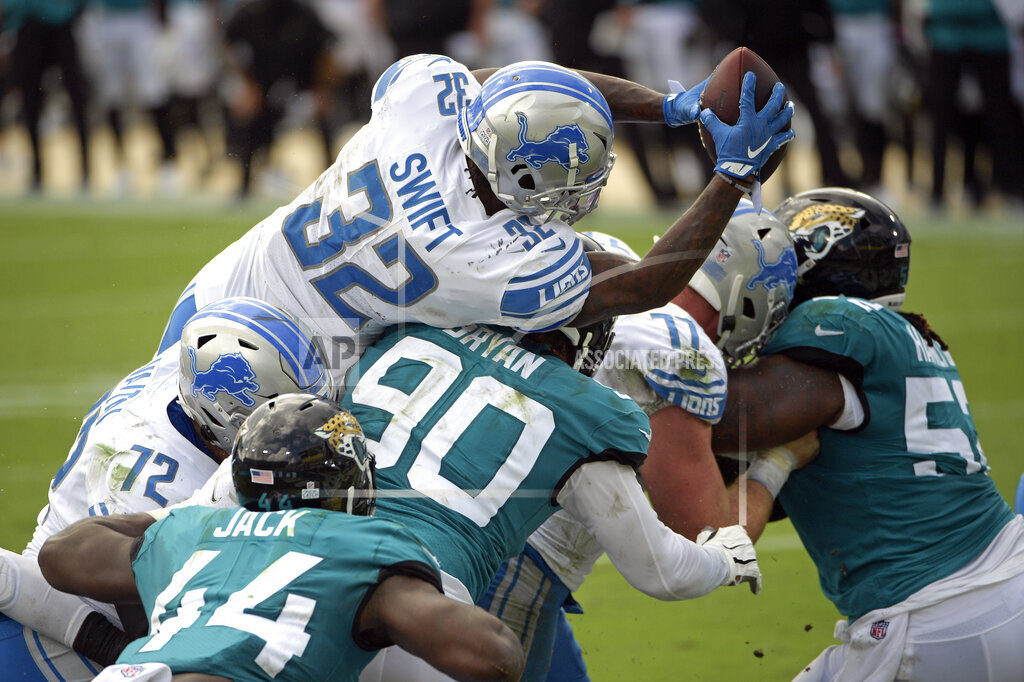 Yesterday
Detroit Lions 34, Jacksonville Jaguars 16
Chicago Bears 23, Carolina Panthers 16
Indianapolis Colts 31, Cincinnati Bengals 27
Lions 34, Jaguars 16 – Stafford, Swift, Lions protect lead, pound Jaguars 34-16
Matthew Stafford finally got his first touchdown pass against Jacksonville. It helped the Detroit Lions build a lead even they couldn't squander. Rookie D'Andre Swift ran for a career-high 116 yards and two touchdowns, Stafford got an elusive TD pass against Jacksonville and the Lions hammered the Jaguars 34-16 on Sunday. Detroit made this one look easy. It probably helped that this one came against hapless Jacksonville, which has now lost five straight and allowed at least 30 points in each one. The Jaguars were the only team Stafford hadn't thrown a touchdown pass against in 12 NFL seasons.
Bears 23, Panthers 16 – Foles, stingy defense lead Bears past Panthers 23-16
Nick Foles threw for one touchdown and ran for another, Chicago's defense forced three turnovers and sacked Teddy Bridgewater four times and the Bears held on to beat the Carolina Panthers 23-16. Foles finished with 198 yards passing and a touchdown and David Montgomery added 58 yards on the ground as the Bears opened the season 3-0 on the road for the first time since 2006, when they reached the Super Bowl. Bridgewater was under duress most of the game and finished with 216 yards passing and two interceptions. The Panthers had their three-game winning streak snapped while Chicago improved to 2-1 with Foles as the starter.
Colts 31, Bengals 27 – Rivers throw 3 TD passes as Colts rally past Bengals 31-27
Philip Rivers opened the fourth quarter by throwing a 14-yard touchdown pass to Jack Doyle to take the lead and helping the Indianapolis Colts to a 31-27 victory over the Cincinnati Bengals. Indy trailed by 21 points early in the second quarter. The rally capped the greatest regular-season comeback in franchise history. Rivers wound up 29 of 44 with 371 yards, three touchdowns and one interception. Cincinnati could have regained the lead with a 48-yard field goal with 8:02 to play but Randy Bullock's kick hit the right upright. Indy has won four of its last five.
Other NFL Scores
Tennessee 42, Houston 36, OT
N.Y. Giants 20, Washington 19
Atlanta 40, Minnesota 23, OT
Pittsburgh 38, Cleveland 7
Denver 18, New England 12
Baltimore 30, Philadelphia 28
Miami 24, N.Y. Jets 0
Tampa Bay 38, Green Bay 10
San Francisco 24, L.A. Rams 16
Tonight
Kansas City Chiefs at Buffalo Bills, 5:00 p.m.
Arizona Cardinals at Dallas Cowboys, 8:15 p.m.      News/Talk/Sports 94.9 WSJM 7:30
MLB – MLB Postseason – League Championship Series (Best of 7)
Yesterday
National League
Los Angeles Dodgers 4, Atlanta Braves 3                                             (LAD wins 4-3)
Dodgers 4, Braves 3 – Bellinger HR sends Dodgers to 3rd World Series in 4 years
Cody Bellinger hit a tiebreaking solo homer in the seventh inning and the Los Angeles Dodgers advanced to the World Series for the third time in four years by topping the Atlanta Braves 4-3 in Game 7 of the NL Championship Series. Kiké Hernández led off the sixth with the first pinch-hit homer in a Game 7 that tied or put a team ahead. The Dodgers stay in Texas for the World Series. They play the American League champion Tampa Bay Rays. Game 1 is Tuesday night. The Dodgers Corey Seager was named MVP of the NLCS
Tuesday
2020 World Series – Globe Life Park, Arlington, Texas
Los Angeles Dodgers vs. Tampa Bay Rays, 8:00 p.m.                               (Game 1)
NASCAR – Logano wins at Kansas to clinch spot in Cup Series finale
Joey Logano fought off Kevin Harvick over the final 44 laps to win yesterday's NASCAR Cup race at Kansas Speedway. Logano's third win of the year and first since Feb. 23 gives him a spot in the championship race at Phoenix Raceway on Nov. 8. Alex Bowman finished third, Brad Keselowski was fourth and Kyle Busch rounded out the top five.
PGA – Kokrak finally gets first PGA win
It's taken 10 seasons and 233 tournaments for Jason Kokrak to finally earn his first PGA victory.  Kokrak matched the best round of the CJ Cup in Las Vegas with an 8-under 64. That was enough to overcome a three-shot deficit at the start of the round and win a duel on the back nine with Xander Schauffele.  Kokrak began to pull away with four straight birdies on the front nine. He began the back nine with birdie putts from 20 feet and 18 feet to stretch his lead to two shots.
PGA Champions – Lefty 2-for-2 in senior circuit
Phil Mickelson is the third player and second this year to win his first two starts on the PGA Tour Champions.  Lefty slammed the door on second-round leader Mike Weir with a back-nine surge in the Dominion Energy Charity Classic. Mickelson closed with a 7-under 65 to finish at 17-under, three strokes better than Weir. Mickelson was a stroke off the tournament record set last year by Miguel Angel Jimenez.
NCAA Football – Clemson remains overwhelming No. 1
Clemson is spending a seventh consecutive week atop The Associated Press college football poll.  The Tigers extended their team-record run as No. 1 by crushing Georgia Tech, 73-7 in Atlanta. It was the most lopsided ACC game ever, the most points scored by Clemson in a road game and the most ever allowed by the Yellow Jackets since the modern era.  Clemson picked up 54 first-place votes, while second-ranked Alabama claimed the remaining eight.  Notre Dame is third, followed by Georgia, Ohio State, Oklahoma State, Texas A&M, Penn State, Cincinnati and Florida. The Bulldogs fell one notch with Saturday's 41-24 loss at Alabama, and North Carolina dropped from fifth to 14th with a 31-28 setback at Florida State. 
MHSAA – High School Sports
Friday
Football
St. Joseph 54, Gull Lake 14
Lakeshore 13, Battle Creek Lakeview 7
Benton Harbor 41, Kalamazoo Loy Norrix 27
Lawrence 72, Michigan Lutheran 0
South Haven 13, Comstock 0
Saturday
Football
Detroit Country Day 37, Paw Paw 17
Edwardsburg 61, Bay City Western 7
Today
Girls Volleyball
Lakeshore at Edwardsburg, 6:30 p.m.
Benton Harbor at Countryside, 5:00 p.m.
South Haven at Comstock, 6:00 p.m.
Decatur at Eau Claire, 5:30 p.m.
Buchanan at New Buffalo, 6:00 p.m.
Lawrence at Marcellus, 7:00 p.m.
Kalamazoo Christian at Galesburg-Augusta, 6:30 p.m.
Hartford, Bangor at Saugatuck, 4:30 p.m.
Berrien Springs, Parchment, Martin at Dowagiac, 5:30 p.m.


Boys Soccer Districts (semifinals)
Division 2 at Vicksburg
St. Joseph vs. Niles, 5:30 p.m.
Three Rivers vs. Paw Paw, 7:15 p.m.
Division 2 – Hastings (final round only)
Plainwell at Middleville Thornapple-Kellogg, 6:00 p.m.
Otsego at Gull Lake, 6:00 p.m.