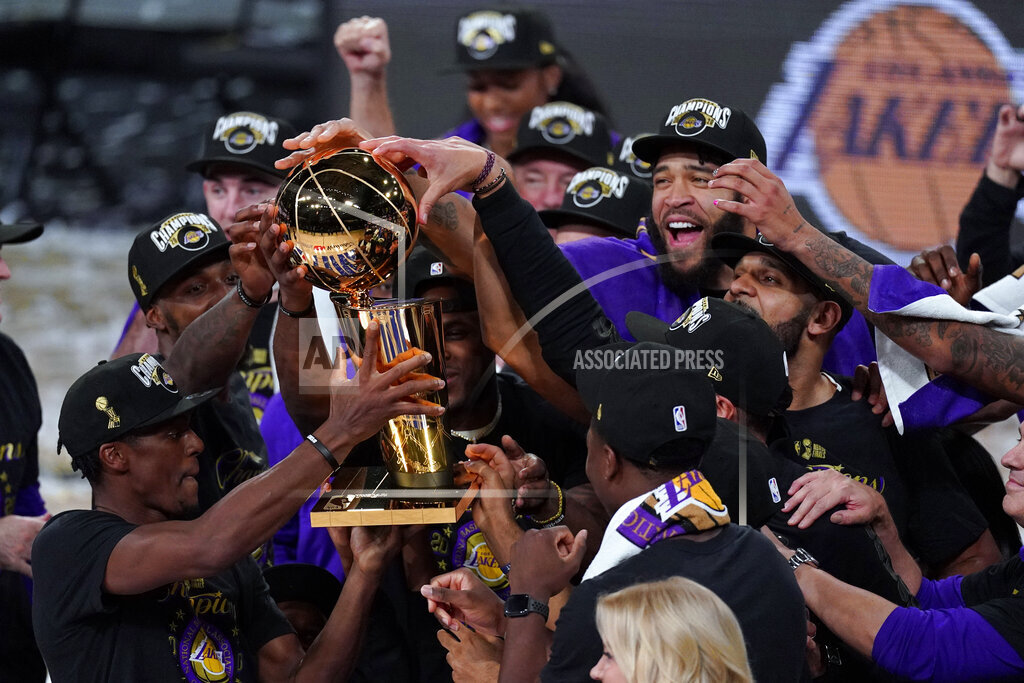 NBA – National Basketball Association Finals – Best of 7
Last Night
Los Angeles Lakers 106, Miami Heat 93                                                 (LAL wins 4-2)
Lakers 106, Heat 93 – Bubble Kings: Lakers run past Heat for 17th NBA championship
The NBA bubble has burst for the Miami Heat as the Los Angeles Lakers finished off their 17th championship.  The Lakers wrapped up the NBA Finals in six games by building a 64-36 halftime lead in a 106-93 rout of the Heat. L.A. turned it into a laugher by outscoring Miami 36-16 in the second quarter.  LeBron James capped his fourth NBA title with a triple-double of 28 points, 14 rebounds and 10 assists. James has won championships with three teams, including the Cavaliers and Heat. Anthony Davis and Rajon Rondo each added 19 points, two more than Kentavious Caldwell-Pope.  Miami center Bam Adebayo had his best game of the series, finishing with 25 points and 10 boards. But the Lakers put a muzzle on Jimmy Butler, who had a triple-doubles in Miami's two victories. Butler took just 10 shots and finished with 12 points, eight assists and seven rebounds.
NFL – National Football League – Week 5
Yesterday
Cleveland Browns 32, Indianapolis Colts 23
Brown 32, Colts 23 – Mayfield throws 2 TDs, Browns hold off Colts to move to 4-1
Baker Mayfield passed for a season-high 247 yards and two touchdowns against the NFL's No. 1 defense, Myles Garrett forced a crucial safety in the fourth quarter and the Cleveland Browns beat the Indianapolis Colts 32-23 to improve to 4-1 for the first time since 1994. Colts QB Philip Rivers was picked off twice.
Other NFL Scores
Baltimore 27, Cincinnati 3
Pittsburgh 38, Philadelphia 29
Carolina 23, Atlanta 16
Las Vegas 40, Kansas City 32
L.A. Rams 30, Washington 10
Arizona 30, N.Y. Jets 10
Houston 30, Jacksonville 14
Miami 43, San Francisco 17
Dallas 37, N.Y. Giants 34
Seattle 27, Minnesota 26
Tonight
Denver at New England, 5 p.m.
L.A. Chargers at New Orleans, 8:15 p.m.        News/Talk/Sports 94.9 WSJM 7:30
NFL – NFL does major juggling of schedule due to coronavirus
The NFL has done major juggling to the regular-season schedule due to coronavirus outbreaks with the Tennessee Titans and New England Patriots. Nine teams are being affected, some over a period of weeks through Nov. 22: New England, Tennessee, Denver, Buffalo, Kansas City, Miami, the Los Angeles Chargers, New York Jets and Jacksonville. Denver's game at New England, originally scheduled for Sunday and then moved to Monday night when the Patriots had more positive COVID-19 tests, now will be played next Sunday afternoon. Kansas City's game at Buffalo, which was supposed to be played Thursday night, has been moved back to Monday, Oct. 19.
NFL – Smith returns after 23 months, Prescott leaves
Week 5 of the NFL season began with a great comeback story, but it later included another gruesome injury.  Washington quarterback Alex Smith returned to action for the first time in 693 days, when he fractured his right tibia and fibula. Seventeen surgeries later, Smith replaced Kyle Allen in the second quarter and went 9-for-17 for 37 yards while absorbing punishment from the Los Angeles Rams' defense.  L.A. recorded eight sacks while Jared Goff went 21 of 30 for 309 yards and two touchdowns in a 30-10 win over Washington. Darrell Henderson ran for a touchdown and grabbed a scoring pass as the Rams improved to 4-1. Aaron Donald recorded four sacks and Troy Reeder had three after entering the game without one this season.  Allen had a touchdown run for Washington before leaving a game with an arm injury. Smith's comeback began hours before Dak Prescott's season ended. The Cowboys quarterback suffered a dislocation and compound fracture of his right ankle during a 37-34 win over the Giants. Prescott has never missed a start in four-plus seasons with the Cowboys and was on track to have a career year. Backup Andy Dalton led a drive that ended with Greg Zuerlein's 34-yard field goal as time expired. Dalton entered the game when Prescott sustained his gruesome injury not long after his first career touchdown catch.  Prescott was injured while being taken down by defensive back Logan Ryan at the end of a 9-yard run in the third quarter.
MLB – MLB Postseason – League Championship Series (Best of 7)
Yesterday
American League
Tampa Bay Rays 2, Houston Astros 1                                                    (TBR leads 1-0)
Rays 2, Astros 1 – Rays eke out win over Astros
Blake Snell worked the first five innings before four relievers completed a combined nine-hitter in the Tampa Bay Rays' 2-1 win over Houston in Game 1 of the AL Championship Series. Randy Arozarena tied it with a fourth-inning homer and Mike Zunino singled home the lead run in the fifth. Diego Castillo closed out the victory after getting Yuli Gurriel to ground into a double play to end the eighth inning.
Today
American League
Houston (McCullers 3-3) vs. Tampa Bay (Morton 2-2), 4:07 p.m.           (TBR leads 1-0)
National League
Atlanta (Fried 7-0) vs. Los Angeles Dodgers (Buehler 1-0), 8:08 p.m.   (Game 1)
NHL – Avalanche get Saad in trade with Blackhawks
The Colorado Avalanche have acquired rugged winger Brandon Saad in a multiplayer trade with the Chicago Blackhawks. Colorado sent defensemen Nikita Zadorov and Anton Lindholm to Chicago for Saad and defenseman Dennis Gilbert. The Blackhawks also will retain $1 million of Saad's $6 million salary for next season. Zadorov was a restricted free agent, but Chicago said he signed his qualifying offer of $3.2 million prior to the deal. Saad had 21 goals and 12 assists in 58 games last season in the third year of his second stint with Chicago.
NHL – Red Wings sign C Namestnikov to 2-year, $4 million contract
The Detroit Red Wings have signed free agent center Vladislav Namestnikov to a $4 million, two-year contract. The Red Wings announced the signing on their website. A person with direct knowledge of the deal told The Associated Press the contract's value on the condition of anonymity because it wasn't revealed by the team. Namestnikov has eight seasons of NHL experience after splitting last year between Ottawa and Colorado.
NHL – Bobby Ryan shoots to revive career with rebuilding Red Wings
Bobby Ryan was looking for a fresh start and a place to revive his career after it was stunted in part by alcohol issues. Ryan was sold on that happening with the Detroit Red Wings. A long conversation with general manager Steve Yzerman sealed the deal. Ryan agreed to a $1 million, one-year contract with the Red Wings on Friday. The 33-year-old Ryan missed more than two months of last season after entering the NHL/NHLPA players assistance program in November, 2019. Upon his return to practice in February, he shared his story publicly in hopes of inspiring others facing similar challenges.
NASCAR – Elliott wins as Busch is eliminated
NASCAR will crown a new champion this year following Kyle Busch's elimination in the second round of the playoffs.  Chase Elliott won Sunday's race on the hybrid road course-oval at Charlotte Motor Speedway. He won for the second consecutive year at "The Roval" and extended his winning streak on road courses to four straight dating to last season. It was Elliott's third win of this season and second at Charlotte.  Busch became the first reigning champion knocked out of contention after two rounds since the playoff format began in 2014.  Austin Dillon and teammates Clint Bowyer and Aric Almirola also were eliminated.
Tennis – Nadal beats Djokovic for 13th French Open title
Rafael Nadal has tied Roger Federer's record for men's major championships. Nadal claimed his 20th Grand Slam title by breezing through a 6-0, 6-2, 7-5 win over Novak Djokovic in the French Open final. Nadal won his 13th trophy at Roland Garros and improved his career mark at the clay-court tournament to 100-2. That includes a combined 26-0 in semifinals and finals. This was Djokovic's first loss in 2020 in a match played to its conclusion. He came into Sunday with a 37-1 record this year, with the lone setback coming in a disqualification at the U.S. Open last month.
NCAA Football – AP Top 25: LSU drops out of poll for first time since 2017
LSU has become the first defending national champion in nine years to fall from the AP college football poll. The Tigers' second loss in three games dropped them out of the poll for the first time since 2017. The top three remain the same, with Clemson followed by Alabama and Georgia. Notre Dame climbed one notch to fourth, one spot ahead of North Carolina.
LPGA – Kim wins 1st major
Sei Young Kim shot a sensational 7-under 63 in the final round to seal her first major title at the KPMG Women's PGA Championship. The 27-year-old South Korean finished at 14-under 266.  Kim had 10 wins entering the tournament, which made her the winningest active player without a major championship. Her 63 was the best round of the tournament. She finished five shots ahead of runner-up Inbee Park, who closed with a solid 65.
PGA – Laird ends drought with playoff win
Martin Laird survived a wild finish to earn his first PGA Tour victory in seven years, capturing the Shriners Hospitals for Children Open.  Laird bogeyed the final hole of regulation to fall into a three-way tie with Matthew Wolff and Austin Cook, but he redeemed himself by sinking a 20-foot birdie putt on the second extra hole.  Laird closed with a 3-under 68 to fall into a playoff at 23-under with Wolff and Cook, who each closed with a 66.
PGA Europe – Hatton wins BMW PGA Championship
Tyrrell Hatton held off a final-round challenge by Victor Perez to win the BMW PGA Championship by four strokes. Hatton shot 5-under 67 to finish on 19-under 269 overall and capped a week when he shot in the 60s every round around Wentworth's storied West Course.
PGA Champions – Els gets 2nd Tour Champions win
Ernie Els birdied the final two holes, including a 30-footer in the rain on 18, for a 6-under 66 and a one-stroke victory over Colin Montgomerie in the SAS Championship. Els won for second time in his first 10 starts on the 50-and-over tour. The four-time major champion with 19 PGA Tour titles finished at 12-under. Jim Furyk missed a chance to become the first player to win his first three PGA Tour Champions events, closing with a 70 to tie for ninth at 8 under.
MHSAA – High School Sports
Today
Boys Soccer
Niles at Lakeshore, 6:30 p.m.
St. Joseph at Vicksburg, 6:00 p.m.
Portage Central at Otsego, 6:30 p.m.
Plainwell at Battle Creek Lakeview, 6:30 p.m.
Battle Creek Central at BC Calhoun Christian, 5:00 p.m.
Parchment at Dowagiac, 5:00 p.m.
Bronson at Three Rivers, 5:00 p.m.
Battle Creek Academy at Comstock, 5:00 p.m.
Berrien Springs at Michigan Lutheran, 5:00 p.m.
South Haven at Bangor, 5:00 p.m.
Constantine at Kalamazoo Christian, 5:00 p.m.
Fennville at Kalamazoo Hackett, 5:00 p.m.
Delton-Kellogg at Lawton, 6:00 p.m.
Coloma at Saugatuck, 6:00 p.m.
Watervliet at Schoolcraft, 5:00 p.m.
Girls Volleyball
St. Joseph at Kalamazoo Loy Norrix, 6:30 p.m.
Portage Northern at Lakeshore, 6:30 p.m.
Paw Paw at Allegan, 6:00 p.m.
Otsego at Edwardsburg, 6:00 p.m.
Howardsville Christian at Countryside Academy, 5:00 p.m.
New Buffalo at Bridgman,
Comstock at Lawton, 6:30 p.m.
Lawrence at River Valley, 6:00 p.m.