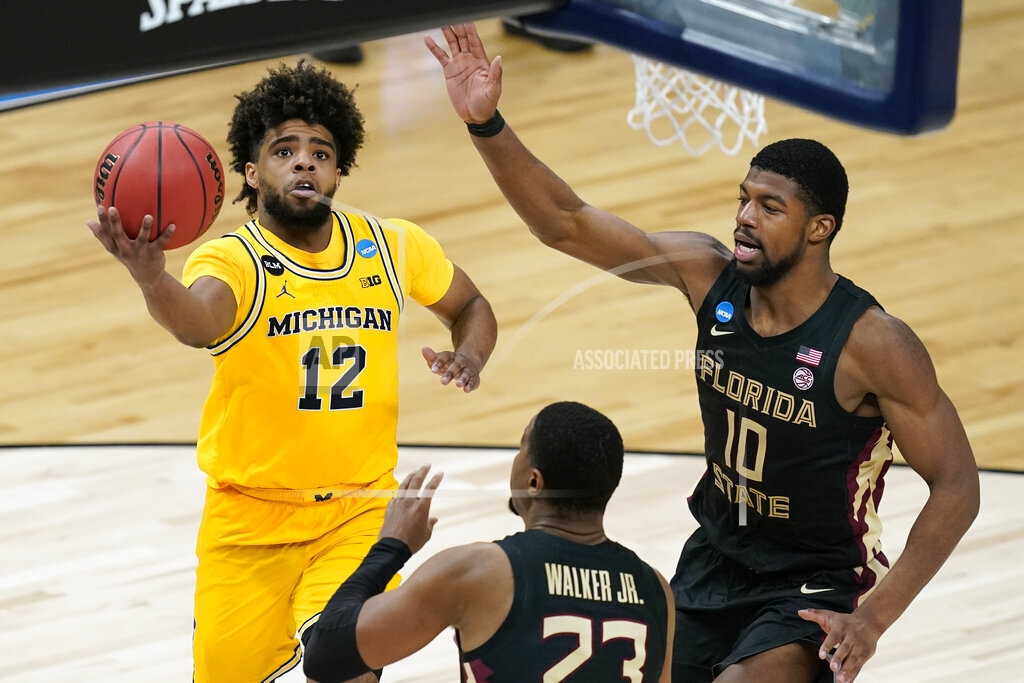 NCAAMBB – 2021 NCAA Men's Basketball Tournament – Indianapolis
Sweet 16
Saturday
#12 Oregon State 65, #8 Loyola Chicago 58
#1 Baylor 62, #5 Villanova 51
#3 Arkansas 72, #15 Oral Roberts 70
#2 Houston 62, #11 Syracuse 46
Sunday
#1 Gonzaga 83, #5 Creighton 65
#1 Michigan 76, #4 Florida State 58
#11 UCLA 88, #2 Alabama 78 – OT
#6 USC 82, #7 Oregon 68
Michigan 76, Florida State 58 – Inside job: Michigan goes to the paint to top FSU 76-58
Hunter Dickinson scored 14 points and top-seeded Michigan took the inside route to the Elite Eight, pounding away in the paint for a 76-58 takedown of surprisingly helpless Florida State. Franz Wagner had 13 points and 10 rebounds for the Wolverines, who scored their first 30 points of the second half from close range to lead coach Juwan Howard's team to victory. Top-seeded Michigan moved to a regional final for the first time since 2018. The Wolverines will play 11th-seeded UCLA for a trip to the Final Four. Malik Osborne led 4th seeded Florida State with 12 points.
Elite 8
Tonight
#12 Oregon State vs. #2 Houston, 7:15 p.m.
#1 Baylor vs. #3 Arkansas, 9:57 p.m.
Tuesday
#1 Gonzaga vs. #6 USC, 7:15 p.m.
#1 Michigan vs. #11 UCLA, 9:57 p.m.  WSJM 94.9
NCAAWBB – 2021 NCAA Women's Basketball Tournament – San Antonio
Sweet 16
Saturday
#1 UConn 92, #5 Iowa 72
#2 Baylor 78, #6 Michigan 75 – OT
#4 Indiana 73, #1 NC State 70
#3 Arizona 74, #2 Texas A&M 59
Sunday
#1 South Carolina vs. #6 Texas, #5 Georgia Tech 65
#1 Stanford 89, #5 Missouri State 62
#2 Louisville 60, #6 Oregon 42
64, #2 Maryland 61.
Elite 8
Tonight
#1 UConn vs. #2 Baylor 7:00 p.m.
#3 Arizona vs. #4 Indiana, 9:00 p.m.
Tuesday
#1 South Carolina vs. #6 Texas, 7:00 p.m.
#1 Stanford vs. #2 Louisville, 9:00 p.m.
NCAAWBB – Michigan women's team makes emergency landing in Indiana
The University of Michigan women's basketball team has safely returned to Ann Arbor after their flight was forced to make an emergency landing in Indiana. Team spokesperson Sarah VanMetre says the team was flying through a storm and the plane lost pressure. She says no one was injured. The Wolverines were returning to Ann Arbor from San Antonio after they lost to Baylor 78-75 in overtime in an NCAA Tournament Sweet 16 matchup Saturday afternoon. Van Metre says the team ordered pizza and eventually was able to board a flight to Ypsilanti.
NHL – National Hockey League
Last Night
Detroit Red Wings 4, Columbus Blue Jackets 1
Nashville Predators 3, Chicago Blackhawks 2
Red Wings 4, Blue Jackets 1 – Red Wings score 3 in 3rd period to surge past Jackets 4-1
Michael Rasmussen broke a tie early in the third period with his first goal of the season and the Detroit Red Wings defeated the Columbus Blue Jackets 4-1. Evgeny Svechnikov, defenseman Filip Hronek and Vladislav Namestnikov also scored for Detroit, which beat Columbus for the second time in two days. Calvin Pickard made 16 saves and got both wins.
Predators 3, Blackhawks 2 – Josi lifts Predators past Blackhawks 3-2 for 5th straight
Roman Josi scored with 6:33 left in the third period and the surging Nashville Predators beat the Chicago Blackhawks 3-2 for their fifth straight victory. Viktor Arvidsson and Calle Jarnkrok scored on fluky plays in the first period for Nashville, which won for the seventh time in eight games . Pekka Rinne stopped 27 shots. Alex DeBrincat scored two goals 1:50 apart in the third period to tie the score for Chicago. Malcolm Subban finished with 28 saves. On the tiebreaking goal, Josi skated in and beat Subban from the slot after taking a feed from Eeli Tolvanen to cap a pretty passing series after Chicago failed to clear its zone.
NBA – National Basketball Association
Tonight
Indiana Pacers at Washington Wizards, 7:00 p.m.
Toronto Raptors at Detroit Pistons, 8:00 p.m.
Chicago Bulls at Golden State Warriors, 10:00 p.m.
NBA – Lakers add center Andre Drummond for postseason push
Andre Drummond is joining the Los Angeles Lakers for the playoff push. The defending NBA champs signed the two-time All-Star center before their game against Orlando. Drummond agreed to a buyout Friday from the Cleveland Cavaliers, who acquired him last year after nearly eight seasons in Detroit. He had to clear waivers before he could join a team of his choosing, and Drummond chose to join LeBron James, Anthony Davis and the Lakers. When Drummond gets up to playing speed after sitting out the past six weeks, the four-time NBA rebounding leader should be a significant upgrade at center for Los Angeles
MLB – Spring Training
Yesterday
Detroit Tigers 4, Toronto Blue Jays 4 – TIE
Chicago White Sox 7, Arizona Diamondbacks 4
Texas Rangers 12, Chicago Cubs 4
Today
Detroit Tigers at New York Yankees, 1:05 p.m.
Arizona Diamondbacks at Chicago Cubs, 3:05 p.m.
Chicago White Sox (off)
NASCAR – Rain swamps Bristol dirt track; NASCAR to try again Monday
NASCAR will try to run its first Cup Series race on dirt since 1970 on Monday after heavy rain swamped Bristol Motor Speedway. The converted track already was facing challenges before torrential overnight rain flooded the grounds surrounding the speedway. The Goodyear tire provided for the Cup cars doesn't seem suited for the dirt surface and NASCAR is worried about multiple tire failures when the event finally goes green. The muddy track currently is too thick to avoid caking driver windshields. But the dirt has taken on enough water that thick dust may not be a problem Monday.
Golf – PGA – Scheffler and Horschel in All-American final
It's an All-American final for the third straight time in the Dell Technologies Match Play. Scottie Scheffler delivered the clutch putt with a 10-foot birdie on the 17th hole. That led to a 1-up victory over Matt Kuchar. Kuchar was trying to match Tiger Woods' record by reaching the championship match for the fourth time. But he couldn't buy a putt, and he missed an 8-footer on the 18th to extend the match. The longest putt Kuchar made was just over 3 feet. Scheffler, the 24-year-old Texas graduate who feels right at home at Austin Country Club, moved on to the championship match Sunday afternoon against Billy Horschel, who knocked out Victor Perez of France with a 3-and-2 victory. It's the 10th time since this World Golf Championship began in 1999 that two Americans reached the final.
MHSAA – High School Sports
Tonight
Girls Basketball – Regional Semifinals
Division 1 at Gull Lake
East Lansing wins over Jackson Northwest by forfeit 2-0
Battle Creek Lakeview vs. Kalamazoo Central, 5:00 p.m.
Division 2 at Edwardsburg
Edwardsburg vs. Buchanan, 5:30 p.m.
Plainwell vs. Wayland, 7:00 p.m.
Division 3 at Watervliet
Schoolcraft vs. Kalamazoo Hackett, 6:00 p.m.
Gobles vs. Hartford, 8:00 p.m.
Division 4 at Mendon
Colon vs. Michigan Lutheran, 5:30 p.m.         News/Talk/Sports 94.9 WSJM
Martin vs. Walkerville, 7:00 p.m.