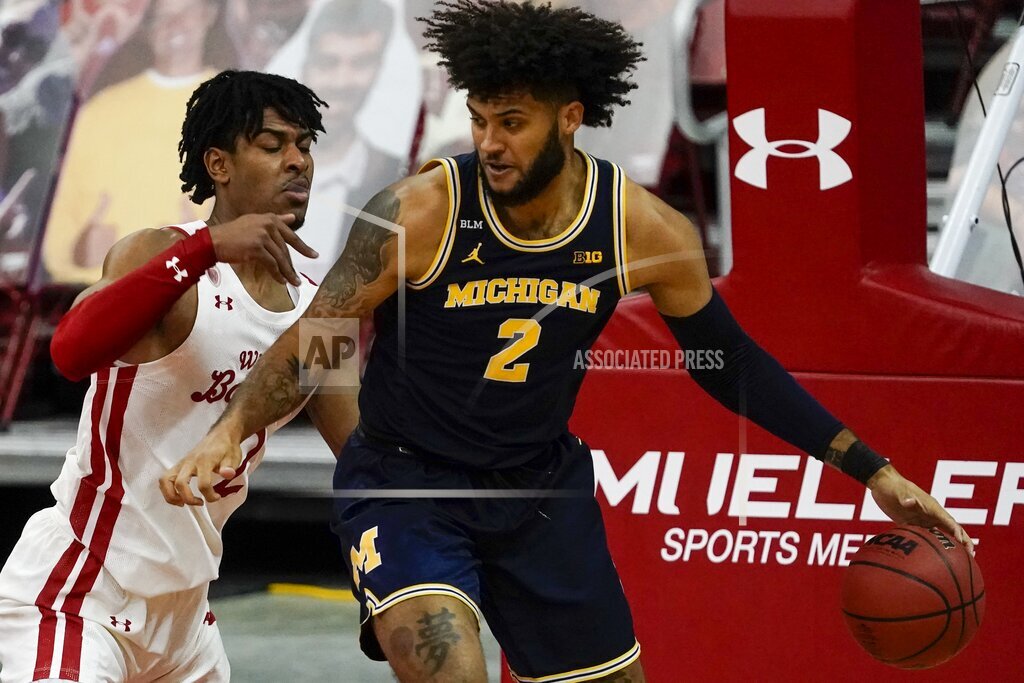 NCAAMBB – Men's College Basketball
Last Night
(3) Michigan 67, (21) Wisconsin 59
Notre Dame 71, Miami (FL) 61
(3) Michigan 67, (21) Wisconsin 59 – Back from layoff, No. 3 Michigan tops No. 21 Wisconsin 67-59
Isaiah Livers scored 20 points as No. 3 Michigan returned from a three-week layoff and rallied from a 14-point deficit to beat No. 21 Wisconsin 67-59. Michigan scored the game's final eight points and pulled ahead for good with 1:46 left on Hunter Dickinson's tiebreaking putback. The Wolverines hadn't played since a 70-53 victory at Purdue on Jan. 22. Michigan announced the next day that it was pausing all athletic activities after several people linked to the athletic department tested positive for a COVID-19 variant that transmits at a higher rate. D'Mitrik Trice scored 16 points to lead Wisconsin.
Notre Dame 71, Miami 61 – Surging Irish takes down feisty but depleted Miami 71-61
Nikola Djogo scored 18 points on 7-for-10 shooting and Nate Laszewski scored 14 and Notre Dame beat Miami 71-61. Laszewski finished shooting 6 for 8, Juwan Durham scored 12 and Dane Goodwin scored 11 with 11 rebounds for the Irish. Notre Dame now has won back-to-back games for the third time this season, and six of its last eight as it tries to make a push coming down the season's home stretch. Isaiah Wong scored 17 points for the Hurricanes. The injury-ravaged Hurricanes again played with just seven scholarship athletes.
NCAAMBB – Elite programs stuck on the NCAA Tournament bubble
The NCAA Tournament bubble is typically populated with teams from small conferences and middle-of-the-pack big conference schools. A pandemic that has wreaked havoc on the college basketball season is also reshaping the bubble. Perennial power Duke is currently bubbling. So is North Carolina. Kentucky is so far down it can't even see the bubble. Duke is No. 66 in the latest NET rankings and needs a strong finish to the season to avoid missing the NCAA Tournament for the first time since 1995.
NBA – National Basketball Association
Last Night
Detroit Pistons 123, New Orleans Pelicans 112
Pistons 123, Pelicans 112 – Mason Plumlee has triple-double, helps Pistons beat Pelicans
Mason Plumlee had 17 points, 10 rebounds and 10 assists for his first career triple-double, and the Detroit Pistons spoiled Stan Van Gundy's return to Motown, beating the New Orleans Pelicans 123-112. Van Gundy was the coach and president of basketball operations for the Pistons from 2014-18. He's coaching the Pelicans now, and Detroit became the latest team to blitz New Orleans from 3-point range. Detroit went 17 of 35 from beyond the arc — 13 of 21 during the final three quarters. The Pelicans also lost their previous two games, allowing 25 3-pointers in each of those.
Tonight
Chicago Bulls at Indiana Pacers, 7:00 p.m.
NASCAR – McDowell wins rain and crash delayed Daytona 500
Michael McDowell won the Daytona 500 after Penske Racing teammates Joey Logano and Brad Keselowski wrecked on the final lap.  It was McDowell's first victory in 358 Cup Series starts, a stunning upset in NASCAR's signature event. McDowell lead just one lap — the only that mattered. McDowell was running third when Keselowski got a huge run on Logano. Keselowski tried to pass Logano on the low side, but Logano tried to block him and ended up crashing both of them.  Chase Elliott was second, followed by Austin Dillon, Kevin Harvick and Denny Hamlin. Hamlin was trying to become the first in NASCAR history to win three consecutive Daytona 500s.
NCAAWBB – Women's College Basketball
Tonight
Notre Dame at (4) NC State, PPD
NHL – National Hockey League
Tonight
Chicago Blackhawks at Detroit Red Wings, 7:30 p.m.
NHL – NHL adapts COVID-19 approach through 1st month of season
The first month of the NHL season has been a bumpy one with eight teams placed on pause, 35 games postponed and 120 players landing on the COVID-19 list since Jan. 13. The tipping point came at the end of January after the Sabres and New Jersey Devils experienced outbreaks following a two-game series in Buffalo. The NHL has twice since upgraded its safety protocols, including the addition of daily game-day testing. Sabres coach Ralph Krueger welcomed the changes made after he spent 10 days battling what he called "moderately severe symptoms."
Tennis – Pegula reaches first major quarterfinal
Play is underway on Day 8 of the Australian Open.  Jessica Pegula has reached her first Grand Slam quarterfinal by earning her first victory over an opponent ranked in the Top 10.  The 61st-ranked American, whose parents own Buffalo's NFL and NHL franchises, beat No. 5 seed Elina Svitolina of Ukraine, 6-4, 3-6, 6-3 in Rod Laver Arena. The 25-year-old Pegula has won four matches at Melbourne Park over the past week after entering the tournament with a total of three Grand Slam match wins for her career.  Jennifer Brady and Shelby Rogers look to join fellow American Pegula in the quarterfinals. Brady has had her service broken just once in three matches heading into a fourth-round clash with Donna Vekic. Rogers has the toughest job of all when she faces top-ranked Ash Barty to begin night play at Rod Laver.  Rafael Nadal continues his quest for a men's-record 21st Grand Slam singles title when he plays Fabio Fognini. Unseeded American Mackenzie McDonald plays fourth-seeded Daniil Medvedev at Margaret Court Arena, with Medvedev on a 17-match winning streak.
Golf – PGA – Berger rallies to win Pebble Beach Pro-Am
Spieth was unable to complete a quest for his first tour victory since the 2017 British Open. Daniel Berger closed with a 7-under 65 that gave him a two-shot win at the PGA's Pebble Beach Pro-Am. Berger got into the mix quickly with an eagle and finished it off with one even better, holing a 30-foot putt on the par-5 18th for an 18-under total. Spieth went from a two-shot lead to a three-shot deficit through six holes before completing a 70. He needed to birdie the last two holes to tie for third with Patrick Cantlay, who shot a 68. Maverick McNealy finished second with his fourth straight round under 70, firing a 6-under 66.
MCCAA – Junior College Athletics
Tonight
Women's Volleyball
Mott Community College at Lake Michigan College, 5:30 p.m. 
MHSAA – High School Sports
Tonight
Boys Basketball
Benton Harbor at Kalamazoo Centrtal, 7:00 p.m.
South Haven at Comstock, 7:00 p.m.
Eau Claire at Howardsville Christian, 7:30 p.m.
Fennville at Coloma, 7:00 p.m.
Watervliet at Galesburg-Augusta, 7:00 p.m.
Edwardsburg at Otsego, 7:15 p.m.
Allegan at Paw Paw, 7:15 p.m.
Dowagiac at Three Rivers, 7:15 p.m.
Plainwell at Vicksburg, 7:15 p.m.
Lawton at Gobles, 7:00 p.m.
Kalamazoo Christian at Parchment, 7:00 p.m.
Martin at Saugatuck, 7:30 p.m.
Kalamazoo Hackett at Schoolcraft, 7:00 p.m.
Delton-Kellogg at Constantine, 7:00 p.m.
Battle Creek Lakeview at Gull Lake, 7:15 p.m.
Girls Basketball
Kalamazoo Central at Benton Harbor, 6:30 p.m.
Brandywine at Berrien Springs, 7:00 p.m.
South Haven at Comstock, 4:00 p.m.
Eau Claire at Howardsville Christian, 6:00 p.m.
Coloma at Fennville, 6:00 p.m.
Galesburg-Augusta at Watervliet, 7:00 p.m.
Paw Paw at Allegan, 7:15 p.m.
Three Rivers at Dowagiac, 7:15 p.m.
Otsego at Edwardsburg, 7:15 p.m.
Vicksburg at Plainwell, 7:15 p.m.
Gobles at Lawton, 7:00 p.m.
Saugatuck at Martin, 7:00 p.m.
Parchment at Kalamazoo Christian, 7:00 p.m.
Schoolcraft at Kalamazoo Hackett, 7:00 p.m.
Constantine at Delton-Kellogg, 7:00 p.m.
Kal. Loy Norrix at Battle Creek Central, 5:45 p.m.
Gull Lake at Battle Creek Lakeview, 7:15 p.m.