Michigan Lutheran 46,  River Valley 20
Defense was the name of the game for Michigan Lutheran Friday night as the Lady Titans defeated River Valley 46-20 to capture the Division 4 District Championship.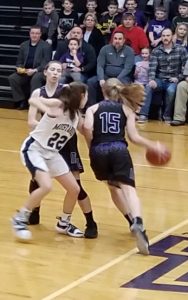 Lutheran opened the game on a 9-0 run and took a 17-8 lead after the first quarter. They went on to limit the Mustangs to just five points in the second quarter, three in the third, and four in the fourth.
Offensively, Mara Rugen once again led the Titans with a game high 18 points. Tiffany Hyatt scored eight points in the loss for River Valley.
The win sends Lutheran to a Regional Semifinal match-up with Fruitport Calvary Christian Monday night at 7:00 in Mendon. Calvary Christian beat Muskegon Heights 74-49.
INDIVIDUAL SCORING
MICHIGAN LUTHERAN
Mara Rugen – 18
Jessi Jewell – 11
Maria Rush – 8
Rebekah Hisle – 2
Katie Rainey – 2
Belle Gallagher – 2
Abby Harris – 2
Clarissa Recline – 1
RIVER VALLEY
Tuffany Hyatt – 8
Taylor Volstorf – 5
Haizea Ruiz – 5
Allison Schmidt – 2