WOMEN
Lake Michigan College 62, Grand Rapids Community College 45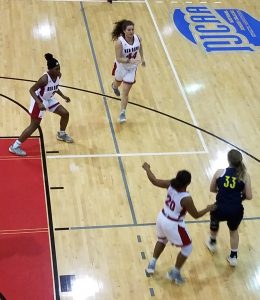 Lake Michigan College remained in a first place tie for first place in the MCCAA Western Conference with a 62-45 win over Grand Rapids.
Leading by just three at the half, the Red Hawks outscored the Raiders 18-9 in the third quarter to start pulling away.
Jayla Bibbs led LMC with 16 points. Grand Rapids got a game high 22 points from Rayven Mondy.
With the win, the Rad Hawks improve to 21-5 on the season and 13-2 in the conference and remain tied with Muskegon atop the standings.
INDIVIDUAL SCORING
LMC
Jayla Bibbs – 16
Samantha Jenkins – 14
Breanna Alexander – 12
Taylor Cegelis – 10
Monae Palmer – 5
Elasia Craig – 3
Morgan Hughes – 2
GRAND RAPIDS
Rayven Mondy – 22
Hallee Breimayer – 9
Mya Jordan – 6
Kendall Griffioen – 4
Aaliyah Sargent – 2
Emily Pendred – 2
MEN
Grand Rapids Community College 94, Lake Michigan College 69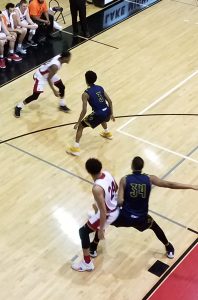 Sammie Ryans poured in 31 points to lead Grand Rapids to a 94-69 win over Lake Michigan College.
The Raiders led by just one at the half, but they came out and hit 11 three pointers after the break, including six from Ryans, who ended with eight threes on the night.
The Red Hawks got 13 points from Sheddrick Porter and 12 from Tyler Voth. With the win, Grand Rapids remains atop the MCCAA West standings as they improve to 13-2 in the conference.
INDIVIDUAL SCORING
GRAND RAPIDS
Sammie Ryans – 31
Ike Kanu – 18
D'Avery Moore – 18
Willie Otole – 14
Diego Robinson – 6
David Hearns – 3
Jake Zandi – 2
Evan Block – 2
LMC
Sheddrick Porter – 13
Tyler Voth – 12
Jaguar Jackson – 9
Jonathan Bowman – 8
Justin Henderson – 8
Khaire Williams – 5
Luc Meyer – 5
Austin Dukesherer – 5
Andrew McGuirt – 2
Adrien Bucha-Moore – 2