Lake Michigan Catholic advanced to the Division 4 Baseball State Semifinals with a 4-3 Quarterfinal win over Petersburg-Summerfield.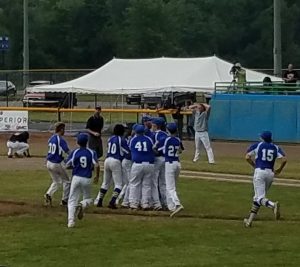 Summerfield took the early lead with a run in the bottom of the second inning. Catholic responded with two runs in the top of the third as Jake Kissane drove in Christian Monconduit and Kyle Juza.
Summerfield then scored once in the fourth inning and one more time in the fifth to regain a one run lead at 3-2. Then, in the top of the seventh, Catholic got RBIs from Zach Rogers and Jack Howard to take a 4-3 lead. Tommy Koenig pitched a scoreless bottom of the seventh to seal the win for the Lakers.
Catholic advances to face Unionville-Sebewaing Friday morning at 11:30 in the State Semifinals.
After the quarterfinal win, Phil McDonald caught up with Jake Kissane, Zach Rogers, and Coach Dale Beeney. Catch their conversation below…
Podcast: Play in new window | Download | Embed
Subscribe: Apple Podcasts | Android | Google Podcasts | Stitcher | RSS | More