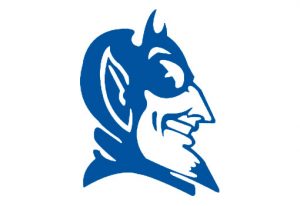 Lawton and Kalamazoo Heritage Christian battled to a 6-6 tie Tuesday night in soccer, and it was a furious 2nd half comeback by the Blue Devils to pull even with the Eagles.
"In 2018 we tied them, so I told the guys to expect another even game," said Lawton coach Vince Heller. He was right, as Heritage jumped out to a 3-1 lead at halftime. The Eagles then scored three more goals coming out of the break to take a 6-1 lead with 19:00 left in the match. That's when the Lawton offense came alive. Telling his team to "Keep doing your job, one goal at a time", Heller's squad scored five unanswered goals to pull even, and the match ended in a 6-6 tie.
Heller was amazed at what he had witnessed from the sidelines, saying "I've coached for 22 years and I haven't been a part of anything that cool before. It was an exceptional comeback"! He added "Heritage Christian is well coached and played a great game, it's not easy to score that many goals on us. The fans were treated to a 12-goal explosion that night".
Andy Stermer led Lawton with three goals on the night. Alan Solis, Landyn VanWyck, and Robbie Stermer also scored for the Blue Devils.