NHL – National Hockey League
Last Night
Detroit Red Wings 4, Chicago Blackhawks 3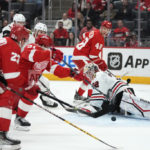 Red Wings 4, Blackhawks 3 – Red Wings edge Blackhawks 4-3, end six-game slide
Dominik Kubalik scored the go-ahead goal with 4:07 remaining and the Detroit Red Wings snapped a six-game skid with a 4-3 win over the Chicago Blackhawks on Wednesday night.  Jake Walman, Dylan Larkin and Lucas Raymond also scored for Detroit. Ville Husso made 39 saves.  Kubalik's goal was especially satisfying because he played his first three seasons with the Blackhawks. He signed with Detroit as a free agent prior to this season.  Taylor Raddysh scored twice and Joey Anderson also scored for Chicago. Alex Stalock stopped 15 shots.
NCAAMBKB – Men's College Basketball
Yesterday
Big Ten Tournament – United Center, Chicago IL – Round 1
Ohio State 65, Wisconsin 57
Minnesota 78, Nebraska 75
Today
Big Ten Tournament – United Center, Chicago IL – Round 2
Michigan vs. Rutgers, 12:00 p.m.              News/Talk/Sports 94.9 WSJM 11:30
Ohio State vs. Iowa, 2:30 p.m.
Penn State vs. Illinois, 6:30 p.m.
Minnesota vs. Maryland, 9:00 p.m.
NCAAMBKB – Jim Boeheim's long career at Syracuse ends, Autry takes over
Jim Boeheim enrolled at Syracuse in 1962. Played there until 1966. Started coaching there in 1969. Took over the program as head coach in 1976.  Put simply, he was Syracuse basketball. Until now.
The Basketball Hall of Famer's 47-year tenure as coach at Syracuse came to an awkward end on Wednesday, with the university saying Orange associate head coach and former Syracuse player Adrian Autry has been promoted to the job. The Orange moved quickly, making the announcement less than three hours after Syracuse lost to Wake Forest in the Atlantic Coast Conference Tournament.
NCAAWBKB – Women's College Basketball
Yesterday
Mid-American Conference Tournament – Rocket Mortgage Fieldhouse, Cleveland, OH
Bowling Green 70, Eastern Michigan 36
NBA – National Basketball Association
Last Night
Chicago Bulls 117, Denver Nuggets 98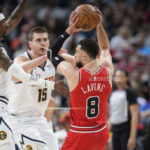 Bulls 117, Nuggets 98 – Vucevic, LaVine lead Bulls to 117-96 win over Nuggets
Nikola Vucevic had 25 points and 15 rebounds, Zach LaVine scored 29 points on 12-of-18 shooting and the Chicago Bulls gave their playoff hopes an unexpected boost with a 117-96 victory against the Western Conference-leading Denver Nuggets. It was Vucevic's 40th double-double of the season. With the win, the Bulls moved within a game of Washington for the final playoff spot in the Eastern Conference. Nikola Jokic led Denver with 18 points, 12 rebounds and eight assists. He made only seven of his 16 shots, snapping a 51-game streak in which he shot at least 50% from the field.
Tonight
Charlotte Hornets at Detroit Pistons, 7:00 p.m.
Houston Rockets at Indiana Pacers, 7:00 p.m.
NBA – Suns' Kevin Durant out after injuring ankle in pregame slip
Phoenix Suns star Kevin Durant slipped on the floor during pregame warmups and was ruled out Wednesday night against the Oklahoma City Thunder because of left ankle soreness.The game was supposed to be Durant's home debut with his new team. He has played in three games since being traded to the Suns, but all were on the road.Phoenix traded for Durant and T.J. Warren in a blockbuster deal in February, sending Mikal Bridges, Cam Johnson, Jae Crowder, four first-round picks and other draft compensation to the Brooklyn Nets.
MLB – Major League Baseball – Spring Training
Yesterday
Detroit Tigers 2, Washington Nationals 1
Kansas City Royals 14, Chicago White Sox 5
Chicago Cubs 11, Team Canada 7
Today
Detroit Tigers at Pittsburgh Pirates, 1:05 p.m.
Cincinnati Reds at Chicago Cubs, 3:05 p.m.
White Sox are off
NFL – Analysis: Daniel Jones' new contract raises standard for QBs
Daniel Jones turned one decent season into a mega-money contract that raises the standard in the NFL. Once the New York Giants gave Jones a deal worth $160 million over four years — $82 million is reportedly guaranteed for the first two seasons — the price tag went up for quarterbacks around the league. Way up. If Jones can join Patrick Mahomes, Josh Allen and six others in the $40 million-per-year club after a breakout season in which he threw just 15 touchdown passes and ran for seven more, how much money will more accomplished QBs get paid?
WNBA – Griner's return to WNBA tips off ESPN coverage
Brittney Griner's return to the WNBA will tip off ESPN's coverage of the league's 27th season when the Phoenix Mercury visit the Los Angeles Sparks on May 19 — opening night. Griner missed all of last season after being arrested at an airport just outside of Moscow on drug possession charges in February 2022. She was brought home in a dramatic high-level prisoner exchange in December. The Mercury's home opener two days after the opener will also be broadcast nationally as one of 25 regular-season games that ESPN will show on ABC, ESPN or ESPN2. The New York Liberty, who added former MVPs Jonquel Jones and Breanna Stewart, as well as Courtney Vandersloot, this offseason will be on national television nine times. Defending champion Las Vegas will appear seven times.
Olympics – Canadian Olympians push for opposition to Russians in Paris
A group of 42 retired Canadian Olympians are urging their country's Olympic leaders to take a stand against Russians participating in next year's Paris Games. In a statement, the Olympians argue that refusing Russian participation is not simply a matter of denying them a chance to compete because of their passport, it is also a rejection of the war and a recognition of the role sports plays in geopolitics. Signing the statement was a who's-who of Canadian Olympic greats and gold medalists, including Hayley Wickenheiser, Jenn Heil, Alex Bilodeau and Beckie Scott. Russian and Belarusian athletes have been largely excluded from international competition since Russia's invasion of Ukraine last February. The IOC is seeking a pathway back for those athletes.
Golf – LIV – LIV Golf effect noticeable as ever at Players Championship
There's no escaping the division caused by LIV Golf, even at The Players Championship. The defending champion is not at TPC Sawgrass for the first time in nearly a decade. That would be Cameron Smith of Australia, who lives down the street. He joined LIV Golf and the PGA Tour suspended him. The runner-up and third-place finisher at the PGA Tour's premier tournament also are now with LIV Golf. PGA Tour Commissioner Jay Monahan says it's a little awkward, but players knew what they were signing up for. The field still is the strongest of the year. And the Stadium Course remains as unpredictable as ever.
Golf – Tiger Woods' girlfriend seeks to nullify NDA with pro golfer
Tiger Woods' girlfriend wants to nullify a nondisclosure agreement following a six-year relationship with the professional golfer. Court records show that Erica Herman filed a complaint seeking declaratory judgment on Monday in Martin County, Florida. The couple had been living together in the area just north of Palm Beach County. Woods and Herman haven't publicly announced the end of their relationship, which began in 2017. According to the complaint, a trust controlled by Woods is attempting to silence Herman with a nondisclosure agreement she signed while working as an employee of Woods. The complaint argues that the NDA should be nullified under a federal law that prohibits an NDA from being enforced when sexual assault or sexual harassment is involved.
MCCAA – Junior College Athletics
Today
Men's Baseball
Lake Michigan College vs. Ridgeway College, 10:15 a.m./12:15 p.m. (doubleheader)
MHSAA – High School Sports
Last Night
Boys Basketball – District Semifinals
Division 1 at Kalamazoo Loy Norrix
Kalamazoo Central 61, St. Joseph 56
Photo: Drew Welham St. Joseph

St. Joe jumped out to a 20-8 lead after the first quarter by a 16-0 run by the Maroon Giants turned the tables as Kalamazoo Central held off the Bears 61-56 in the district semifinals.  Luke Lehner had a game high 22 points in the loss for St. Joe. Chase Sanders had 15 and Matt Lanier had 12 as the Bears wrap up the season at 16-8.  TJ Jones led the Maroon Giants with 20.
Mattawan 55, Portage Central 48
Ryan Kiesling led Mattawan with 19 points, while Connor Walsh had 13, and Noah VanLaningham had 12 in the Wildcats 55-48 win over Portage Central.
Division 2 at Niles
Benton Harbor 65, Buchanan 40
Grant Gondrezick II had 19 points to lead Benton Harbor to a 65-40 win over Buchanan in the district semifinals at Niles.  The Tigers advance to face Niles in the District Championship on Friday.
Niles 62, Berrien Springs 47
Division 4 at Our Lady of the Lake
Eau Claire 70, Countryside 54
Eau Claire's Damarion Travis had a game high 28 points to help lead the Beavers to the district championship game on Friday with a 7-54 win over Countryside Academy. Karmelo Taylor had 17 points and Landon Baskins had 11.   Donte Tate led the Cougars with 19 points.
Michigan Lutheran 48, River Valley 42
Adam Conrad scored 17 points and Micah Herbst had 12 points for Michigan Lutheran as the defeated River Valley in the semifinals.  The Titans will face Eau Claire in Friday's district championship.  Jayden McNabb had a game high 22 points in the loss for the Mustangs.
Other Scores
Division 1 at Battle Creek Central
Harper Creek 45, Battle Creek Lakeview 44
Battle Creek Central 62, Gull Lake 47
Division 2 at Paw Paw
Marshall 82, Three Rivers 67
Parchment 65, Vicksburg 49
Division 2 at Hamilton
Allegan 57, Hopkins 46 – OT
Hamilton 48, South Haven 33
Raymond Parks led the Rams with 13 points in South Haven's 48-33 loss to Hamilton.
Division 2 at Plainwell
GR South Christian 69, Hastings 20
Otsego 65, Wayland 54
Division 3 at Fennville
Calvin Christian 74, Fennville 20
Covenant Christian 63, Potters House 39
Division 3 at Watervliet
Brandywine 47, Bridgman 14
Watervliet 59, Cassopolis 37
Division 3 at Hartford
Lawton 74, Bloomingdale 40
Hartford 52, Decatur 48
Division 3 at Galesburg-Augusta
Schoolcraft 62, Comstock 39
Kalamazoo Hackett 44, Kalamazoo Christian 35
Division 3 at Union City
Centreville 67, Reading 46
Union City 60, Bronson 38
Division 4 at Lawrence
Lawrence 73, Covert 50
Ben McCaw had 22 for Lawrence, and John Schuman had 18
Marcellus 48, Howardsville Christian 44
Division 4 at Colon
Colon 79, Burr Oak 51
Mendon 59, Tekonsha 46
Division 4 at Battle Creek St. Philip
Bellevue 72, Calhoun Christian 31
Kalamazoo Phoenix 69, Climax-Scotts 58
Division 4 at Martin
Zion Christian 58, GR Sacred Heart 49
Wyoming Tri-Unity 58, Martin 15
Tonight
Girls Basketball – Regionals Finals
Division 2 at Three Rivers
Holland Christian vs. Plainwell, 7:00 p.m.
Division 3 at Centreville
Kalamazoo Christian vs. Buchanan, 7:00 p.m.
Division 4 at New Buffalo
Kalamazoo Hackett vs. Colon, 6:00 p.m.