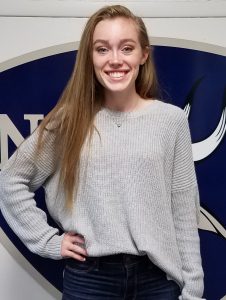 Kaylee Thompson of Niles High School Cross Country is the WSJM Sports Berrien County Student Athlete of the Week for the week of September 22, 2019. Kaylee won the individual Berrien County championship for the second year in a row. She won the meet with a time of 20:02.
Kaylee is also a member of the Niles Track team and National Honor Society. In the classroom, she carries a 4.07 grade point average.
Kaylee is the daughter of Kenny and Mindy Smith of Niles.
Other finalists for the week were Johnny Rager of Buchanan Football and Ashton Sheline of Berrien Springs Cross Country.
Catch Kaylee's conversation with Phil McDonald below…
Podcast: Play in new window | Download | Embed
Subscribe: Apple Podcasts | Android | Email | Google Podcasts | Stitcher | Spotify | RSS | More