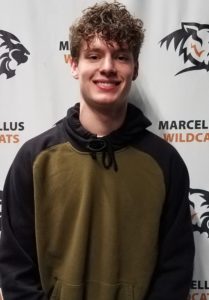 Kaeler Stafne of Marcellus High School Basketball is our WSJM Sports Van Buren/Cass Student Athlete of the Week for the week of February 16, 2020.
In the Wildcats' win over Bloomingdale, Kaeler scored his 1,000th career point, becoming the third player in school history to accomplish the milestone. He finished with 26 points and 21 rebounds in the game. Earlier in the week, he turned in 14 points, four assists, nine rebounds, and two blocked shots against Cassopolis.
Kaeler is also a member of the Marcellus Football and Golf teams, National Honor Society, Spanish Honor Society, and SADD. In the classroom, he carries a 3.98 grade point average.
Kaeler is the son of James and Jamie Stafne of Jones.
Catch Kaeler's conversation with Phil McDonald below…
Podcast: Play in new window | Download | Embed
Subscribe: Apple Podcasts | Google Podcasts | Spotify | Stitcher | Email | RSS | More