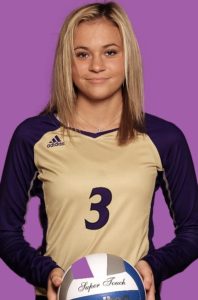 Jordyn Holland of South Haven High School Volleyball is our WSJM Sports Van Buren/Cass Student Athlete of the Week for the week of November 1, 2020.
In the Rams' District Tournament first round win over Benton Harbor, Jordyn turned in 13 assists, three digs, and two aces. Then in their semifinal win over Coloma, she finished with 36 assists, 17 digs, one kill, and one ace. She ended the week with 36 assists, 12 digs, and three kills in the Rams' District Championship win over Otsego.
Jordyn is also a member of the South Haven Basketball and Softball teams. In the classroom, she carries a 3.4 grade point average.
Jordyn is the daughter of Joseph and Kelly Holland of South Haven.
Other finalists for the week were Aleena Keh of South Haven Volleyball and Ellie Frost of South Haven Swimming.
Catch Jordyn's conversation with Phil McDonald below…
Podcast: Play in new window | Download | Embed
Subscribe: Apple Podcasts | Android | Email | Google Podcasts | Stitcher | Spotify | RSS | More