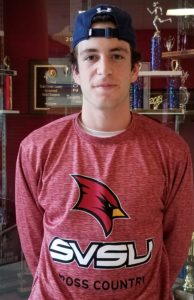 Joe Furlan of Bloomingdale High School Cross Country is our WSJM Sports Van Buren/Cass Student Athlete of the Week for the week of October 11, 2020.
Joe won the final Southwest 10 Conference Jamboree with a time of 17:27.53, capping off an undefeated conference season for him. In the process, he helped lead the Cardinals to the Southwest 10 Team Championship. He followed that performance up with a second place finish at the Charger Mini-Meet with a time of 17:06.6.
Joe is also a member of the Bloomingdale Track team and is a volunteer firefighter for the Columbia Township Fire Department. In the classroom, he carries a 3.5 grade point average.
Joe is the son of John and Julie Furlan of Grand Junction.
Another finalist for the week was Grace Lundy of South Haven Swimming.
Catch Joe's conversation with Phil McDonald below…
Podcast: Play in new window | Download | Embed
Subscribe: Apple Podcasts | Android | Email | Google Podcasts | Stitcher | Spotify | RSS | More