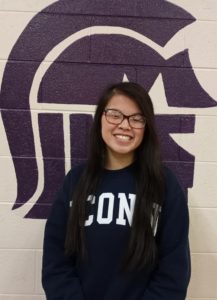 Jessi Jewell of Michigan Lutheran High School Basketball is the WSJM Sports Berrien County Student Athlete of the Week for the week of March 21, 2021.
Jessi scored 19 points in helping the Titans win the District Championship with an overtime victory over New Buffalo. She also added three assists, three rebounds, and three steals. She went 3-4 at the free throw line, including two in overtime to seal the win.
Jessi is also a member of the Michigan Lutheran Power Lifting program and Student Council. Last year, she earned Honorable Mention All-State honors in basketball and Academic All-State honors. In the classroom, she carries a 3.66 grade point average.
Jessi is the daughter of Myra and Ken Jewell.
Another finalist for the week was Sophia DeOliveira of New Buffalo Basketball.
Catch Phil McDonald's conversation with Jessi below…
Podcast: Play in new window | Download | Embed
Subscribe: Apple Podcasts | Google Podcasts | Spotify | Stitcher | Email | RSS | More