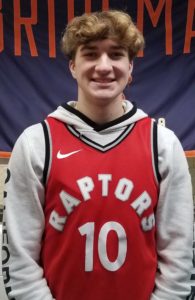 Jayce Warren of Bridgman High School Basketball is the WSJM Sports Berrien County Student Athlete of the Week for the week of February 28, 2021.
Jayce poured in 38 points in the Bees' game against Buchanan. To go along with the 38 points, he added ten assists, five steals, and nine rebounds. He then played limited minutes against Lake Michigan Catholic, but still finished with 14 points, eight assists, eight steals, and seven rebounds.
Jayce is also a member of the Bridgman Football and Baseball teams. In the classroom, he carries a 3.3 grade point average.
Jayce is the son of Michelle Warren of Bridgman.
Catch Phil McDonald's conversation with Jayce below…
Podcast: Play in new window | Download | Embed
Subscribe: Apple Podcasts | Google Podcasts | Spotify | Stitcher | Email | RSS | More