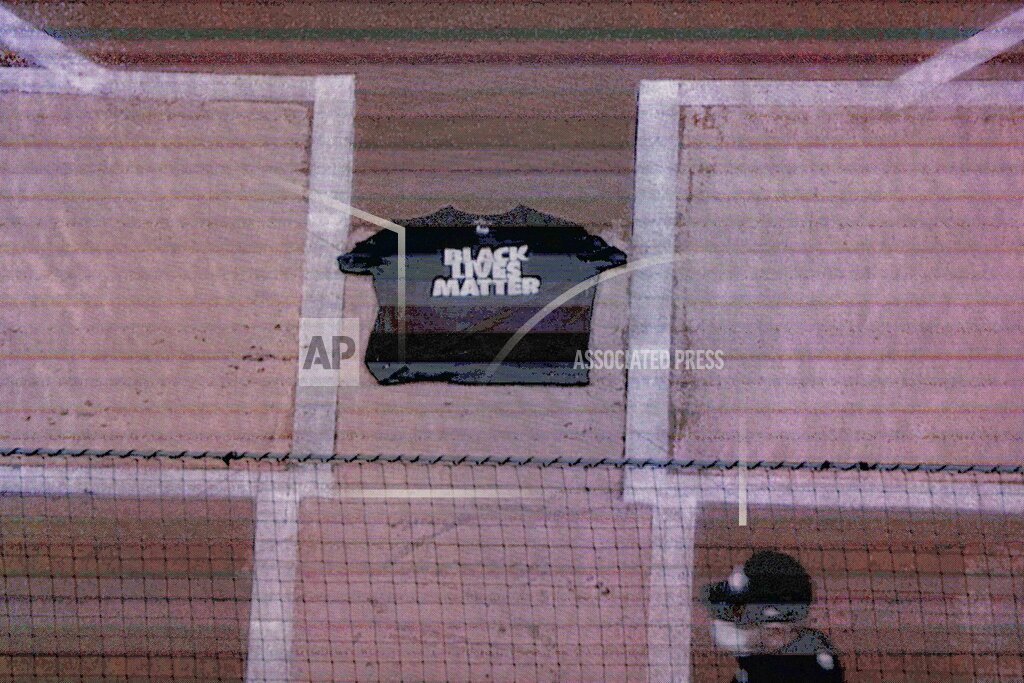 MLB – Major League Baseball
Last Night
Minnesota at Detroit, ppd.
White Sox and Tigers were off
Tonight
Minnesota (Dobnak 5-1) at Detroit (Boyd 0-4), 1:10 p.m., 1st game          94.9 WSJM/103.7 Cosy-FM 6:45
Minnesota (TBD) at Detroit (Skubal 0-1), 2nd game                               94.9 WSJM/103.7 Cosy-FM
Chicago Cubs (Hendricks 3-3) at Cincinnati (Mahle 0-1), 7:10 p.m.
Kansas City (Duffy 2-2) at Chicago White Sox (López 0-1), 8:10 p.m.
MLB – Jackie Robinson celebrated amid protests, PPDs
MLB is set to celebrate the man who broke baseball's color barrier amid a striking — if sometimes awkward — display of activism by players this week. Ten games were postponed over Wednesday and Thursday as players joined athletes from other pro sports in directing attention toward racial injustice after a Black man was shot by police in Kenosha, Wisconsin, last weekend. Jackie Robinson Day is usually held April 15 but was moved this year due to the pandemic. Members of The Players Alliance, a group of more than 100 current and former Black major leaguers, are donating their game checks from Thursday and Friday to the organization to address racial injustice.
MLB – Tigers shutting down prospects Manning, Faedo
The Detroit Tigers are shutting down pitching prospects Matt Manning and Alex Faedo because of forearm issues. General manager Al Avila said the team isn't too concerned about the injuries, which he described as forearm muscle strains. Manning and Faedo were first-round draft picks in 2016 and 2017. The Tigers have been rebuilding around a group of highly regarded young pitchers. They brought two of them — Casey Mize and Tarik Skubal — up to the majors recently. Manning and Faedo have been in the team's player pool, but the right-handers have not played with the major league club.
2nd day of NBA playoff games halted over racial injustice
An unprecedented walkout over racial injustice has postponed a second day of the NBA playoffs.
The NBA decided to postpone three more games Thursday to join the three that weren't played Wednesday, when players from six NBA teams decided not to play postseason games in a boycott that quickly reverberated across other professional leagues. The Milwaukee Bucks initiated the action in response to the shooting of Jacob Blake, a Black man, by police in Kenosha, Wisconsin. NBA spokesman Mike Bass said the league hoped to resume Friday or Saturday.  President Donald Trump criticized the NBA's action, telling reporters that the NBA has become like "a political organization."  The WNBA also called off its three games for a second night. The NHL postponed its Stanley Cup playoff games scheduled for Thursday and Friday in response to the Blake shooting. The decision was reached by the league and the NHL Players' Association, and was made after members of the Hockey Diversity Alliance asked the NHL to postpone the playing of games. San Jose Sharks forward Evander Kane says the HDA strongly feels this sends a clear message that human rights take priority over sports
NCAA Football – Big Ten – Nebraska players' lawsuit seeks to restore B10 fall football
A group of Nebraska football players filed a lawsuit asking a jury to force the Big Ten Conference to reinstate a fall football season. The lawsuit in Lancaster County District Court in Lincoln contends, among other things, the players lost opportunities for development in football, will lose exposure for possible professional football opportunities and won't be able to market themselves in order to eventually capitalize on name, image and likeness revenue opportunities. The Big Ten said the lawsuit has no merit.
NFL – Chargers see new stadium but decide to cancel scrimmage
The Los Angeles Chargers saw their new home at SoFi Stadium for the first time as a team. But instead of conducting a scrimmage, the team canceled practice due to the recent shooting of Jacob Blake. Coach Anthony Lynn canceled practice after his players held a wide-ranging conversation in the locker room spurred by the shooting of Blake, a Black man, in Wisconsin last weekend. The Chargers were one of nine teams that called off practice.
NFL – Lions GM Quinn and coach Patricia may be down to last chance
The Detroit Lions are entering their fifth and perhaps final season of trying to build a winning organization with former New England executives, coaches and players. Lions ownership retained general manager Bob Quinn and coach Matt Patricia for this season, but their jobs are in jeopardy if the team does not at least contend for a spot in the playoffs. Detroit's defense has to get drastically better and quarterback Matthew Stafford must stay on the field to help Quinn and Patricia stick around. Detroit drafted cornerback Jeff Okudah third overall and added several veterans on defense.
NFL – Bears looking to bounce back with Trubisky or Foles at QB
The Chicago Bears need to bounce back after going from winning the NFC North at 12-4 in coach Matt Nagy's first season to missing the playoffs with an 8-8 record. They acquired Super Bowl 52 MVP Nick Foles to compete with 2017 No. 2 draft pick Mitchell Trubisky for the starting quarterback job, one of several moves to shake up an offense that ranked among the NFL's worst last season. They also signed outside linebacker Robert Quinn to a $70 million contract to boost a top 10 defense. They're counting on the former All-Pro to take some of the pressure off star pass rusher Khalil Mack.
Golf – PGA – Matsuyama leads amid tough conditions
Hideki Matsuyama birdied two of his last three holes for a 3-under 67 and a one-shot lead over Tyler Duncan through one round of the BMW Championship.  Matsuyama carded one of only three rounds under par on a course that was long, tough, firm, fast and nothing like the last two weeks on the PGA Tour.  Dustin Johnson opened with a 71 after winning The Northern Trust last week to move to No. 1 in the world. Tiger Woods finished with three straight bogeys for a 73. Woods needs to finish around fourth to have any hope of returning to East Lake next week in Atlanta to chase the $15 million bonus for the FedEx Cup winner.
Tennis – US Open – Osaka-Gauff rematch could happen in US Open's 3rd round
Two-time Grand Slam champion Naomi Osaka and 16-year-old Coco Gauff could face each other at the U.S. Open again. The tournament draw set up a possible third-round rematch.  Other potential women's quarterfinals: No. 1 seed Karolina Pliskova vs. No. 8 Petra Martic; No. 2 Sofia Kenin vs. No. 5 Aryna Sabalenka; and No. 3 Serena Williams vs. No. 7 Madison Keys.  Only two of the top eight women in the WTA rankings entered the hard-court tournament. Among those missing are No. 1-ranked Ash Barty and 2019 U.S. Open champion Bianca Andreescu.  Defending men's champion, Rafael Nadal, and 20-time Grand Slam title winner Roger Federer are also among those absent in New York this year. Top-ranked Novak Djokovic did decide to play. The U.S. Open begins Monday.
NCAA Basketball – Wildcats coach Lute Olson dies
Longtime Arizona basketball coach and Hall of Famer Lute Olson has died, according to his family.  Olson spent 24 seasons with the Wildcats, revitalizing a fan base in the desert while transforming a program that had been to the NCAA Tournament just three times in 79 years before he was hired in 1983. Arizona began a string of 25 straight NCAA Tournament appearances in Olson's second season. The streak would have been the third-longest in NCAA history, but the 1999 and 2008 appearances were later vacated by the NCAA for impermissible benefits to players and recruiting violations. The Wildcats won the 1997 national championship under Olson with a team led by Mike Bibby, Jason Terry and Miles Simon. Olson's Arizona teams reached the Final Four four times and lost the 2001 national title game to Duke. The cause of death wasn't immediately released by his family.


MHSAA – High School Sports
Yesterday
Girls Volleyball
South Bend St. Joseph (IN) 3, Niles 0   (25-17, 25-20, 25-22)
Girls Golf
Three Rivers 3, Vicksburg 2        (Match Play)
SMAC at Gull Lake (Stonehenge North), Par: 72
Team Scores
St. Joseph                          346
Gull Lake                           377
Mattawan                           399
Portage Northern                407
Lakeshore                           423
Battle Creek Lakeview          427
Portage Central                  457


Individual Scores
1. KT Leinwand             (PN)    75
2. Maya Hunter           (SJ)    77
3. Lauryn Jerke             (GL)    82
4. Izzy Uglade             (SJ)    86
5. Gracie Thomas        (SJ)    90
T. Annie Betts              (GL)    90
7. Morgan Guzzo         (SJ)    93
T. Teagan Kelly             (MAT) 93
9.
Madison Jackson     (SJ)    94
T.Alexa Thurman           (BCL)  94
11. Maddie Cleveland    (SJ)    95
Lakeshore Scores
Claire Gourlay (104)
Bella Parker (106)
Elle Winkelmann (106)
Paige Gardiner (107)

Boys Tennis
Allegan 5, Hamilton 3
Today
Girls Golf
Edwardsburg at Lakeshore, 9:30 a.m.   (Lake Michigan Hills)