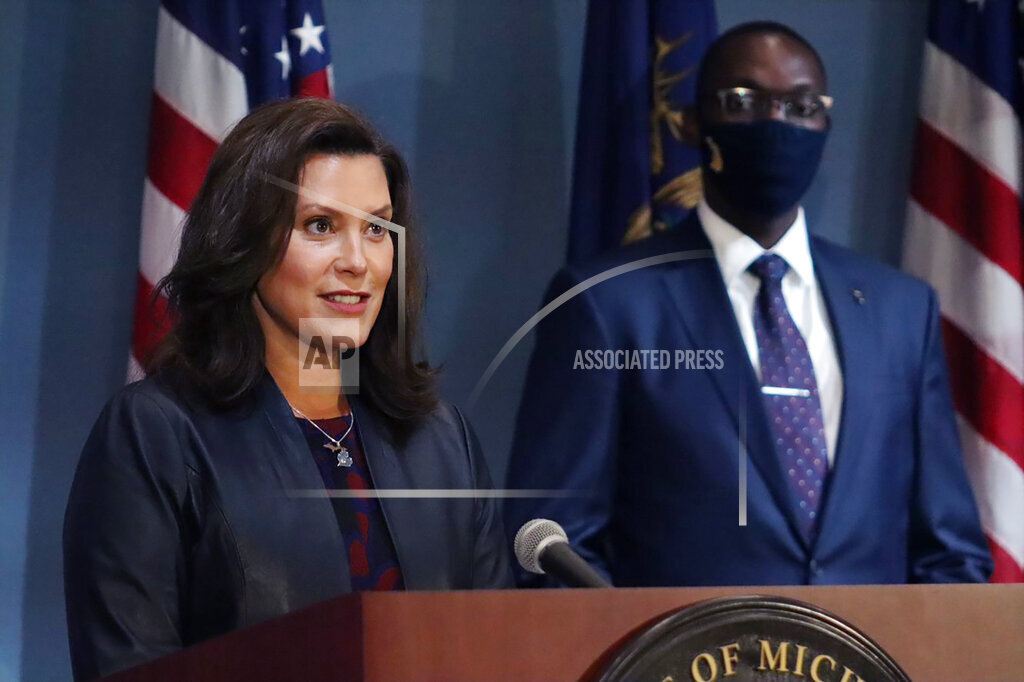 MHSAA – Whitmer: Gyms can open; contact sports resume, but unadvised
Gov. Gretchen Whitmer says gyms can reopen after 5 1/2 months of closure and organized sports can resume if masks are worn. She lifted some coronavirus restrictions Thursday that lasted longer in Michigan than in many states, while extending her state of emergency. The order, effective next Wednesday, allows for reopening fitness centers and indoor pools in remaining regions that hold 93% of Michigan's population. Masks are required inside gyms. Whitmer's administration released guidance recommending against — but not prohibiting — sports involving more than occasional contact. The Michigan High School Athletic Association is letting fall sports resume, including football.
MHSAA – High School Sports
Yesterday
Boys Tennis
St. Joseph 8, Kalamazoo Central 0
Three Rivers 4, Hillsdale 4 – Tie
MLB – Major League Baseball
Yesterday
Pittsburgh Pirates 6, Chicago Cubs 2
Chicago White Sox 11, Kansas City Royals 6
Tigers were off
Pirates 6, Cubs 2 – New father Reynolds homers as Pirates top Cubs 6-2
First-time father Bryan Reynolds hit a three-run homer in his return from paternity leave to lead the Pittsburgh Pirates past the Chicago Cubs 6-2. Reynolds, who along with wife Blair welcomed son Reese on Monday, sent a drive off Alec Mills into the seats in right field in the third inning for his third home run of the season to help Pittsburgh snap a four-game losing streak. Reynolds also doubled leading off the second and celebrated by pretending to rock a baby to sleep.
White Sox 11, Royals 6 – Robert's long homer helps White Sox rout Royals 11-6
Luis Robert's 458-foot home run capped a second five-run inning of the night for Chicago as the White Sox defeated the Kansas City Royals 11-6. Robert was one of three White Sox to homer in the contest, joining Edwin Encarnacion and Tim Anderson. The White Sox pulled within a half-game of the idle Cleveland Indians for the lead in the American League Central. They lead the third-place Twins by one game.
Today
Detroit (Boyd 1-4) at Minnesota (Dobnak 5-2), 2:10 p.m. – Game 1               WSJM 94.9/WCSY 103.7 1:45
Detroit (TBD) vs. Minnesota (TBD), 5:40 p.m. – Game 2                          WSJM 94.9/WCSY 103.7 5:15
Chicago White Sox (Dunning 0-0) at Kansas City (Singer 1-3), 8:05 p.m.
St. Louis (Flaherty 2-0) at Chicago Cubs (Darvish 6-1), 8:15 p.m.
NHL – National Hockey League – Stanley Cup Playoffs – 2nd round (Best of 7)
Yesterday
Philadelphia Flyers 5, New York Islanders 4 – 2 OT                                (Series tied 3-3)
Vancouver Canucks 4, Vegas Golden Knights 0                                       (Series tied 3-3)
Tonight
Colorado Avalanche vs. Dallas Stars, 4:00 p.m.                                    (Series tied 3-3)
Vancouver Canucks vs. Vegas Golden Knights, 9:00 p.m.                        (Series tied 3-3)
Saturday
New York Islanders vs. Philadelphia Flyers, 7:30 p.m.                            (Series tied 3-3)
NBA – National Basketball Association – 2nd round (Best of 7)
Last Night
Toronto Raptors 104, Boston Celtics 103                                              (BOS leads 2-1)
Los Angeles Clippers 120, Denver Nuggets 97                                        (LAC leads 1-0)
Tonight
Milwaukee Bucks vs. Miami Heat, 6:30 p.m.                                             (MIA leads 2-0)
Houston Rockets vs. Los Angeles Lakers, 9:00 p.m.                                (Game 1)
NFL – Lions resign Decker
The Detroit Lions announced Taylor Decker's new contract. The previous day, agent Jonathan Feinsod confirmed that Decker had agreed to a six-year, $85 million deal including $37.5 million guaranteed. In four seasons on Detroit's offensive line, Decker has appeared in 55 games and made a strong contribution after the Lions drafted him in the first round in 2016 out of Ohio State. Decker says the contract is a big milestone, but his work isn't done and he feels he has a lot of good football ahead of him.
NFL – The NFL is now betting big on once-taboo gambling industry
It wasn't that long ago that the NFL didn't want to have anything to do with gambling operations at all because they feared it would lead to a lack of integrity with their games. But as society's view of gambling evolved so did the NFL's. Now, the Raiders are set to open a spiffy multi-billion-dollar stadium not far from the Las Vegas Strip. And this spring the league loosened its gambling policies as they relate to sponsorship opportunities. The Denver Broncos partnered with a trio of gambling companies to put signage and betting lounges in their stadium.
WNBA – Women's National Basketball Association
Last Night
Phoenix Mercury 105, Indiana Fever 81
Derby – Tradition gets swift kick at a Kentucky Derby like no other
Change is slow in coming to the Kentucky Derby. America's most famous race is laden with tradition. But much of that has gone out the window this year because of the coronavirus. The 18-horse field will break from a new starting gate, one to be used only for the Derby. Horses used to be loaded into two gates — a main gate for the first 14 runners and an auxiliary gate for the rest. Early Derby favorite Tiz the Law and second choice Honor A. P. have already practiced standing in the new gate.
Tennis – Serena wins, Murray ousted…No. 2s Thiem, Kenin advance
Serena Williams' drive for her 24th major championship continues at the U.S. Open.  The 38-year-old Williams has advanced to the third round with a 6-2, 6-4 win over Margarita Gasparyan. Williams improved her career record to 20-0 in the second round at Flushing Meadows and will play Sloane Stephens in the next round. Williams leads the series 5-1. Williams had 27 winners and seven aces to put away Gasparyan.  Stephens continued her path toward a second U.S. Open championship with a dominant 6-2, 6-2 win over Olga Govortsova. Three-time Grand Slam champion Andy Murray was beaten in his second-round match as he continues to work his way back from a pair of hip operations. Felix Auger-Aliassime dispatched Murray, 6-2. 6-3, 6-4.
NCAA – NCAA wants a hold on early enrollees for Spring football
The NCAA football oversight committee is recommending early enrolling freshman football players not be allowed to play games for teams conducting winter and spring seasons. West Virginia athletic director Shane Lyons, who heads football oversight, says the committee worked on setting parameters for a 13-week winter/spring season that included an April 17 end date for regular season competition but no uniform start date. Conferences could start their nontraditional seasons whenever they wanted. The committee also is finalizing a spring-practice model teams could use in the fall to prepare for winter/spring seasons.