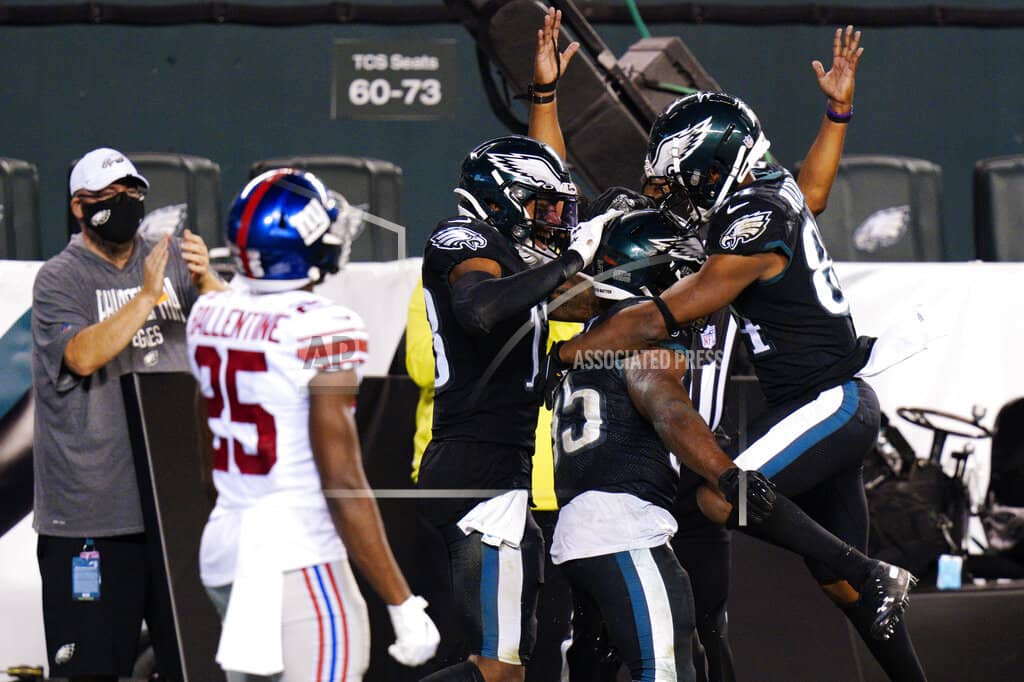 NFL – National Football League – Week 7
Last Night
Philadelphia Eagles 22, New York Giants 21
Eagles 22, Giants 21 – Eagles overcome deficit to beat Giants
Carson Wentz threw an 18-yard touchdown pass to Boston Scott with 40 seconds remaining and the Philadelphia Eagles overcame an 11-point deficit in the final seven minutes to beat the New York Giants 22-21 on Thursday night.  Daniel Jones shook off a stumble that prevented him from an 88-yard touchdown run and had the Giants leading 21-10 following a 2-yard pass to Sterling Shepard with 6:21 left.  But Wentz led a depleted offense missing eight starters back. His 3-yard pass to Greg Ward cut it to 21-16. After the 2-point conversion failed, the Eagles got the ball at their 29 with 2:02 to go. Wentz threw a perfect strike to Scott and the backup running back made an excellent catch to give Philadelphia the lead.
Sunday
Detroit Lions at Atlanta Falcons, 1:00 p.m.             Superhits 103.7 Cosy-FM/Rock 107 WIRX 11:00
Seattle Seahawks at Arizona Cardinals, 8:20 p.m.   News/Talk/Sports 94.9 WSJM 7:30
Monday
Chicago Bears at Los Angeles Rams, 8:15 p.m.          News/Talk/Sports 94.9 WSJM 7:30
NFL – Falcons, Lions both eyeing rare feat: a winning streak
The Atlanta Falcons actually have a shot at a winning streak. Ditto for the Detroit Lions, who haven't won back-to-back games in more than a year. The Falcons began their season with five straight losses, becoming the first team in NFL history to lose consecutive games after leading by at least 15 points in the fourth quarter. That led to the firing of Dan Quinn, who was replaced by interim coach Raheem Morris. The Falcons responded to the coaching change with an impressive 40-23 victory over the Vikings. The Lions, meanwhile, are coming off a 34-16 win at Jacksonville.
NFL – Foles, Bears still adjusting as offense struggles to click
The Chicago Bears head into a Monday night matchup with Jared Goff and the Los Angeles Rams with a 5-1 record and the NFC North lead. The Bears are off to their best start since the 2012 team won seven of its first eight games on the way to a 10-6 mark. But their struggling offense still is searching for a spark. And quarterback Nick Foles heads into his fourth start still adjusting after replacing Mitchell Trubisky.
NFL – Bucs-Raiders game moved from prime time after COVID-19 test
The NFL has shifted Sunday's Las Vegas game against Tampa Bay out of prime time after several Raiders players have been unable to practice this week because of contact tracing from the coronavirus.  The game in Las Vegas was originally scheduled to be played at 8:20 p.m. Eastern time Sunday in the national television window on NBC but now has been moved to 4:05 p.m. EDT in a regional window on Fox. The game between the Seahawks and Cardinals in Arizona has been moved into the prime-time window.
MLB – MLB Postseason – World Series (Best of 7)
Last Night
2020 World Series – Globe Life Park, Arlington, Texas
Los Angeles Dodgers vs. Tampa Bay Rays, 8:08 p.m.                               (Series tied 1-1)
NHL – NHL cancels 2021 Minnesota Winter Classic, All-Star Weekend
The NHL has canceled the 2021 Winter Classic and All-Star Weekend but still hopes to start the season on or around Jan. 1. The Winter Classic was scheduled to be played New Year's Day outdoors at Target Field in Minneapolis between the Minnesota Wild and St. Louis Blues. The Florida Panthers were set to host All-Star festivities in Sunrise in late January. The league hopes to reschedule those events in those cities in future years.
NCAAFB – College Football
Saturday
Rutgers at Michigan State, 12:00 p.m.                    Superhits 103.7 Cosy-FM 10:30
(3) Notre Dame at Pittsburgh, 3:30 p.m.
(18) Michigan at (21) Minnesota, 7:30 p.m.              News/Talk/Sports 94.9 WSJM 6:30
NCAA Football – No. 18 Michigan faces difficult opener at No. 21 Minnesota
Michigan hasn't left Minnesota with a loss since 1977. This time, the only fans in the seats will be family members of the players due to virus protocols. Despite the reduced disadvantage for the visitors, this ought to be a difficult opener for the 18th-ranked Wolverines. The 21st-ranked Gophers won 11 games last season. Michigan hasn't hit that mark since 2011. Minnesota welcomes star Rashod Bateman back for one of the country's best passing duos with quarterback Tanner Morgan. This is the first time a ranked Gophers team opens against an opponent also appearing in the AP poll since 1968.
NCAA Football – Notre Dame hits the road
Third-ranked Notre Dame will hit the road for the first time this season when the 4-0 Fighting Irish travel to Pittsburgh. Notre Dame is coming off a sluggish 12-7 victory over Louisville. Head coach Brian Kelly says his team needs to learn to start playing with more urgency if it wants to remain in the conversation for the College Football Playoff. The Panthers have dropped three straight since a 3-0 start. Freshman quarterback Joey Yellen is likely to make his second consecutive start in place of injured senior Kenny Pickett. Notre Dame is 5-1 against Pitt under Kelly, but the games have typically been close.
NCAA Football – Holiday Bowl becomes 4th game to cancel due to pandemic
The Holiday Bowl has become the fourth bowl game to be called off due to the coronavirus pandemic. Holiday Bowl officials say the board of directors voted unanimously to cancel what would have been the 43rd straight edition of the game. It would have been the first year of a six-year deal to match teams from the Pac-12 and ACC. Bowl officials had been seeking a suitable place to play after San Diego State announced it was closing SDCCU Stadium.
NCAA Swimming – Michigan State dropping swimming and diving teams
Michigan State University is dropping swimming and diving teams for men and women after the 2020-21 season. Officials say the athletic department is facing a "financial crisis" with a likely revenue shortfall of more than $30 million. MSU says no swimmer or diver will lose a scholarship if they remain as students. Counseling and mental health services will also be available. MSU says dropping the teams will improve the athletic department's long-term finances. MSU says it has struggled to recruit swimmers because it has a "smaller than regulation pool."
Golf – PGA – Munoz in the lead and Woods with his worst score at Sherwood
Sebastian Munoz and Tiger Woods had unusual scorecards in the Zozo Championship at Sherwood. That was only good news for Munoz.  The Colombian holed out two eagles. He made eight birdies. He hit a wild tee shot for a double bogey. He only had five pars. But it added to an 8-under 64 for a one-shot lead. Woods made bogey or worse on three par 5s, the first time he has done in a single round in his 1,277 rounds played as a pro on the PGA Tour. Woods shot a 76, his highest score in 49 rounds at Sherwood.
NASCAR – Slam Dunk: Jordan picks 23 for car number of new NASCAR team
Michael Jordan has selected 23 as the car number for his new NASCAR team in 2021. Jordan and three-time Daytona 500 champion Denny Hamlin had already announced they are forming a NASCAR team with Bubba Wallace as the driver. The name of the team is 23XI Racing. That stands for 23 and 11 in honor of Jordan's retired uniform number with the Chicago Bulls and Hamlin's car number for Joe Gibbs Racing. Bubba Wallace, the only Black driver at NASCAR's top level, will drive the No. 23 car.
MHSAA – High School Sports
Yesterday
Boys Soccer – District Championship
Division 2 at Vicksburg
St. Joseph 8, Three Rivers 0
Division 2 at Gull Lake (Hosted by Hastings)
Gull Lake 1, Plainwell 0
Division 3 at Brandywine
Dowagiac 1, South Haven 0 – OT
Division 4 at Bloomingdale
Bangor 2, Bloomingdale 0
Girls Volleyball
Watervliet 3, Coloma 0
Constantine 3, Dowagiac 0
Edwardsburg 3, Paw Paw 0
Sturgis 3, White Pigeon 0
Three Rivers 3, Allegan 0
New Buffalo 3, Colon 0
Today
Football – Week 9 – Final week of regular season – All Games at 7:00 p.m. (unless said otherwise)
SMAC
St. Joseph (4-1) at Battle Creek Lakeview (4-1), 5:00 p.m.         News/Talk/Sports 94.9 WSJM, 4:40
Portage Northern (4-1), at Kalamazoo Central (2-3)
Gull Lake (0-5) at Portage Central (1-4)
Non-Conference
Lakeshore (4-1) at DeWitt (5-0)     97.5 Y-Country 6:45
Harper Creek (3-2) at Benton Harbor (2-3)
Cassopolis (2-3) at Berrien Springs (2-3)
Dowagiac (2-3) at Niles (1-4)
Hartford (0-5) at South Haven (3-2)
Decatur (2-3) at Comstock (2-3)
Mt. Morris (2-3) at Centreville 5-0
Mendon (4-1) at Galesburg-Augusta (0-4)
White Pigeon (2-3) at Leslie (2-3)
SAC
Coloma (4-1) at Constantine (4-1)
Watervliet (2-3) at Parchment (1-4)
Lawton (4-1) at Saugatuck (3-2)
Schoolcraft (4-1) at Delton-Kellogg (3-2)
Fennville (0-5) at Kalamazoo United (4-1)
SW Michigan 8-Man
New Buffalo (3-2) at Lawrence (4-1)
Wyoming Tri-Unity (2-3) at Bridgman (4-1)
Bloomingdale (2-2) at Athens (1-4)
Martin (4-1) at Bangor (0-4)
Gobles (2-2) at Adrian Lenawee Christian (5-0)
Marcellus 1, Michigan Lutheran 0 – ML Forfeits             (ML 1-5), (Marcellus 3-2)
Eau Claire 1, Lake Michigan Catholic 0 – LMC Forfeits     (EC 2-4), (LMC 0-2)
Cross Country – Pre Regionals
Division 1
Gull Lake, 10:00 a.m.  Byron Center, Kal. Central, Loy Norrix, Mattawan, P. Central, P. Northern, Gull Lake, St. Joseph
Division 2
Plainwell, 4:00 a.m.  Allegan, Hamilton, Hastings, Hopkins, Otsego, Plainwell, South Haven
Division 4
Saugatuck, 1:00 a.m.  Gobles, Holland Calvary, Martin, New Buffalo, Saugatuck, Lake Mich. Cath., River Valley
Saturday
Football
Non-Conference
Battle Creek Central (1-4) at Grand Haven (0-5), 1:00 p.m.
Cross Country – Pre Regionals
Division 2
Vicksburg, 9:00 a.m.  Harper Creek, BC Pennfield, Marshall, Parma-Western, Paw Paw, Lakeshore, Vicksburg
Division 2
Sturgis, 11:00 a.m.  Berrien Springs, Coldwater, Dowagiac, Edwardsburg, Hilldale, Niles, Sturgis, Three Rivers
Boys Soccer – District Championships
Division 1 at Portage Northern
Mattawan vs. Portage Northern, 6:00 p.m.
Division 4 at Michigan Lutheran
Hartford vs. Michigan Lutheran, 12:00 p.m.