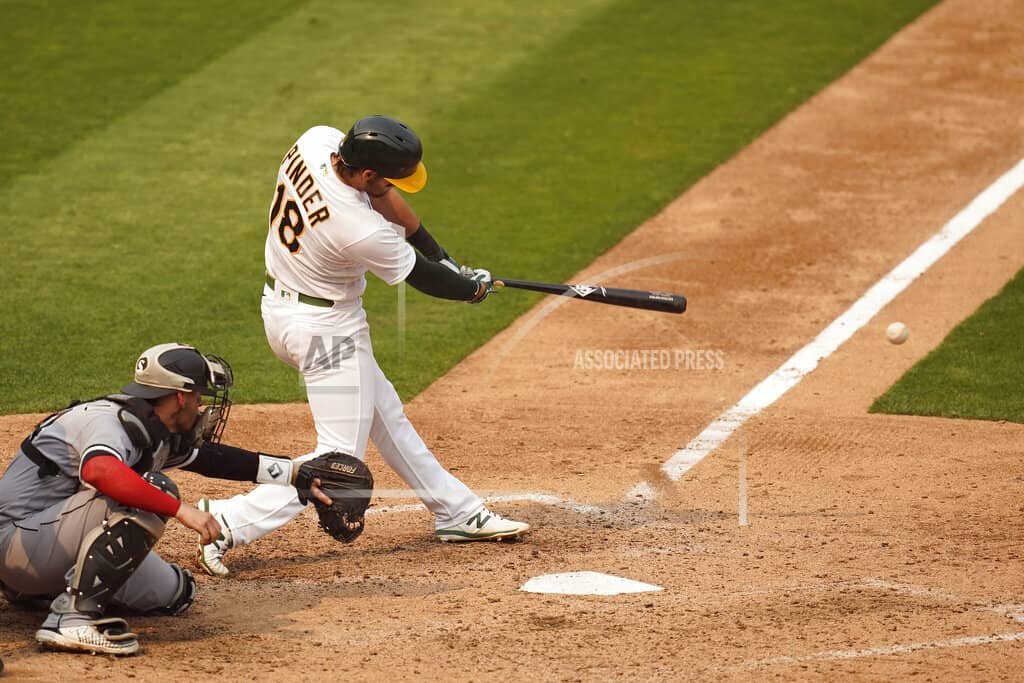 MLB – Major League Baseball – Playoffs – Wild Card Series (Best of 3)
Yesterday
American League
Oakland A's 6, Chicago White Sox 4                                                     (OAK wins 2-1)
Athletics 6, White Sox 4 – Pinder delivers timely hit, A's advance in playoffs at last
The Oakland Athletics finally advanced in a playoff round to erase two decades of little postseason success, riding a go-ahead two-run single by Chad Pinder in the fifth and repeated costly walks by Chicago's relievers to rally past the White Sox 6-4.Now, at last, the AL West champions have earned that coveted series with the rival Astros on the big October stage.Sean Murphy hit a two-run homer in the fourth for the A's as Oakland won the best-of-three wild-card round at home.Oakland will open a best-of-five AL Division Series on Monday against Houston at Dodger Stadium in Los Angeles.
National League
Atlanta Braves 5, Cincinnati Reds 0                                                    (ATL wins 2-0)
Miami Marlins at Chicago Cubs, PPD Raid                                             (MIA leads 1-0)
San Diego Padres 11, St. Louis Cardinals 9                                          (Series tied 1-1)
Los Angeles Dodgers 3, Milwaukee Brewers 0                                      (LAD wins 2-0)
Marlins at Cubs – PPD – Game 2 of Marlins-Cubs wild-card series postponed
Game 2 of the National League wild-card series between the Miami Marlins and Chicago Cubs has been postponed because of a forecast for rain. Miami leads 1-0 after winning the opener 5-1, and the teams will meet Friday. If a Game 3 is needed, it would be played Saturday. Yu Darvish was scheduled to start Game 2 for Chicago, and rookie Sixto Sánchez for the Marlins.
Today
American League
Chicago White Sox (Dunning 2-0 or Cease 5-4) at Oakland (TBA), 3:10 p.m.     (Tied 1-1)
National League
Miami (Sanchez 3-2) at Chicago Cubs (Darvish 8-3), 2:08 p.m.                         (MIA 1-0)
St. Louis (Flaherty 4-3) at San Diego, 7:08 p.m.                                             (Tied 1-1)
MLB – Cubs' Darvish tries to save season vs Marlins
The Cubs and Marlins resume their series a day after poor weather caused a postponement at Wrigley Field. Miami leads the best-of-three 1-0 but may be without outfielder Starling Marte, who was hit by a fastball during Wednesday's 5-1 victory and has a nondisplaced fracture of the bone running between his left pinky and wrist. He wasn't in the starting lineup for Thursday's postponed game, but manager Don Mattingly had not ruled out using him.
NFL – National Football League – Week 4
Last Night
Denver Broncos 37, New York Jets 28
Broncos 37, Jets 28 – Broncos top winless Jets 37-28 for first victory of season
Melvin Gordon sealed the Denver Broncos' first win of the season with a 43-yard touchdown run with 1:48 left and the defense made just enough plays in the fourth quarter to beat the lowly and still winless New York Jets 37-28. Both teams came in looking to avoid starting 0-4 in consecutive seasons, but the Broncos came out on top in a sloppy, penalty-filled but strangely entertaining game between two of the NFL's worst teams. On third-and-6 and the Jets leading by one, Quinnen Williams sacked Brett Rypien but grabbed the quarterback's helmet and prolonged the drive. Brandon McManus' 53-yard field goal gave Denver the lead at 30-28 with 3:08 remaining.
Sunday
New Orleans Saints at Detroit Lions, 1:00 p.m.       Superhits 103.7 Cosy-FM/Rock 107 WIRX 11:00
Chicago Bears at Indianapolis Colts, 1:00 p.m.
Philadelphia Eagles at San Francisco 49ers, 8:20 p.m.       News/Talk/Sports 94.9 WSJM 7:30
NBA – 2020 NBA Finals (best of 7)
Tonight
Miami Heat vs. Los Angeles Lakers, 9:00 p.m.                                        (LAL leads 1-0)
NBA – Heat are ailing, but insist NBA Finals vs Lakers aren't over
Jimmy Butler had a bandage on his right knee and a wrap on his left ankle. His team's starting point guard and center are both doubtful to play in Game 2 of the NBA Finals. And his Miami Heat are coming off a one-sided loss to the Los Angeles Lakers. Given all that, Butler believes a perception exists that this series is already over. "I beg to differ," Butler said Thursday.
NBA – AP source: 76ers set to hire Rivers as new coach
The Philadelphia 76ers have reached an agreement with Doc Rivers to become their  coach. Rivers reached the deal Thursday to become the latest coach to try and lead the franchise to their first NBA championship since 1983, a person with direct knowledge of the negotiations told The Associated Press. The person spoke to the AP on Thursday on condition of anonymity because the Sixers had not formally announced the move.  Rivers takes over for Brett Brown, who was fired after the Sixers were swept in the first round of the Eastern Conference playoffs.  Rivers was fired about two weeks after the Los Angeles Clippers wasted a 3-1 series lead and lost to Denver in the Western Conference semifinals.
Tennis – Kenin advances, Stephens out at Paris
It was a good day for Sofia Kenin, and good-bye for fellow American Sloane Stephens at the French Open. The fourth-seeded Kenin reached the third round by beating Ana Bogdan 3-6, 6-3, 6-2. The Australian Open champ failed to convert three match points with Bogdan serving at 5-1 in the final set. She then saved three break points in the next game and held on to win.  Stephens lost in the second round, her earliest exit at Roland Garros since a first-round defeat on her debut in 2011. The 29th-seeded Stephens lost, 6-4, 4-6, 6-2 to Spaniard Paula Badosa. Former champion Jelena Ostapenko pulled off a second-round stunner by ousting No. 2 seed Pliskova, 6-4, 6-2.
Other winners on the women's side Thursday included seventh seed Petra Kvitova, eighth seed Aryna Sabalenka, No. 11 Garbine Muguruza and No. 13 Petra Martic. In the men's bracket, No. 1-ranked Novak Djokovic dispatched Ricardas Berankis 6-1, 6-2, 6-2. Djokovic has dropped just 10 games on his way to the third round. Fifth seed Stefanos Tsitsipas, seventh seed Matteo Berrettini, No. 10 Roberto Bautista Agut and No. 13 Andrey Rublev also won their second-round matches. Ninth seed Denis Shapovalov lost to Roberto Carbelles Baena in five sets.
PGA – Four-way tie for lead in Miss.
Jimmy Walker is part of a four-way tie for the first round lead at the Sanderson Farms Championship in Mississipppi. Walker played bogey-free on the fast greens at the Country Club of Jackson for an 8-under 64. It was the best start in more than two years for the former PGA champion. Charley Hoffman made nine birdies to grab a piece of the lead with Walker, Kevin Chappell and defending champion Sebastián Muñoz. Michael Gligic and MJ Daffue are one off the pace.
LPGA – Stephenson, Lee share lead through 18
Lauren Stephenson eagled the par-4 14th in an 8-under 63 that gives her a share of the Shoprite LPGA Classic lead with Mi Hyang Lee. Stephenson birdied four of the first five holes and finished the morning round on Seaview's Bay Course with eight birdies and two bogeys. Lee birdied the final two holes in a bogey-free afternoon round, putting her one stroke ahead of Ryann O'Toole and Nasa Hataoka.
Bill to reform USOPC, protect athletes approved by Congress
A bill that would give Congress the power to dissolve the U.S. Olympic and Paralympic Committee's board of directors and would more than double the federation's funding for the U.S. Center for SafeSport is headed to President Donald Trump for his signature after passing the House unanimously on Thursday.  The bill was written in response to the sex abuse scandal involving Larry Nassar, the longtime team doctor for USA Gymnastics and the Michigan State athletic program who abused more than 300 athletes, according to a congressional report. Nassar is serving decades in prison after being convicted on charges related to his abuse of athletes under the guise of treatment.
MHSAA – High School Sports
Yesterday
Boys Soccer
St. Joseph 1, Portage Central 1 – TIE
Mattawan 5, Kalamazoo Loy Norrix 2
Gull Lake 2, Portage Northern 1
Battle Creek Lakeview 1, Battle Creek Central 1 – TIE
Allegan 9, Saugatuck 0
Comstock 3, Constantine 0
Howardsville Christian 4, Battle Creek Academy 1
Girls Volleyball
Michigan Lutheran at Howardsville Chr. 6:00 p.m.
Vicksburg 3, Allegan 1
Otsego 3, Dowagiac 2  (20-25, 24-26, 25-18, 25-18, 15-11)
Sturgis 3, Paw Paw 0
Edwardsburg 3, Plainwell 1
Today
Football – All games start at 7:00 unless said otherwise
SMAC
Portage Central (0-2) at St. Joseph (2-0)                                  News/Talk/Sports 94.9 WSJM
Lakeshore (1-1) at Battle Creek Central (1-1), 5:00 p.m.             97.5 Y-Country
Kalamazoo Central (0-2) at Battle Creek Lakeview (2-0)
Gull Lake (0-2) at Portage Northern (2-0)
Non-Conference
Niles (0-2) at Benton Harbor (0-2)
Mattawan (1-1) at Grand Ledge (1-1)
Parma Western (2-0) at Three Rivers (2-0)
Comstock (1-1) at Wyoming Lee (1-1)
Kalamazoo Loy Norrix (0-2) at Coldwater (2-0)
Saugatuck (1-1) at Coleman (0-2)
BCS
Buchanan (2-0) at Berrien Springs (1-1)
South Haven (1-1) at Brandywine (1-1)
SAC
Fennville (0-2) at Coloma (1-1)
Constantine (1-1) at Watervliet (2-0)
Delton-Kellogg (1-1) at Lawton (2-0)
Kalamazoo United (2-0) at Parchment (0-2)
Schoolcraft (2-0) at Galesburg-Augusta (0-2)
Wolverine
Edwardsburg (3-0) 2, Plainwell (1-2) 0         Edwardsburg wins by forfeit, Plainwell cancels for COVID
Sturgis (2-0) at Paw Paw (2-0)
Otsego (1-1) at Dowagiac (0-2)
Vicksburg (1-1) at Allegan (0-2)
Southwest 10
Cassopolis (2-0) at Centreville (2-0)
White Pigeon (0-2) at Hartford (0-2)
Mendon (2-0) at Decatur (0-2)
SW Michigan 8-Man
Bridgman (1-1) at Michigan Lutheran (1-1)
Wyoming Tri-Unity (1-1) at New Buffalo (2-0)
Bangor (0-1) at Eau Claire (0-2)
Vermontville Maple Valley (1-1) at Martin (2-0)
Lawrence (2-0) at Marcellus (0-2)
Bloomingdale (1-1) at Gobles (0-1)