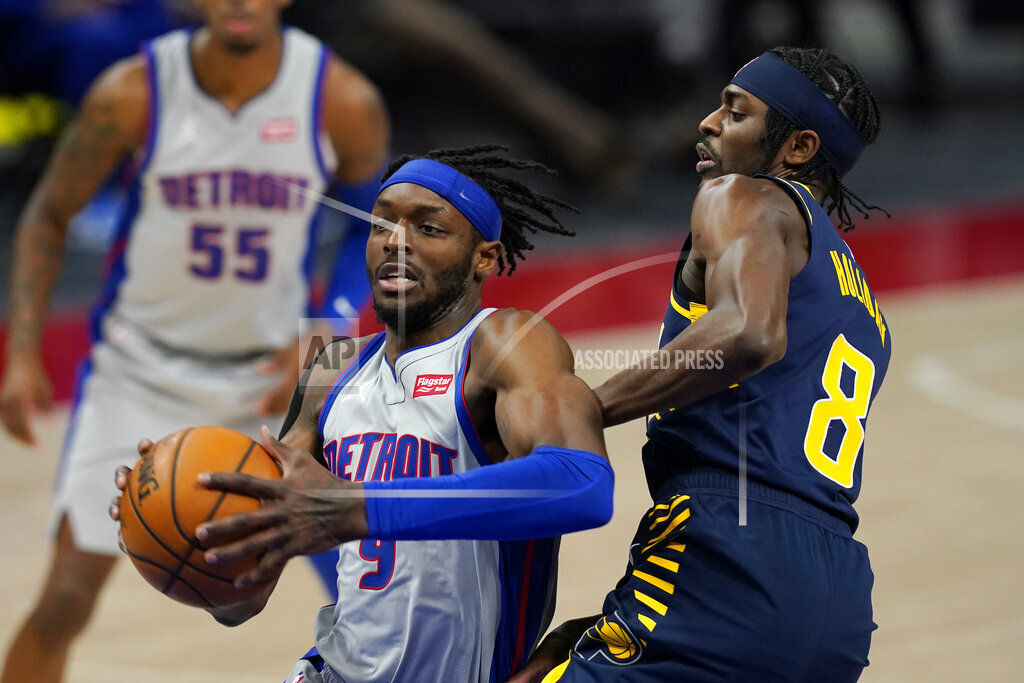 NBA – National Basketball Association
Last Night
Indiana Pacers 111, Detroit Pistons 95
Pacers 111, Pistons 95 – Pacers snap 4-game skid with 111-95 win over Pistons
Domantas Sabonis had 26 points, eight rebounds and eight assists, and the Indiana Pacers snapped a four-game losing streak with a 111-95 victory over the Detroit Pistons. Malcolm Brogdon added 18 points and Jeremy Lamb scored 17 for the Pacers, who posted a season-low 94 points in a loss to Brooklyn on Wednesday. One night later, it was Detroit that struggled offensively, shooting 5 of 28 from 3-point range. Josh Jackson led the Pistons with 18 points, and rookie Isaiah Stewart added 17 in his first start at center.
Tonight
Detroit at Boston, 8:00 p.m.
LA Clippers at Chicago, 8:00 p.m.
Saturday
Indiana at Atlanta, 7:30 p.m.
Sunday
New Orleans at Detroit, 7:00 p.m.
NBA – Raptors to call Tampa home for rest of season
The Raptors say they will stay in its adopted home of Tampa because of ongoing challenges related to the coronavirus pandemic and how that affects the process of crossing the border between the U.S. and Canada.  Toronto made the move south last fall, knowing the decision was a possibility. The border remains closed to nonessential travelers who are not Canadian citizens.
NHL – National Hockey League
Last Night
Nashville Predators 3, Detroit Red Wings 2
Columbus Blue Jackets 6, Chicago Blackhawks 5
Predators 3, Red Wings 2 – Fabbro's late goal lifts Predators over Red Wings, 3-2
Dante Fabbro scored with 59.2 seconds remaining to give the Nashville Predators a 3-2 win over the struggling Detroit Red Wings. Ryan Ellis and Matt Duchene also scored and Pekka Rinne made 24 saves for Nashville, which snapped a three-game losing streak. Robby Fabbri and Marc Staal had the goals for Detroit, which has lost 10 of 11. As the clock dipped just below a minute in the third period, Fabbro sent a wrist shot from the right point through traffic that beat Detroit goalie Thomas Greiss on the stick side. Greiss finished with 20 saves.
Blue Jackets 6, Blackhawks 5 – Blue Jackets use 4-goal third period to beat Blackhawks 6-5
Boone Jenner, Jack Roslovic, Michael Del Zotto and Kevin Stenlund scored during a wild third period, and the Columbus Blue Jackets stopped Chicago's three-game win streak with a 6-5 victory over the Blackhawks. Cam Atkinson set a franchise record with his 15th career short-handed goal as Columbus won for the third time in four games. Atkinson also had three assists, Roslovic scored twice and Stenlund had a goal and an assist in the Blue Jackets' first game since veteran center Mikko Koivu announced his retirement Tuesday. Patrick Kane and Alex DeBrincat each had a goal and two assists for Chicago, which dropped to 4-2-1 at home.
Saturday
Detroit Red Wings at Nashville Predators, 8:00 p.m.
Columbus Blue Jackets at Chicago Blackhawks 8:00 p.m.
NHL – NHL adds game-day rapid testing to stem COVID-19 outbreaks
The NHL is adding game-day rapid tests for players, team personnel and on-ice officials as part of a series of expanded safety protocols in its latest bid to stem potential COVID-19 outbreaks. Rapid tests will initially be made available to the league's 24 U.S.-based teams and provide results within a half-hour to augment daily PCR testing already in place. Other expanded safety protocols include having teams provide players and staff KN95 facemasks, have all team meetings be conducted virtually, and removing the plexiglass surrounding the penalty box area. The NHL also recommends players not leave their homes except to attend practice, games or for other essential activities.
NCAAMBB – Men's College Basketball
Last Night
(6) Illinois at (3) Michigan, PPD
Tonight
Buffalo at Central Michigan, PPD
Saturday
(15) Iowa at Michigan State, 2:30 p.m.          Superhits 103.7 Cosy-FM 1:30
Eastern Michigan at Ball State, PPD
Ohio at Western Michigan, PPD
Sunday
(3) Michigan at (21) Wisconsin, 1:00 p.m.      News/Talk/Sports 94.9 WSJM 12:30
Miami (FL) at Notre Dame, 6:00 p.m.
NCAAMBB – Staggering Spartans struggling with play of point guards
Michigan State is having an unusually poor season so far. The Spartans' biggest problem has been point guard play in an uneven season that might leavethem out of the NCAA Tournament for the first time since 1997. Coach Tom Izzo says it's a bad year not to have experience at point guard. He has switched back and forth among three players. Michigan State currently has a two-game winning streak and is eager to keep the momentum going. The Spartans host No. 15 Iowa on Saturday.
NCAABB – Conference tournaments still on schedule despite concerns
College conferences are still planning to hold basketball tournaments where the winner earns the automatic bid to the NCAAs. But the leagues also have until Feb. 26 to notify the selection committee if there will be any changes in how their bids are awarded. Some coaches are split on the feasibility of having the tournaments and pandemic concerns could still lead to changes. The NCAA has mandated that teams must have seven straight days of negative tests prior to arriving in Indiana for the tournament. There has to be an additional two negatives PCR tests before teams start practice.
NCAAWBB – Women's College Basketball
Last Night
(12) Michigan 62, Purdue 49
Virginia at Notre Dame, PPD
(12) Michigan 62, Purdue 49 – Hillmon, Brown lead No. 12 Michigan women past Purdue 62-49
Naz Hillmon scored 21 points, Leigha Brown added 20 and No. 12 Michigan returned from a three-week COVID layoff with a 62-49 win over Purdue. The Wolverines had not played since Jan. 21, a memorable game in which Hillmon set school record for points — male or female — with 50 in an 81-77 loss to No. 11 Ohio State. A department-wide pause in athletic activity followed and six games were postponed. The Wolverines may have been a little rusty on offense but certainly not on defense. Michigan shot 39% and had 20 turnovers. However, the defense forced 22 turnovers and had a 39-18 rebounding advantage. Kayana Traylor had 15 points for Purdue.
Saturday
Michigan State at Penn State, 12:00 p.m.
Kent State at Central Michigan, 1:00 p.m.
Western Michigan at Ohio, 1:00 p.m.
Bowling Green at Eastern Michigan, PPD
NCAA – Valparaiso will look for new team after dropping Crusaders
Valparaiso is looking for a new team name after deciding to drop the term Crusaders. School officials say the imagery and name have been embraced and used by hate groups, including the Ku Klux Klan. The Indiana school's faculty and student senates each passed resolutions calling for a change. Interim president Colette Irwin-Knott says the "negative connotation" and "violence" associated with the name were not reflective of the university's mission, values or inclusive community. A committee plans to consider finding a new name and new mascot.
MLB – MLB season slated to start with Yankees-Jays, Tigers-Indians
The major league season is scheduled to open April 1 with the New York Yankees hosting Toronto and Detroit hosting Cleveland starting a full schedule of 15 games. Major League Baseball announced its initial 2021 schedule last July 9 and has updated it with game times. The schedule envisions every team playing its first game on the same day for the first time since 1968. Nationally televised openers include Tigers-Yankees, Dodgers-Rockies, Mets-Nationals and White Sox-Angels.
MLB – AP Sources: Cubs agree to 1-year deal with OF Marisnick
The Chicago Cubs have added another outfielder, agreeing to a $1.5 million, one-year contract with Jake Marisnick. Two people familiar with the situation confirmed the deal for The Associated Press on condition of anonymity because the move is pending a physical. Marisnick will make $1 million this season. There is a $4 million mutual option for 2022 with a $500,000 buyout. The 29-year-old Marisnick hit .333 with two homers and five RBIs in 16 games with the New York Mets last year. But he is known more for his defense in center field.
MLB – Dodgers introduce Trevor Bauer with 3-year deal
Trevor Bauer signed a three-year deal with the Los Angeles Dodgers after his own research confirmed what he'd thought as a kid growing up in the area. He says everyone he spoke to gave the defending World Series champions glowing reviews. The take on Bauer is more complicated. The current NL Cy Young Award winner has generated mixed reviews among the public, in part because he's committed gaffes and been involved with multiple controversies on social media, where he has a huge following.
Tennis – No crowds, but Australian Open will continue during lockdown
The Australian Open will be allowed to continue but without crowds for at least five days after the Victoria state government imposed a lockdown starting Saturday in response to a COVID-19 outbreak at a quarantine hotel. Victoria Premier Daniel Andrews announced a five-day, state-wide lockdown starting a minute before midnight Friday. New rules include restricting residents to their homes except for work, to shop for essential supplies, care or caregiving, and limited exercise.
NASCAR – Almirola takes Daytona qualifier
Aric Almirola has earned a spot in the second row for Sunday's Daytona 500 by winning the first of two 150 qualifying races.  Almirola held off a charge from Joey Logano, who pulled alongside Almirola on the final lap of the first 150-mile race. Almirola led 52 of 60 laps in his first qualifying race victory at Daytona.
Golf – PGA – Cantlay leads following a 62
Patrick Cantlay birdied seven of his first eight holes and closed with two straight birdies for a 10-under 62 at the PGA's Pebble Beach Pro-Am. Cantlay tied the course record at Pebble Beach last matched 24 years ago by David Duval, and it gave him a two-shot lead through one round. Henrik Norlander and 19-year-old Akshay Bhatia were at 8 under.
Olympics – Mori expected to step down Friday
Yoshiro Mori was expected to resign Friday as the president of the Tokyo Olympic organizing committee following sexist comments implying women talk too much.  Mori's departure at an executive board meeting comes after more than a week of non-stop criticism about his remarks earlier this month. He initially apologized but refused to step away, which was followed by relentless pressure from television pundits, sponsors, and an on-line petition that drew 150,000 signatures.
AHL – American Hockey League
Yesterday
Chicago Wolves 4, Grand Rapids Griffins 2
Saturday
Grand Rapids Griffins at Cleveland Monsters, 4:00 p.m.
MHSAA – High School Sports
Last Night
Boys Basketball
Countryside 63, Michigan Lutheran 33
Countryside's Jeffrey Brown scored 11 of his game high 18 points in the third quarter in the Cougars 63-33 win over Michigan Lutheran. Jamere Matlock added 11 for Countryside.  Sam Taylor had 12 points to Lead the Titans.
Dowagiac 52, Berrien Springs 50 – 2OT
Comstock 57, Hartford 37
Howardsville Christian 56, Marcellus 51
Girls Basketball
St. Joseph 53, Portage Northern 36
St. Joseph jumped out to a 20-2 lead after the first quarter on their way to a 53-36 season opening victory at Portage Northern.  Karly Klaer led St. Joe with a game high 19 points while Symone King had 11.   St. Joe will play home on Saturday at 3:00 p.m. against Mattawan.
Mattawan 66, Lakeshore 32
Mattawan outscored Lakeshore 35-12 in the second half and pulled away for a 66-32 win over Lakeshore.  Three Mattawan players scored in double figures, led by Addy Douglass with 20.  Gabriella Conway had 10 points to lead Lakeshore will host Portage Central on Saturday afternoon at 3:00 p.m.
South Haven 52, Berrien Springs 34
Jordyn Holland and Dayshauna Crowley each had 16 points helping South Haven to a 52-34 win over Berrien Spriings.  Taneya Shivers also had 16 for Berrien Springs.
Michigan Lutheran 50, New Buffalo 30
Hartford 51, Comstock 40
River Valley 27, Lawrence 15
Marcellus 37, Howardsville Christian 20
Kalamazoo Central 61, Gull Lake 30
Battle Creek Lakeview 71, Kalamazoo Loy Norrix 23
Portage Central 44, Battle Creek Central 26
Tonight
Boys Basketball
Portage Northern at St. Joseph, 7:00 p.m. **News/Talk/Sports 94.9 WSJM

Mattawan at Lakeshore, 7:00 p.m.
Benton Harbor at Muskegon, 7:00 p.m.
Howardsville Christian at Countryside, 6:00 p.m.
Lake Michigan Catholic at Bridgman, 7:15 p.m.
Comstock at Buchanan, 7:15 p.m.
Michigan Lutheran at New Buffalo, 7:30 p.m.
Niles at Brandywine, 7:30 p.m.
Berrien Springs at South Haven, 7:00 p.m.
Lawrence at River Valley, 7:30 p.m.
Centreville at Mendon, 7:30 p.m.
Delton-Kellogg at Fennville, 7:30 p.m.
Schoolcraft at Galesburg-Augusta, 7:30 p.m.
Constantine at Kalamazoo Christian, 7:30 p.m.
Parchment at Kalamazoo Hackett, 7:30 p.m.
Saugatuck at Lawton, 7:30 p.m.
Coloma at Martin, 7:30 p.m.
Gobles at Watervliet, 7:30 p.m.
Battle Creek Central at Portage Northern, 7:00 p.m.
Kalamazoo Central at Gull Lake, 7:00 p.m.
Battle Creek Lakeview at Kal. Loy Norrix, 7:00 p.m.
Girls Basketball
Lake Michigan Catholic at Bridgman, 5:45 p.m.
Comstock at Buchanan, 6:00 p.m.
Niles at Brandywine, 6:00 p.m.
Centreville at Mendon, 6:00 p.m.
Coldwater at Three Rivers,7:15 p.m.
Howardsville Chr. at Calhoun Christian, 7:30 p.m.
Delton-Kellogg at Fennville, 6:00 p.m.
Schoolcraft at Galesburg-Augusta, 6:00 p.m.
Constantine at Kalamazoo Christian, 6:00 p.m.
Parchment at Kalamazoo Hackett, 6:00 p.m.
Saugatuck at Lawton, 6:00 p.m.
Coloma at Martin, 6:00 p.m.
Gobles at Watervliet, 6:00 p.m.
Saturday
Boys Basketball
St. Joseph at Mattawan, 3:00 p.m.
Lakeshore at Portage Central, 3:00 p.m.
Benton Harbor at Douglass Academy, 4:00 p.m.
Gobles at Allegan, 6:30 p.m.
Niles at Paw Paw, 2:00 p.m.
Bloomingdale at River Valley, 7:30 p.m.
Gull Lake at Three Rivers, 4:00 p.m.
Adrian at Kal. Loy Norrix, 12:30 p.m.
Girls Basketball
Mattawan at St. Joseph, 3:00 p.m.
Portage Central at Lakeshore, 3:00 p.m.
Gobles at Allegan, 5:00 p.m.
Paw Paw at Niles, 1:30 p.m.
Bloomingdale at River Valley, 5:45 p.m.
West Mich. Aviation at Saugatuck, 6:00 p.m.