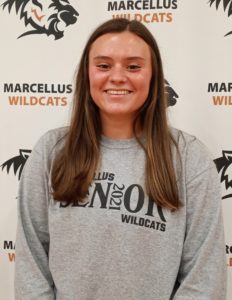 Erin Morgan of Marcellus High School Softball is our WSJM Sports Van Buren/Cass Student Athlete of the Week for the week of May 9, 2021.
In a doubleheader sweep of Howardsville Christian, Erin turned in a double, two home runs, five RBIs, and no errors in the field. Then in a doubleheader sweep of Bloomingdale, she had a double, a home run, and three RBIs, and no errors in the field. For the week, she wound up going a combined 11-16 at the plate with the eight RBIs.
Erin has earned Academic All-State honors in the past for softball. She is also a member of the Volleyball team, National Honor Society, Spanish Honor Society, and SADD. She is also the Co-Valedictorian of her class. She will be continuing here academic and softball careers at Aquinas College. In the classroom, she graduates with a 4.0 grade point average.
Erin is the daughter of Bob and Jody Morgan of Jones.
Other finalists for the week were Brett Clauser of Decatur Track and Kaleb Bodfish of South Haven Baseball.
Catch Erin's conversation with Phil McDonald below…