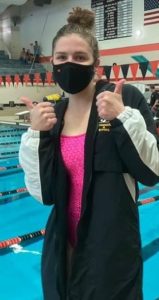 Elinor Frost of South Haven High School Swimming is our WSJM Sports Van Buren/Cass Student Athlete of the Week for the week of November 8, 2020.
At the Second Shave Meet, Ellie qualified for the State Finals in the 100 Meter Fly with a school record breaking time of 1:00.18. The state cut time was 1:03.49. She has also qualified for the State Finals in the 50 Meter Free and 100 Meter Free events.
Ellie is also a member of the South Haven Track team, National Honor Society, Band, Tri M Music Society, Quiz Bowl Team, and Be Nice Program. In the classroom, she carries a 4.395 grade point average.
Ellie is the daughter of John and Carey Frost of South Haven.
Catch Ellie's conversation with Phil McDonald below…
Podcast: Play in new window | Download | Embed
Subscribe: Apple Podcasts | Google Podcasts | Spotify | Stitcher | Email | RSS | More