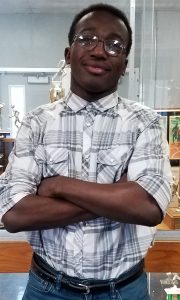 Dashiande Harris-Moore of Benton Harbor High School Wrestling is the WSJM Sports Berrien County Student Athlete of the Week for the week of January 26, 2020.
Dashiande started the week by going 2-0 at the Berrien Springs Quad. He then ended the week by winning the 160 lbs. Championship at the Greater Berrien County Invitational. He went 3-0 at the county invitational and was honored with the Nathan Broehm Outstanding Wrestler Award. With his performance, he improved to 32-2 on the season.
As a sophomore, Dashiande serves as team captain. In the classroom, he carries a 3.6 grade point average and has hopes of possibly studying engineering or architecture in college.
Dashiande is the son of Ciara Reese of Benton Harbor.
Other finalists for the week were Jamison Zimmerman and Ryan Franco of Niles Wrestling, and Samantha Dietz of Watervliet Basketball.
Podcast: Play in new window | Download | Embed
Subscribe: Apple Podcasts | Android | Email | Google Podcasts | Stitcher | Spotify | RSS | More