Coloma 45, Buchanan 30
Coloma advanced to the Division 2 District Semifinals with a 45-30 win over Buchanan.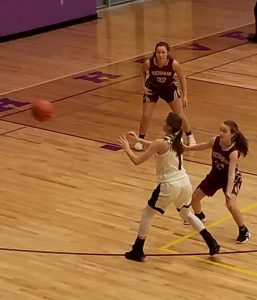 The Comets led by two after the first quarter but limited the Bucks to just one fieldgoal and four free throws as they took a nine point lead at the half. Megan Neubecker scored 12 of her game high 20 points in the second half as the Comets continued to pull away. Hailey Jonatzke scored nine points in the loss for Buchanan.
Coloma moves on to face Berrien Springs Wednesday night at 7:00 in South Haven.
INDIVIDUAL SCORERS
COLOMA
Megan Neubecker – 20
Marissa Sherburn – 8
Mia Cole – 6
Megan Koenigshof – 5
Kadee Davis – 3
Vanessa Crisenbery – 3
BUCHANAN
Hailey Jonatzke – 9
Claire Lietz – 6
Emma Lozmack – 6
Alyssa Rehmel – 4
Maya Schuhknecht – 3
Alexa Burns – 2