NBA – National Basketball Association
Last Night
Milwaukee Bucks 126, Detroit Pistons 117
Dallas Mavericks 127, Indiana Pacers 104
Los Angeles Clippers 124, Chicago Bulls 112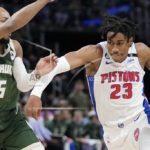 Bucks 126, Pistons 117 – Middleton leads short-handed Bucks past decimated Pistons
Khris Middleton scored 34 points against the team that drafted him, and the Milwaukee Bucks beat the Detroit Pistons 126-117 without Giannis Antetokounmpo. Milwaukee improved to an NBA-best 54-21 despite the absences of Antetokounmpo and Jae Crowder. Goran Dragic made his Bucks debut after signing with the team on March 4. Brook Lopez had 24 points and 14 rebounds, Bobby Portis added 21 points and 14 rebounds, and Jevon Carter scored 22. The Pistons got 32 points, eight rebounds and eight assists from Jaden Ivey, but lost their sixth straight game and 17th of 18.
Mavericks 127, Pacers 104 – Mavericks end 4-game skid vs. Pacers to stay in playoff hunt
Luka Doncic finished with 25 points, seven rebounds and six assists just hours after his most recent technical foul and one-game suspension were rescinded and led the Dallas Mavericks past the Indiana Pacers 127-104. The Mavericks snapped a four-game losing streak and moved a half-game behind the Lakers and Oklahoma City for the final two play-in spots in the Western Conference. Bennedict Mathurin had 22 points to lead the Pacers, who were missing three starters and a key backup. The Pacers have lost three straight. But after a back-and-forth first quarter, Dallas opened the second on a 14-2 run to make it 43-29. The Pacers never recovered.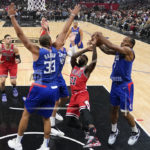 Clippers 124, Bulls 112 – Nicolas Batum hits 8 3-pointers, Clippers beat Bulls 124-112
Nicolas Batum got all of his season-high 24 points on eight 3-pointers, and Eric Gordon added 22 points in the Los Angeles Clippers' comfortable 124-112 victory over the Chicago Bulls. Kawhi Leonard scored 22 as the Clippers rebounded from an embarrassing loss to New Orleans with 20 3-pointers in an impressive outside shooting display led by Batum. Zach LaVine scored 23 points and Nikola Vucevic had 20 points and eight rebounds for the Bulls, who followed up their win over the Lakers on Sunday with a dud.
NHL – National Hockey League
Tonight
Pittsburgh Penguins at Detroit Red Wings, 7:00 p.m.
Dallas Stars at Chicago Blackhawks, 8:30 p.m.
NCAAWBKB – Women's College Basketball (local teams only)
Last Night
NCAA Tournament Elite 8
1 South Carolina 86, 2 Maryland 75                    (Greenville 1 Regional)
1 Virginia Tech 84, 3 Ohio State 74                      (Seattle 3 Regional)
South Carolina 86, Maryland 75 – Boston, South Carolina women reach Final Four
Aliyah Boston had 22 points and 10 rebounds, Zia Cooke scored 18 points and top-seeded South Carolina used its smothering defense to outlast second-seeded Maryland 86-75 to reach its third straight Final Four. The Gamecocks improved to 36-0 on the season with their 42nd straight win dating to last year's NCAA title run. They're now just two victories away from consecutive titles and the 10th undefeated season in the history of the women's game. Maryland used a fast pace to lead in the opening period. But South Carolina turned on its trademark defense to grab control.
Va Tech 84, Ohio State 74 – Va Tech women headed to 1st Final Four after topping Ohio St
Elizabeth Kitley scored 25 points and grabbed 12 rebounds, Georgia Amoore added 24 points and top-seeded Virginia Tech advanced to the Final Four for the first time in school history with an 84-74 win over No. 3 seed Ohio State in the Seattle 3 Regional final. Playing in its first regional final, Virginia Tech won its 15th straight game and will head to the Final Four having not lost in more than two months. The Hokies will face LSU in the national semifinals on Friday in Dallas. Taylor Mikesell led Ohio State with 25 points, but 19 of those came in the first half.
Friday
NCAA Tournament Final Four – American Airlines Center, Dallas
3 LSU vs. 1 Virginia Tech, 7:00 p.m.
2 Iowa vs. 1 South Carolina, 9:00 p.m.
MLB – Major League Baseball – Spring Training
Yesterday
Chicago Cubs 6, Chicago White Sox 6 – TIE
Today
Chicago White Sox at Chicago Cubs, 4:05 p.m.
End Spring Training
MLB – Tigers acquire INF Zach McKinstry in trade with Cubs
The Detroit Tigers have acquired veteran infielder Zach McKinstry in a trade with the Chicago Cubs. The Tigers sent minor league right-hander Carlos Guzman to the Cubs for McKinstry, a .208 hitter with 12 homers and 43 RBIs in parts of three big league seasons. The 24-year-old Guzman went 9-6 with a 4.11 ERA in 27 games last year, finishing the season with two appearances for Double-A Erie. McKinstry, who turns 28 on April 29, broke into the majors with the Los Angeles Dodgers in 2020. He was traded to the Cubs for reliever Chris Martin in July.
MLB – AP source: Hoerner, Cubs agree to $35 million, 3-year deal
The Chicago Cubs have locked up another infielder, agreeing to a $35 million, three-year contract with Nico Hoerner. A person familiar with the negotiations confirmed the contract to The Associated Press on condition of anonymity because the move had not been announced. The deal begins with the 2024 season. Hoerner, who turns 26 in May, is moving back to second base this year after he was the team's regular shortstop in 2022. The Cubs signed All-Star shortstop Dansby Swanson to a $177 million, seven-year contract in December. The new deal for Hoerner means the team could have its middle infield in place through the 2026 season.
NFL – Lamar Jackson says he has requested trade from Ravens
Lamar Jackson says he has requested a trade from the Baltimore Ravens, saying the team "has not been interested in meeting my value." The star quarterback said Monday in a series of tweets that he requested a trade as of March 2. On March 7, the Ravens put the nonexclusive franchise tag on Jackson and said they were still hopeful they could reach a long-term deal with him. That version of the franchise tag allowed Jackson to negotiate with other teams, but it also gives Baltimore a chance to match any agreement he makes.
NFL – GMs for Packers, Jets discuss status of Rodgers trade talks
Green Bay Packers general manager Brian Gutekunst said he's not requiring a first-round pick in a potential trade sending four-time MVP quarterback Aaron Rodgers to the New York Jets but added he'd want "fair value." Gutekunst and Jets general manager Joe Douglas both discussed trade talks involving the 39-year-old Rodgers on Monday at the NFL annual meeting. Rodgers said March 15 during an appearance on "The Pat McAfee Show" on SiriusXM and YouTube that he intends to play for the Jets in 2023.
NFL – Patriots owner Robert Kraft campaigns against antisemitism
New England Patriots owner Robert Kraft has launched a $25-million national ad campaign against antisemitism. The ads will be featured during popular television programs such as "The Voice" and during the NFL draft, and NBA and NHL playoffs. Antisemitism has been on the rise over the last five years. Statistics show that while Jewish people are 2.4% of the U.S. population, they are the targets of 55% of religion-motivated hate crimes. Kraft said the ads will show how non-Jewish people can stand in solidarity with their Jewish neighbors against antisemitism and all types of hate.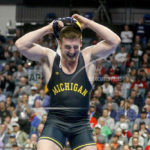 NCAAWRE – Michigan's Parris wins Hodge Trophy as top college wrestler
Michigan heavyweight Mason Parris has been named winner of the Dan Hodge Trophy as the nation's top college wrestler. WIN magazine announced Parris received 38 of 64 first-place votes from the selection panel. Parris went 33-0 while winning a national championship this month in Tulsa, Oklahoma. Three-time national champion Carter Starocci of Penn State finished second in the voting and four-time champion Yianni Diakomihalis of Cornell was third. Parris is the third straight heavyweight to win the Hodge Trophy. The trophy has been presented since 1995 and is named for the undefeated, three-time NCAA champion for Oklahoma from 1955-57.
MCCAA – Junior College Athletics
Today
Women's Softball
Jackson College at Lake Michigan College, 3:00 p.m./5:00 p.m. (Doubleheader)
MHSAA – Maple City Glen Lake's Ruby Hogan wins Michigan AP D4 POY
Maple City Glen Lake's Ruby Hogan has been named the Michigan AP Division 4 Girls Player of the Year. Hogan finished her Glen Lake career with a 91-7 varsity record, including 53-1 in the Northwest Conference. She led the program to four league titles, four districts championships, three regional titles and a state championship. She averaged 18.9 points, 5.3 assists, 5.3 steals and 4.7 rebounds per game as a senior, falling one rebound short of a triple-double in the state semifinals against Adrian Lenawee Christian.
MHSAA – High School Sports
Yesterday
Baseball
Dowagiac 16, Marcellus 1 – Game 1
Dowagiac 11, Marcellus 2 – Game 2
Lawrence 3, Lawton 0
Softball
Bloomingdale 17, Allegan 1
Girls Soccer
Allegan 3, Otsego 0
Lawton 8, Bloomingdale 0
Holland Black River 5, Delton-Kellogg 0
Hamilton 3, Saugatuck 0
Fennville 4, Wyoming Lee 0
Today
Baseball
Hastings at Plainwell, 4:00 p.m.
Colon at Sturgis, 4:00 p.m.
Hamilton at Allegan, 4:15 p.m.
Holland Black River at Fennville, 4:00 p.m.
Kalamazoo Christian at Grandville Calvin Christian, 4:15 p.m.
Softball
River Valley at South Haven, 4:00 p.m.
Hastings at Plainwell, 4:00 p.m.
Colon at Sturgis, 4:00 p.m.
Hartford at Lawton, 4:30 p.m.
Kalamazoo Christian at Grandville Calvin Christian, 4:15 p.m.
Saugatuck at Hamilton, 4:15 p.m.
Fennville at Wyoming Lee, 4:15 p.m.
Girls Soccer
Dowagiac at Niles, 5:00 p.m.
Bangor at Brandywine, 5:30 p.m
Hartford at Paw Paw, 5:00 p.m.
Plainwell at Hudsonville, 7:00 p.m.
Track and Field
Benton Harbor and Lakeshore at Aquinas College Indoor Track Challenge, 4:00 p.m.
Podcast: Play in new window | Download | Embed
Subscribe: Google Podcasts | Spotify | Stitcher | Email | RSS | More