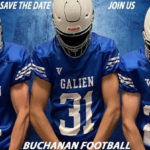 The last Galien football game was on October 24, 2003 against New Buffalo. This fall the Gaels (gayles) will be suiting up for one more game. The Buchanan football team will be honoring the now closed Galien High School football program with a tribute game this upcoming season.
When the Galien High School closed, players from that team were divided up around a number of area high school, with the majority ending up in Buchanan. Bucks head coach Mark Frey thought it would be a great way to honor the former team.
Coach Frey did something similar while coaching at a previous job in Ohio. Buchanan will wear special Galien uniforms and for the night will be using the Gaels nickmame. The Special Galien tribute game will take place on Thursday, August 31st against the Coloma Comets, kickoff will be at 7:00 p.m. at Buchanan's Memorial Stadium.