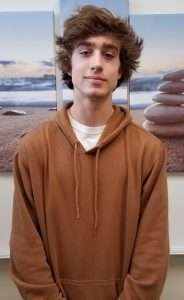 Bryce Schiff of LSJ Warriors Hockey is the WSJM Sports Berrien County Student Athlete of the Week for the week of January 19, 2020.
In the Warriors' games against South Bend St. Joe, Valparaiso, and Munster, Bryce turned in one goal and two assists. He also played key roles in LSJ sealing wins against Valparaiso and Munster.
Bryce is a senior at St. Joe High School and hopes to pursue a conservancy degree after graduation. In the classroom, he carries a 3.5 grade point average.
Bryce is the son of Bethany and Jon Schiff of St. Joe.
Another finalist for the week was Elizabeth Gousetis of St. Joe Competitive Cheer.
Catch Phil McDonald's conversation with Bryce below…
Podcast: Play in new window | Download | Embed
Subscribe: Apple Podcasts | Google Podcasts | Spotify | Stitcher | Email | RSS | More