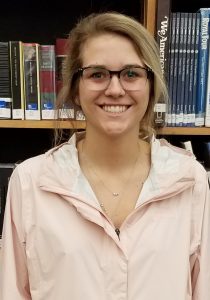 Bethany Duval of Brandywine High School Volleyball is the WSJM Sports Berrien County Student Athlete of the Week for the week of November 10, 2019. In the Bobcats' Regional Semifinal win over Gobles, Bethany turned in 11 kills, four digs, two blocks, and three aces. She followed that up with 11 more kills, seven digs, and one ace in their Regional Championship match against Schoolcraft.
Bethany is also an Academic All-State member of the Basketball team and is a member of the Key Club. In the classroom, she carries a 3.5 grade point average.
Bethany is the daughter of Jason and Marilyn Duval of Niles.
Another finalist for the week was Jackson Blough of LSJ Hockey.
Catch Bethany's conversation with Phil McDonald below…
Podcast: Play in new window | Download | Embed
Subscribe: Apple Podcasts | Android | Email | Google Podcasts | Stitcher | Spotify | RSS | More