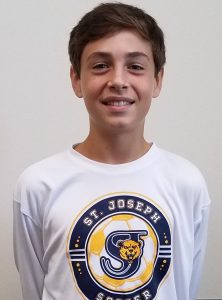 Seth Walters of St. Joseph High School Soccer is the WSJM Sports Berrien County Student Athlete of the Week for the week of September 9, 2018. In St. Joe's match against 3rd ranked Portage Central, Seth set up both of the Bears' goals on the night. Then in their win at Lakeshore, he scored twice, including the game winning goal.
Seth is a freshman at St. Joe. He plans on playing basketball in the winter and baseball in the spring. In the classroom, he carries a 3.8 grade point average.
Seth is the son of Scott and Lisa Walters of St. Joseph.
Listen to Phil McDonald's conversation below…
Podcast: Play in new window | Download | Embed
Subscribe: Apple Podcasts | Android | Email | Google Podcasts | Stitcher | Spotify | RSS | More