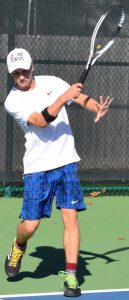 Ryan Okonski of St. Joseph High School Tennis is the WSJM Sports Berrien County Student Athlete of the Week for the week of September 16, 2018. At the Rockford Invitational, Ryan won the #1 Singles title. He posted straight set victories over Grand Rapids Forest Hills Central, Grand Rapids Christian, and Rockford.
Ryan is a senior at St. Joe with hopes of playing college tennis after graduation. In the classroom, he carries a 3.44 grade point average.
Ryan is the son of Craig and Cherie Okonski of Stevensville.
Other finalists for the week were Kaylee Thompson of Niles Cross Country and Jacob Fox of Brandywine Tennis.
Catch Phil McDonald's conversation with Ryan below…
Podcast: Play in new window | Download | Embed
Subscribe: Apple Podcasts | Android | Email | Google Podcasts | Stitcher | Spotify | RSS | More