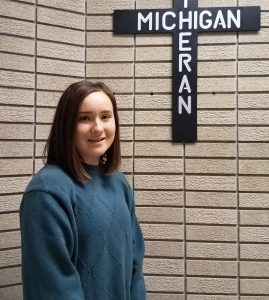 Olivia McLaughlin of Michigan Lutheran High School Powerlifting is the WSJM Sports Berrien County Student Athlete of the Week for the week of March 10, 2019.
Olivia won an individual state championship by lifting a total of 570 pounds in three events. She lifted 120 pounds in the bench press, 200 pounds in the squat, and 250 pounds in the deadlift. By winning the title, Olivia becomes the first state champion in any sport at Michigan Lutheran.
Olivia is also a member of the Titan Softball and Equestrian teams, and is active in 4H. In the classroom, she carries a 3.8 grade point average.
Olivia is the daughter of Kathy and Michael McLaughlin of Dowagiac.
Catch Phil McDonald's conversation with Olivia Below…
Podcast: Play in new window | Download | Embed
Subscribe: Apple Podcasts | Android | Email | Google Podcasts | Stitcher | Spotify | RSS | More