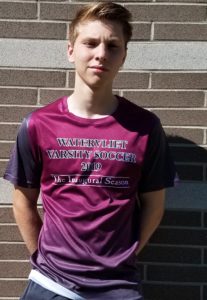 Nathan Isbrecht of Watervliet High School Soccer is the WSJM Sports Berrien County Student Athlete of the Week for the week of September 6, 2020.
In the Panthers' 10-2 win over Parchment, Nathan finished with six goals and one assist. His six goals ties him for 28th all-time on the MHSAA's list of most goals scored in a single game. Later in the week, he turned in two goals and three assists in Watervliet's 5-1 win over Bridgman.
Nathan is also a member of the Watervliet Wrestling team and ran Cross Country his freshman and sophomore years. In the classroom, he carries a 3.96 grade point average.
Nathan is the son of Tom and Kim Isbrecht of Watervliet.
Other finalists for the week were Jacob Fox of Brandywine Tennis and Claire Shelton of Buchanan Volleyball.
Catch Nathan's conversation with Phil McDonald below…
Podcast: Play in new window | Download | Embed
Subscribe: Apple Podcasts | Google Podcasts | Spotify | Stitcher | Email | RSS | More