Matt DeFay of Lake Michigan Catholic High School Baseball is the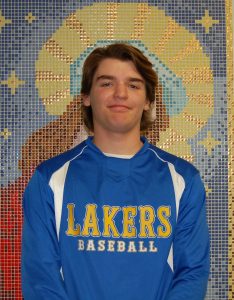 WSJM Sports Berrien County Student Athlete of the Week for the week of March 25, 2018. The Lakers posted a doubleheader sweep of Comstock, winning 10-0 and 7-5. In the 10-0 game one victory, Matt picked up the win on the mound, allowing just two hits while striking out ten over five innings of work. At the plate, he collected two hits, including a double, and drove in two runs.
Matt is also a member of the Laker Football team and plays hockey.
Matt is the son of Joe and Tiffany DeFay of St. Joseph.
Another finalist for the week was Josh Young of Coloma Track.
You can catch Phil McDonald's conversation with Matt below…
Podcast: Play in new window | Download | Embed
Subscribe: Apple Podcasts | Android | Email | Google Podcasts | Stitcher | Spotify | RSS | More