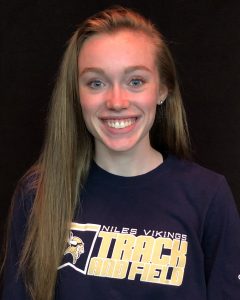 Kaylee Thompson of Niles High School Track is the WSJM Sports Berrien County Student Athlete of the Week for the week of May 5, 2019.
Kaylee won the 1600 Meter and 3200 Meter Runs in the Vikings' meet against Portage Northern, Lakeshore, and St. Joe. She also ran a leg in the 4×400 Meter Relay. Then at the Southwest Michigan Athletic Conference Meet, she won the 1600 and 3200 Meter Runs with personal best times in both events.
Kaylee is also a member of the Niles Cross Country team and National Honor Society. In the classroom, she carries a 4.06 grade point average.
Kaylee is the daughter of Kenny and Mindy Thompson of Niles.
Other finalists for the week were Ja'Kobe Young of Lakeshore Track, Jack Veersma of St. Joseph Baseball, Henry Branch of Bridgman Baseball, and Ashley Ke of St. Joseph Tennis.
Listen to Phil McDonald's conversation with Kaylee below…
Podcast: Play in new window | Download | Embed
Subscribe: Apple Podcasts | Android | Email | Google Podcasts | Stitcher | Spotify | RSS | More