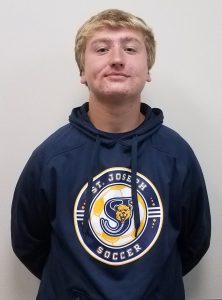 Isaac Filippo of St. Joseph High School Soccer is the WSJM Sports Berrien County Student Athlete of the Week for the weeks of August 12, 19, and 26, 2018. Isaac scored four goals in the Bears' 6-0 win over Edwardsburg. Later in the week, he followed that up with one goal in a 2-0 win over Lakeview.
Isaac is also a member of the St. Joe golf and basketball teams. In the classroom, he carries a 3.0 grade point average.
Isaac is the son of Aaron and Heidi Filippo.
Another finalist for the week was Karsyn Stewart of Bridgman Cross Country.
Listen to Phil McDonald's conversation with Isaac below…
Podcast: Play in new window | Download | Embed
Subscribe: Apple Podcasts | Android | Email | Google Podcasts | Stitcher | Spotify | RSS | More