Ian Ishmael of Coloma High School Wrestling is the WSJM Sports Berrien County Student Athlete of the Week for the week of January 13, 2019.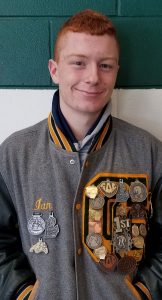 Ian recorded two wins in the Comets' dual matches with Climax-Scotts and Delton-Kellogg. He then went 5-0 at the Hopkins Invitational and, in the process, picked up his 100th career win.
Ian is also a member of the Coloma Cross Country and Baseball teams, National Honor Society, Student Council, and Band. In the classroom, he carries a 3.95 grade point average.
Ian is the son of Tim and Hedi Ishmael of Coloma.
You can catch Ian's conversation with Phil McDonald below…
Podcast: Play in new window | Download | Embed
Subscribe: Apple Podcasts | Android | Email | Google Podcasts | Stitcher | Spotify | RSS | More