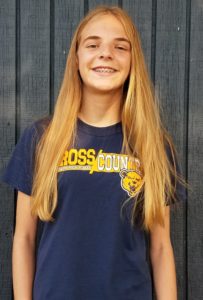 Grace Kelley of St. Joe High School Cross Country is the WSJM Sports Berrien County Student Athlete of the Week for the week of September 27, 2020.
Grace placed first in the Bears' dual meet against Portage Northern with a time of 19:51.9. She followed that up later in the week by winning the individual championship at the Berrien County Invitational with a time of 19:34.1.
Grace is a freshman at St. Joe and plans to run track for the Bears in the spring.
Grace is the daughter of Todd and Brigitte Kelley of St. Joe.
Other finalists for the week were Samantha Dietz of Watervliet Volleyball, Karly Klaer of St. Joe Volleyball, and Cade Vota of Niles Soccer.
Catch Phil McDonald's conversation with Grace below…
Podcast: Play in new window | Download | Embed
Subscribe: Apple Podcasts | Google Podcasts | Spotify | Stitcher | Email | RSS | More