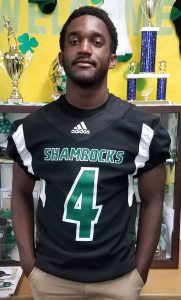 Danny Vinson of Berrien Springs High School Football is the WSJM Sports Berrien County Student Athlete of the Week for the week of September 2, 2018. In the Shamrocks' 41-28 win over Schoolcraft, Danny rushed for 182 yards on 11 carries and has a 62 yard pass reception. He scored two touchdowns and added two 2 point conversions. On the defensive side of the ball, he finished with six tackles, two interceptions, and a forced fumble.
Danny is also a member of the Berrien Springs Track team. In the classroom, he carries a 3.2 grade point average.
Another finalist for the week was Cooper Clark of Lakeshore Cross Country.
Listen to Phil McDonald's conversation with Danny below…
Podcast: Play in new window | Download | Embed
Subscribe: Apple Podcasts | Android | Email | Google Podcasts | Stitcher | Spotify | RSS | More